COVID-19 survivors bare arms to help more patients
Donating convalescent plasma could help pave the way to a treatment for COVID-19
June 10, 2020
A new virus affecting people around the globe has created a need for a new kind of blood donor in Canada — a convalescent plasma donor.
Plasma is the liquid portion of blood that's rich in proteins and antibodies that protect us. When we get sick, our immune system kicks into action, creating antibodies tailored to fight off an infection, such as COVID-19. These antibodies are the key ingredient in convalescent plasma. A convalescent plasma donor is someone who donates plasma to share their custom-made antibodies with someone else infected with same illness, in the hope that it will help them recover faster.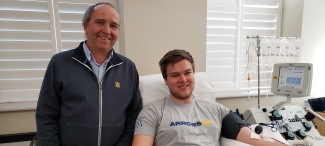 Survivors come together to help patients
Across Canada, an increasing number of COVID-19 survivors are joining the fight. At the start of this National Blood Donor Week (June 8–14, 2020), more than 1,400 people have registered their intent to become convalescent plasma donors. So far, we have collected 87 donations. More than 170 other donors have also qualified to participate and will make their donations later this summer.
Each convalescent plasma donation has the potential to help one or more patients. That's because we typically collect about 500 milliliters of plasma from every convalescent plasma donor—and some donors are able to give as much as 750 milliliters. Adult patients enrolled in the clinical trials receive 500 milliliters of convalescent plasma and the proper dose for a pediatric patient will be based on the weight of the patient.
Convalescent plasma and patients
Both public blood operators — Canadian Blood Services and Héma-Québec — are the only suppliers of convalescent plasma for Health Canada approved clinical trials. These include two clinical trials for adult patients, one of which is focused on the use of convalescent plasma as a possible therapy in the early stages of COVID-19 infection, while the other is investigating the use of this treatment for severely ill patients. A third clinical trial is dedicated to pediatric patients with the virus.
Patient enrollment in the clinical trials is being determined by treating physicians at participating hospitals in consultation with the patient, or a loved one on the patient's behalf, and in accordance with the trial's protocol. Currently 16 hospital sites are up and running and, over the next year, the trials will grow to include more than 50 hospital sites in Canada.
To date, 24 patients with the virus have been randomly selected to receive convalescent plasma and 12 patients have already been transfused. Canadian Blood Services recently issued another 40 units of donated convalescent plasma to participating hospitals for use in the clinical trials.
While it is too early to know whether convalescent plasma is, in fact, a safe and effective treatment option for patients with COVID-19, it is important to take a moment to acknowledge and celebrate the incredible commitment and cooperation required to make clinical trials of this size and scope possible in such a short time.
Together, this team of researchers, clinicians, donors and patients across the country will make an important contribution to research on a global scale that could help patients with COVID-19 in Canada and around the world.
During National Blood Donor Week, we celebrate and thank donors for their generosity and commitment. This year, during the COVID-19 pandemic, more convalescent plasma donors are needed to support Health Canada approved clinical trials. Specifically, we are looking for people under the age of 67 who have fully recovered from COVID-19 and have been symptom free for at least 28 days. Anyone interested in participating as a potential convalescent plasma donor can sign up online. For more information and to register visit blood.ca/convalescentplasma.