Blood donors have saved this teen's life more than 200 times, and counting
Eric Polo's rare blood disorder prevents his body from making red blood cells. Each blood transfusion means another month of life.
March 28, 2022
From almost the moment he was born, Eric Polo has depended on blood donors, and he will rely on them for the rest of his life.
Eric is a grade nine student in Toronto, Ont., a self-described introvert with a passion for Dungeons and Dragons. When his mother, Daphne Flint-Polo, delivered him by emergency C-section 15 years ago, doctors knew immediately something was wrong. His blood had an extremely low level of hemoglobin — the protein in red blood cells that carries oxygen to the body's organs and tissues. He needed a transfusion right away.

Eric's blood type is A-positive, but his first transfusions were from donors with an O-negative blood type. O-negative blood can be given safely to any patient in an emergency situation when there is no time to check their blood type. (Even in non-emergency situations, many hospitals in Canada rely exclusively on O-negative and O-positive blood for babies younger than four months.)
Since that first blood transfusion, Eric has had hundreds more, all related to a life-threatening medical condition called Diamond Blackfan anemia.

"Eric's body doesn't produce almost any red blood cells," explains Daphne.
This rare blood disorder not only affects the ability of the bone marrow to produce red blood cells, but can also cause physical abnormalities — from cleft palate, to defects in organs such as the eyes and heart.
While severity varies from patient to patient, and some are treated successfully with corticosteroids, Eric requires blood transfusions roughly once a month, sometimes more, during day-long hospital visits. And because the treatment causes excessive iron to build up in his body, he spends his nights connected to a special pump to remove it, a process known as chelation therapy.
Learn why O-negative blood is liquid gold in life-or-death situations
'Blood donors are our heroes'
When Eric was a baby, he received just a portion of a single unit of blood at each visit. Now he receives two units during each of his transfusions, and the amount will increase as he gets older. He passes the long hours at the hospital with his iPad.
"I'm into Roman history stuff, history Youtubers and history podcasts," says Eric.
Before a blood transfusion he is typically very tired, and it takes a few days to feel better afterward.
"These things take time," he says matter-of-factly. "I am thankful for what blood donors do. They keep me alive."
"Really, blood donors are our heroes," says Daphne. "I get emotional every time I talk about it. Without them, Eric wouldn't have lived more than a few weeks. He's probably had more than 200 blood transfusions, so there are more than 200 people who have saved his life.
"Every transfusion gives us one more month together. It gives me one more month with my son, gives Eric's sister one more month with her brother, and gives Eric one more month to live and laugh and experience his life."
Because of Canadian Blood Services' donors, Eric can also plan for the future, including career options beyond high school.
"If I can't do game design, I want to do something involving Roman history," he says.
Ongoing blood donations mean hope for patients and families
As the parent of a child with a rare disorder, Daphne has regular contact with families in other countries who are also affected by Diamond Blackfan anemia, or DBA. Recently, as the United States has experienced crisis-level blood shortages, she's been alarmed to hear of children with DBA in that country having blood transfusions postponed.
Daphne knows that even a short delay for Eric would cause him to be exhausted, and that he would likely experience significant pain from muscle cramps as well.
"I can't imagine saying 'you'll get blood soon, I'm not sure when.' That would just be awful," she says.
Fortunately, thanks to the incredible generosity of blood donors through the pandemic, Canada has avoided blood shortages like those south of the border. However, we also know that today, new blood and plasma donors are more important than ever to keep meeting the needs of patients.
Blood donors show up, again and again
Daphne made her own first blood donation in March 2022. For most of her life, she was not eligible to donate blood, but qualified after meeting the 110-pound minimum weight requirement. Eric's sister Charlotte had hoped to donate at the same time, but since her hemoglobin level was too low on the day of the appointment, she plans to try again in June.
Charlotte's blood type is A-positive, and it amuses her and Daphne to think about the outside chance of Eric receiving blood from his own sister. And Daphne happens to be O-negative, so she's thrilled at the prospect that as a "universal donor," her donations could be used for patients going through life-threatening emergencies — just like her own son right after his birth.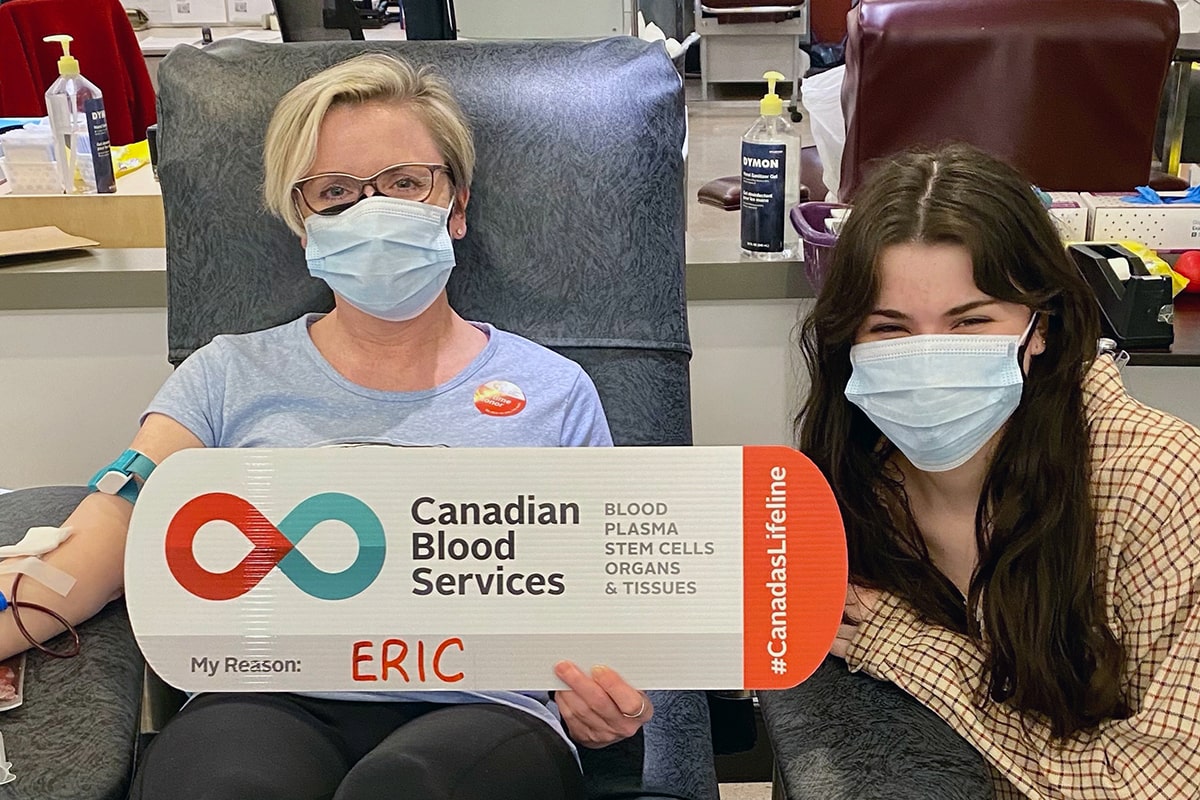 Daphne Flint-Polo, seen here with her daughter Charlotte, donated blood for the first time in March 2022.
Looking back at Eric's first hours, Daphne also recalls doctors telling her there was a very good chance he wouldn't survive. But even then, she had a powerful feeling that he'd pull through. And with the help of blood donors, Eric has proved that feeling right again and again. They've supported him not only during the regular hospital visits for transfusions, but also during surgeries related to his condition.
For Daphne, navigating a difficult road with Eric has also driven home the amazing power and kindness of community — from the mom-and-baby neighbourhood group members who showed up with meals for months after Eric was born, to the blood donors within Canada's Lifeline who continually show up for him now.
"How do you thank someone for saving your kid?" she says. "They mean everything to us. They mean the world."