Alberta man thankful for the generosity of donors this holiday season
Michael Wark required blood products to treat Acute Myeloid Leukemia
December 14, 2020
Before 2018, Michael Wark didn't fully grasp the importance of giving blood - because it hadn't affected him personally. No one in his family had been in a traumatic accident, and to his knowledge no one close to him had ever needed a blood product transfusion.
"All things considered; my life was going pretty well," said Michael. "I was married to my best friend and the love of my life; we were getting ready to celebrate our five-year wedding anniversary and starting to think seriously about having children."
Having grown up in Alberta, Michael felt very content living in Red Deer and for him, it finally felt like after a decade of transitions for him and his wife, Lauren, things were beginning to take shape and settle into a comfortable routine.
But as it turned out, life had other plans.
While mountain biking on a weekend retreat with friends in June 2018, Michael experienced difficulty catching his breath. Despite initially attributing it to exertion, he developed persistent, cold-like symptoms that led to a visit with his family doctor.
Routine blood work revealed that his blood counts were not where they were supposed to be and his white blood cell count was very low.
Michael was referred to a hematologist for follow-up but his symptoms persisted.
As the days went on Lauren noticed Michael getting more and more fatigued, they monitored his condition over time — he took a day off to rest, to no avail.
Michael shared that he wanted to see his dentist because his gums were starting to swell a bit.
"This was a red flag for me, because that didn't seem normal. There wasn't a lot of other symptoms." said Lauren. "He told me that he was waking up with night sweats — but that could have been attributed to anything."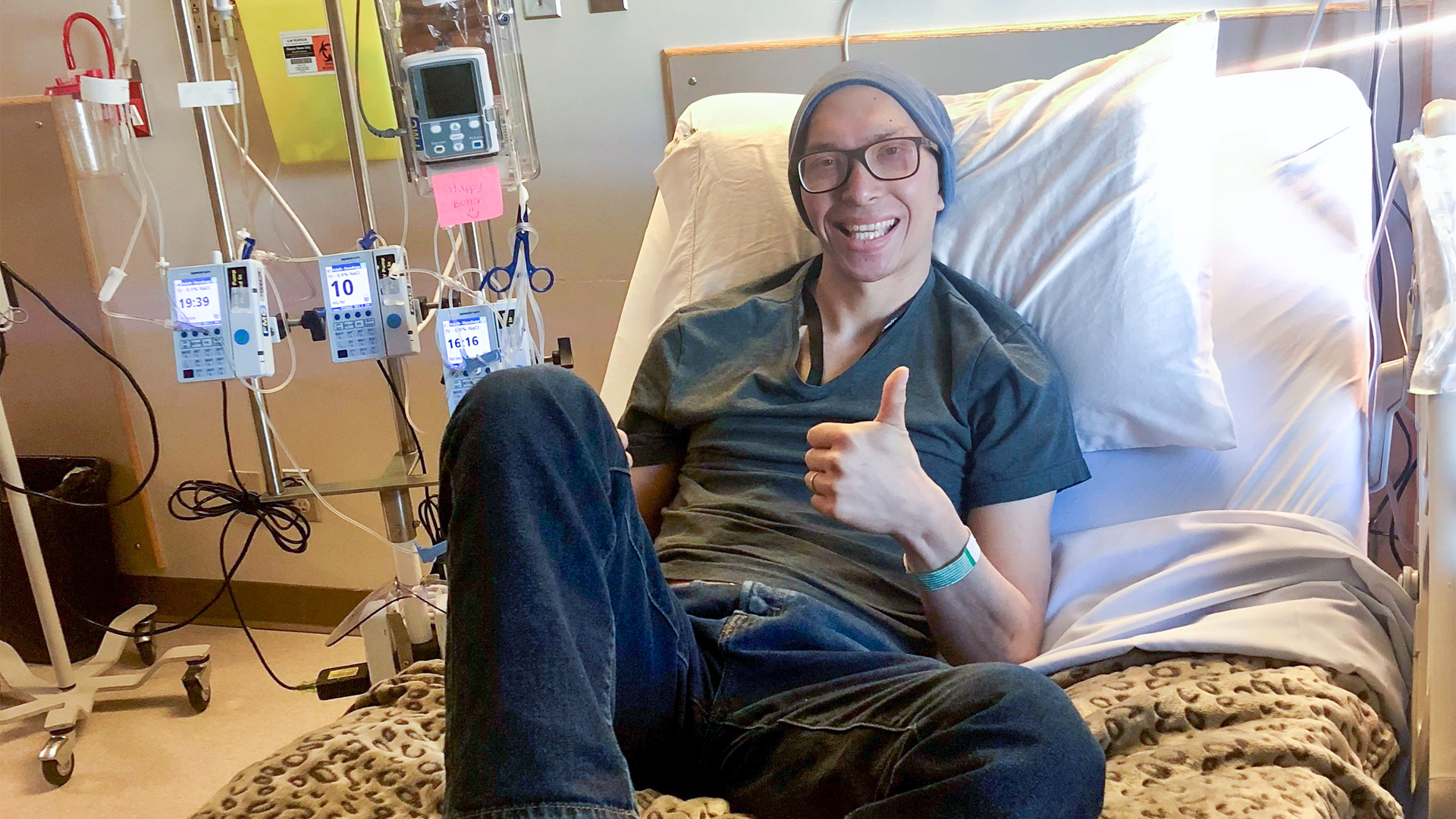 Michael receiving treatment in the hematology unit at the Tom Baker Cancer Centre in Calgary
Michael credits his wife's intuition as one of the things that saved his life.
"Something in my gut said that this wasn't right," said Lauren. "I called Health Link one evening and discussed his symptoms with a nurse who agreed that the swollen gums required a visit to the ER for a check-up."
So, they picked up everything and headed off to the hospital.
"We got in quickly and saw a couple of doctors in a very short amount of time. It was a bit of a blur, but things got suddenly very real, when further examination revealed that Michael's spleen was enlarged, which a specialist pointed out was a warning sign of leukemia. After 30 minutes in the ER it was not the result we were expecting," said Lauren.
Things moved pretty fast at that point — after taking a quick look at his blood work, a decision was made to admit him for further testing. The following week, the medical team advised that Michael had acute myeloid leukemia (AML), an aggressive form of blood and bone marrow cancer that shuts down the body's ability to produce normal healthy blood cells.
Five Signs of Acute Myeloid Leukemia (AML)
Pale skin
Fatigue (or tiredness) and loss of well being
Mild fever, night sweats or flu-like illness
Easy bruising (black and blue marks) with no clear cause
Gum swelling
According to Michael, "The good news was that it had been caught early and had probably only been in my system for about a month. The bad news was that it had already compromised 80–90 per cent of my bone marrow, and I was likely looking at spending the next six months or more undergoing intensive treatment at the Tom Baker Cancer Centre in Calgary. Just like that, in an instant, our lives were flipped upside down."
From that point on, the couple's lives were uprooted from Red Deer and they were quickly thrust into the world of hospitals, treatment protocols, isolation and new rules and restrictions.
A few days after diagnosis, Michael began a course of high-intensity chemotherapy aimed at putting him into remission — stopping the spread of the disease and reducing its effects.
The rapid growth of cancerous blood cells in AML limits the bone marrow's ability to produce healthy blood cells. As a treatment, chemotherapy destroys the unhealthy cancerous blood cells, so new marrow can grow in its place.
Unfortunately, this process leaves patients vulnerable to infection, as there is no functioning immune system and the body cannot effectively produce the blood cells that it needs to survive.
Lauren was at her husband's side throughout the journey after moving in with Michaels mom in Calgary.
"It was a situation, very similar to what is happening with COVID now, limited visitors allowed in and Michael wore a full gown and mask for his protection," said Lauren.
The couple were also isolated due to his low neutrophils — the portion of white blood cells, made in the bone marrow, that fight infection by destroying harmful bacteria, viruses and fungi that invade the body.
"In my particular case, I think I had an angel watching over me because five weeks after being diagnosed, my medical team had succeeded in reducing the leukemic cells in my bone marrow from 83 per cent down to 0.2 per cent," said Michael.
This proved to be the first major win in what would be a long battle. Further genetics testing resulted in choosing a stem cell transplant to treat Michael's AML.
After several months of treatment, preparation, and a couple bumps in the road they were finally ready to proceed with the transplant by mid-October of that year.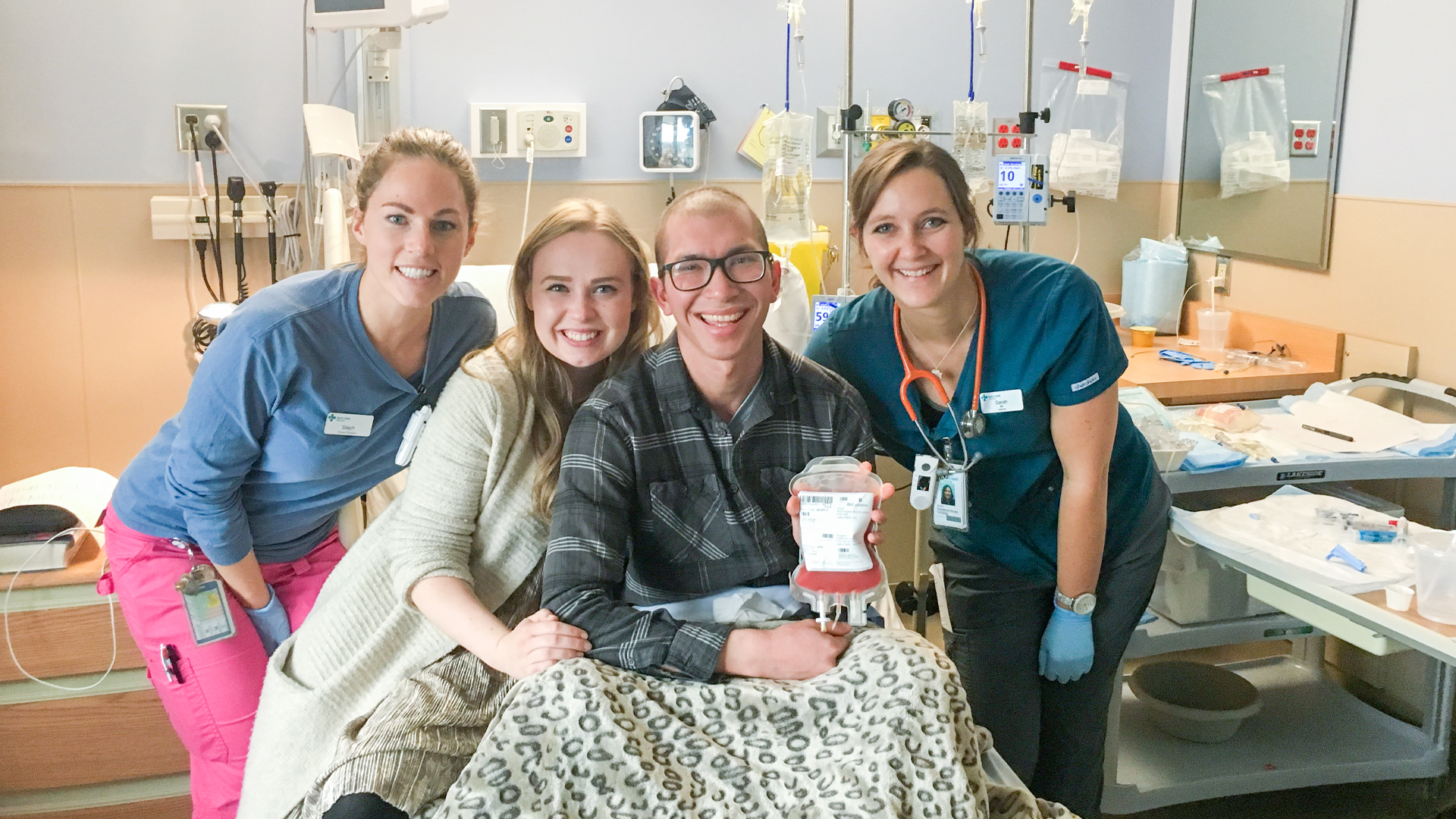 Lauren and members of Michael's medical team with him as he holds precious donor stem cells just prior to receiving them for his lifesaving transplant on October 24, 2018.
On October 24, 2018, after eight days of high-intensity preparation chemotherapy, a heavy course of anti-rejection drugs and two bouts of total body radiation, Michael received his stem cell transplant.
Stem cells collected from a donor are stored in a bag similar to that used for other blood products. The donor stem cells were infused through an IV into Michael's blood stream. The stem cells find their way to the recipient's bone marrow, take time to get established and then start making new healthy blood cells.
"It was a very surreal experience, to say the least. For months, we had been gearing up for this, hoping and praying that everything would come together to make this moment possible — this turning point — that would rid me of leukemia. Words cannot express the gratitude I feel for my donor's unique generosity who gave us this priceless gift of life and the power to cure this disease."
After a lengthy recovery period following the transplant, another three months in Calgary under close observation, and a final bone marrow biopsy at the end of January 2019, Michael was pronounced to be in full remission — 100 per cent cancer free.
"I cannot even begin to express the depth of gratitude that I feel for all the people who were there to support us, since I was first diagnosed with AML — and there have been so many — doctors, nurses, friends, family, and strangers who felt compelled to make a difference."
During the eight months I was in active treatment, I needed 18 blood product transfusions, including platelets and red blood cells, plus my genetically matched stem cell transplant. Without the support of the people around me, who felt the call to step up during a time of crisis, I would not be here today."
The importance of blood donation became real to Lauren as she witnessed the benefit firsthand.
"I was with Michael every day, I saw those bags of blood come in and, for a large part of his treatment, they were one of the tools that was keeping him alive." said Lauren. "Without the generous support of blood donors and Mike's stem cell donor, I don't know where we would be now."
"Blood donation is a priceless gift; you don't know who could benefit from your donation as there are a lot of reasons why people need blood," Lauren continues. "The fact that he needed so many transfusions and they were readily available for him, made all the difference in wanting to give back."
After meeting a Canadian Blood Services representative in Red Deer, in the spring of 2019, Lauren arranged her first donation. Michael accompanied her to provide support and thank donors for the role they played in saving his life. Lauren advocates for blood and stem cell donation every chance she gets.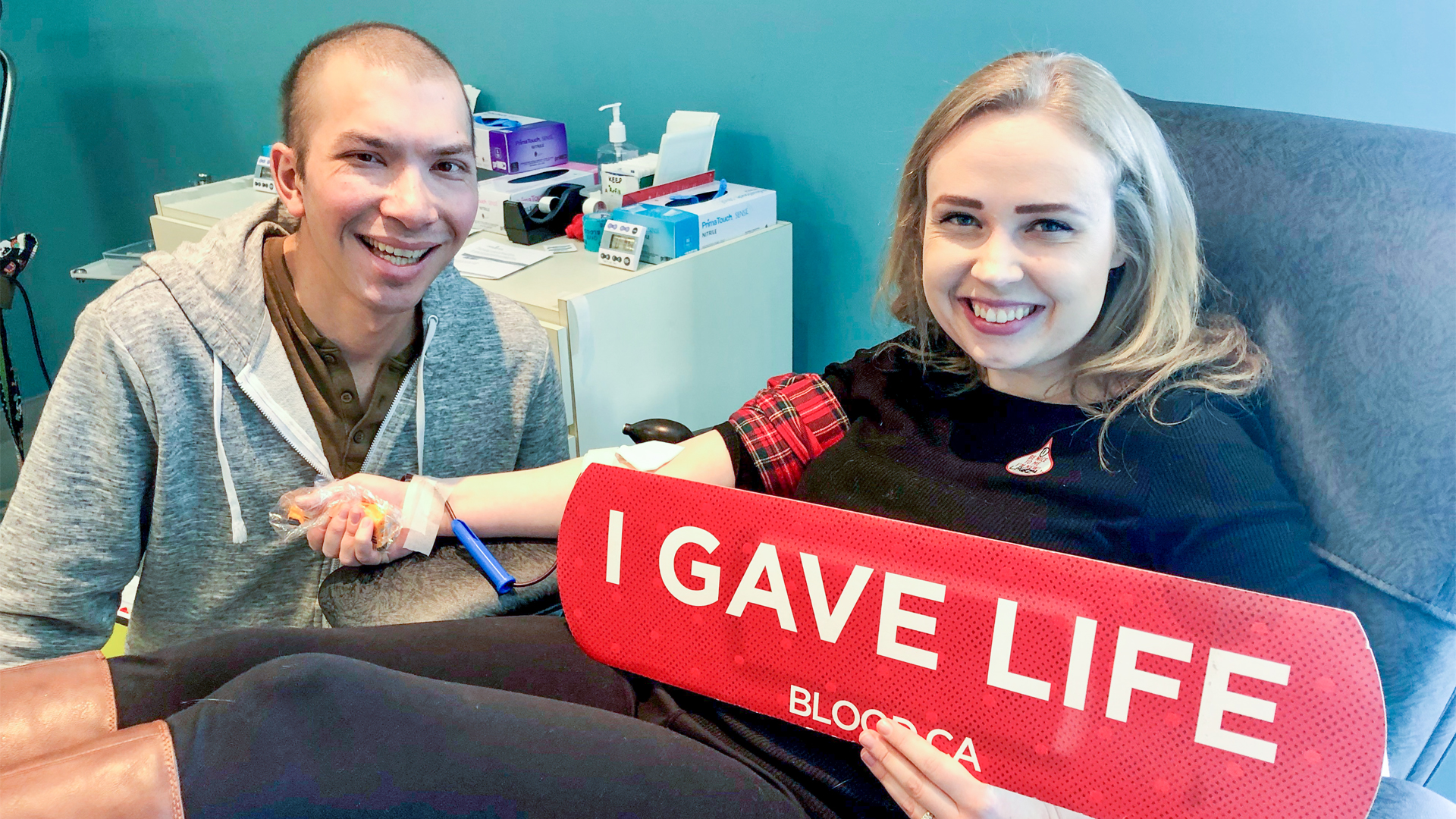 Michael joins Lauren for her first blood donation at the Red Deer donor centre in February 2019.
In spite of the trials he endured, Michael feels incredibly blessed.
"During the time that I needed it the most, I had people willing to step up and answer the call to make a difference. Now, I have a second chance at a full life, and I thank God for the people in my life that I continue to live for. But for many people, their battle goes on, and the need for blood donors continues."
Michael encourages people to help Canadian Blood Services support patients this season.
"One of the biggest lessons that we learned, being thrust into a situation so quickly, completely out of our control, when we were suddenly in need, is that when people need blood, it doesn't matter what else is going on, even a pandemic!
For those people, like myself who need blood, that's a priceless gift. Donating costs you nothing and can mean everything to someone in need.
Especially this year, as we enter a holiday season where normal routines like get-togethers or even Christmas shopping are all in question, if you are looking to give a meaningful gift, you can still give blood and save someone's life.
As a blood and stem cell recipient, I can honestly say that I owe donors my life. The truth is that we are all connected by our shared humanity, generosity, and kindness — and when we reach out for the good of those around us, we are capable of making a world of difference."
Blood donors are needed this holiday season to book and keep appointments to ensure patients needs are met. Book now at blood.ca, on the GiveBlood app or call 1 888 2 DONATE (1 888-236-6283).