Celebrating a year of plasma donation in Sudbury
Thousands of plasma donors have visited our new dedicated plasma donor centre, providing vital support for patients
August 25, 2021
Dan Wayte donated plasma as Canadian Blood Services celebrated the first anniversary of the plasma donor centre in Sudbury, Ont.
A year after our new plasma donor centre opened in Sudbury, Ont., we are so grateful to the thousands of plasma donors who have helped us pioneer a new approach to serving patients.
Last August, the Sudbury donor centre became Canadian Blood Services' first facility fully devoted to the collection of what is called "source plasma." Plasma is the straw-coloured, protein-rich liquid in blood that helps other blood components circulate throughout the body. While some donated plasma is transfused directly to patients, most is required as the source material for a variety of treatments ― manufactured products for patients with rare, life-threatening, chronic and genetic conditions.
Donated plasma transformed this boy's life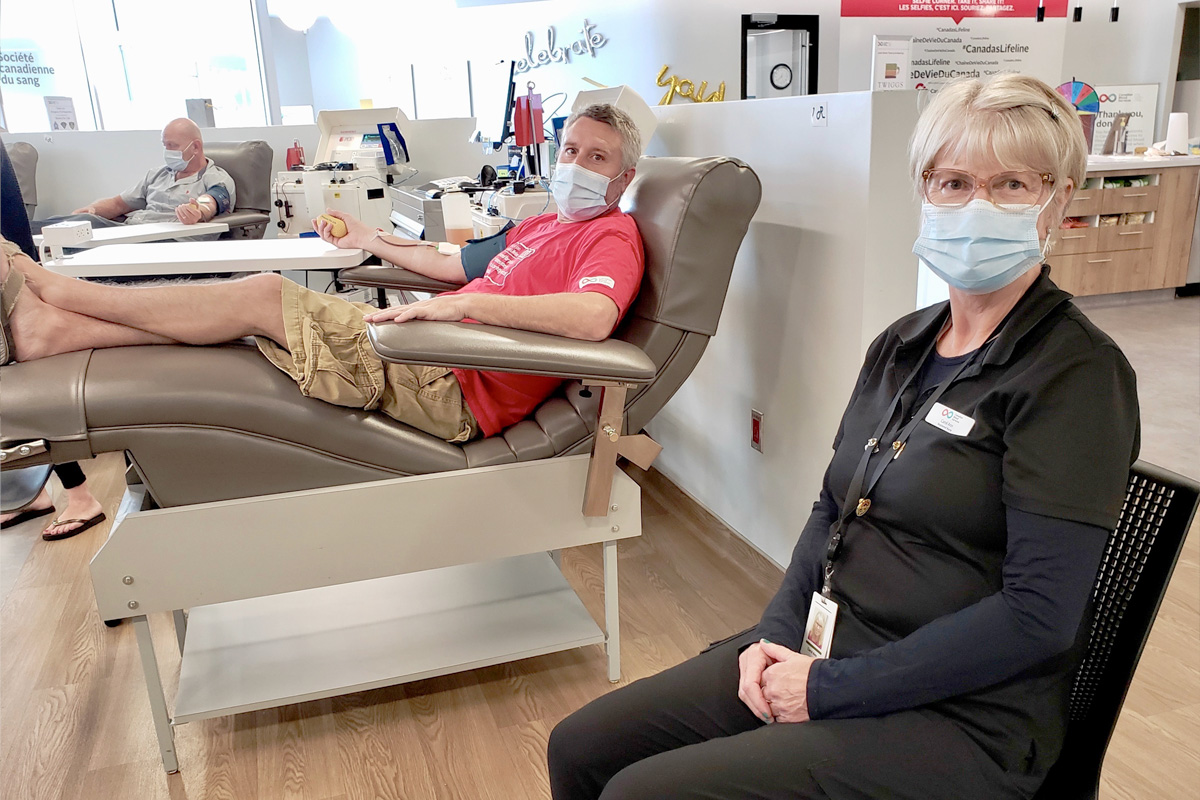 Plasma donor Jeff Brown and Canadian Blood Services registered nurse Carol Ann Crozier were part of the Sudbury plasma donor centre's first anniversary celebration on Aug. 25, 2021.
Jeff Brown is one of those patients. Several years ago, Jeff, who lives half an hour north of Sudbury in Capreol, Ont., developed Guillain-Barré Syndrome, and was paralyzed from the neck down. But he recovered thanks to immunoglobulin, a medication derived from plasma. Each dose may contain the antibodies of thousands of plasma donors.
Since his recovery, Jeff has actively encouraged people to donate plasma to help other patients. And this past year, he has also become a donor himself. On Aug. 25, the first anniversary of the Sudbury plasma donor centre, he was able to make his own fourth plasma donation at the pioneering facility.
"I'm so grateful to everyone who donated plasma to help save my life. Because of them. I'm now in a position to donate myself and give back," says Jeff. "On this anniversary, I also feel fortunate to be able to celebrate this moment with my family."
Jeff Brown, a plasma recipient who has since become a donor, recorded a message for Canadians with his daughter Preslee. Jeff made his fourth plasma donation at the Sudbury donor centre's first anniversary celebration on Aug. 25.
Plasma donors and many others join celebration in Sudbury
Demand for products made from plasma is surging in Canada and around the world. That is why, since opening the Sudbury plasma donor centre last summer, Canadian Blood Services has already opened two others in Lethbridge, Alta. and Kelowna, B.C. More will follow in other locations in 2022.
Plasma protein and related products: learn more
Because the Sudbury centre was the first step in this incredible journey, we wanted to mark its first anniversary with the people of that region. Canadian Blood Services' vice-president of plasma operations, Jean-Paul Bédard, was among those who joined the celebration in Sudbury with staff, volunteers, donors including Jeff, and many others.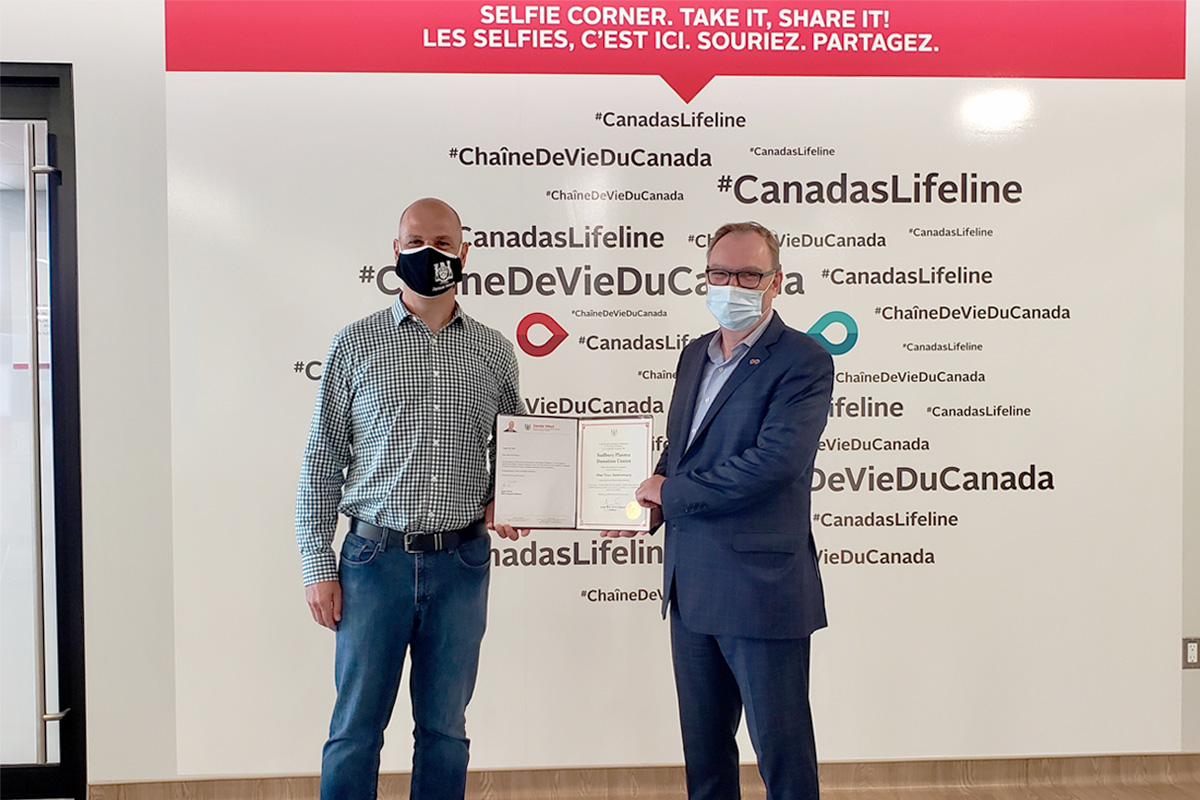 Jamie West, the Member of Provincial Parliament for Sudbury, Ont., presents a certificate of congratulations to Jean-Paul Bédard, Canadian Blood Services vice-president of plasma operations, at the first anniversary of Sudbury's plasma donor centre.
"We chose to invest in Sudbury with a new state-of-the-art donor centre because we were confident the community would be able to help meet the fast-growing need for donated plasma," he says. "The people of Sudbury were dedicated blood donors who always responded generously to the need for blood.
"We knew that they would do the same for plasma donation, and they certainly have. The centre has welcomed nearly 2500 donors already. We can't thank the donors enough for their unwavering generosity."
This video was produced prior to the COVID-19 pandemic
How does plasma donation work?
Canadian Blood Services extracts plasma from donations of whole blood, but at our dedicated plasma donor centres ― as well as at several other sites across Canada ― we separate plasma from other blood components during the donation process itself.
In that donation process, the donor's blood flows through a machine at their bedside. Their plasma is collected in a bottle or bag, and the red blood cells and platelets are returned to them. As a result, donors can donate plasma more frequently than whole blood. And by doing so, those in Sudbury and beyond play a vital role in securing a domestic supply of plasma for patients in Canada.
Plasma security and sustainability: learn more
"The need for plasma doesn't stop, not even during a pandemic," says Jean-Paul Bédard. "I encourage all those who can donate plasma to do so."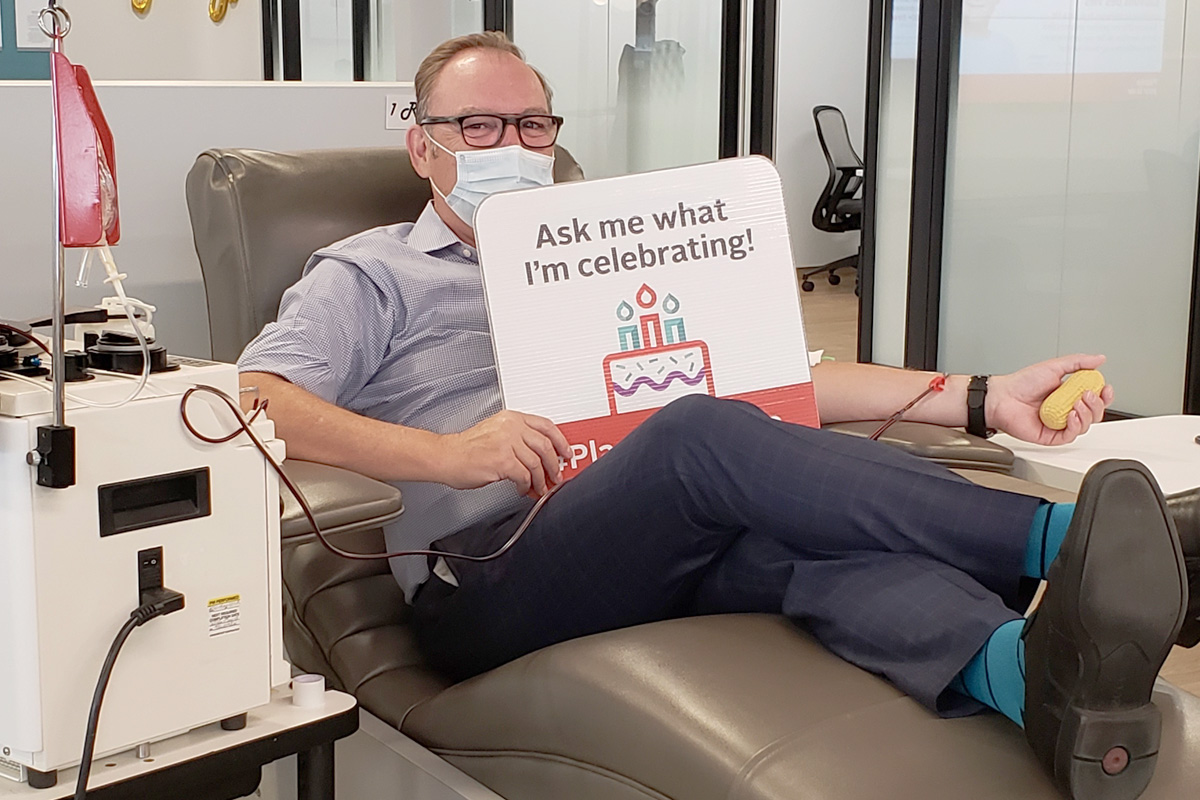 Jean-Paul Bédard, Canadian Blood Services vice-president of plasma operations, donated plasma at the first anniversary celebration of the plasma donor centre in Sudbury, Ont.
Plasma donors can help meet the growing needs of patients by booking appointments at any of our many sites across the country. Learn more about where to donate plasma, or book now by using the GiveBlood app, calling 1 888 2 DONATE, or at blood.ca/donate.