Connect with Canadian Blood Services' research and education network at our national transfusion conference!
---
Thursday, May 18, 2023
Abby Wolfe
The Canadian Society for Transfusion Medicine (CSTM) annual conference, held in partnership with Canadian Blood Services and Héma-Québec, is just around the corner! The conference will be held May 25–28 in Montreal and is a chance for health-care professionals in transfusion medicine to share knowledge, learn about recent advancements in transfusion medicine, and connect with colleagues. Canadian Blood Services is looking forward to connecting with members of the transfusion community at the event.  
Here's a preview of what you can expect from our research and education group at CSTM 2023
Canadian Blood Services staff and researchers' contributions to the conference's scientific program will include (but are not limited to):  
Serology case studies moderated by transfusion medicine physician trainees Heather VanderMeulen and Marc Bienz. 
A variety of presentations covering topics such as: 

The basics of red cell antigen genotyping reports by Celina Montemayor, Canadian Blood Services' medical and scientific lead, red cell genomics. Tip: Check out ProfEdu.ca's quick glance resource in advance for basic information about interpreting a red cell antigen genotyping report. 
Plasma donor perspectives and the future of plasma recruitment by Canadian Blood Services' scientist Kelly Holloway 
Prenatal management of low-risk red cell alloantibodies by medical officer Matthew Yan 
The future of PVC bags by Ken McTaggart, associate director, product and process development 
A scientific understanding of IVIg by senior scientist Alan Lazarus. Tip: Review information about immune globulin products by reading Chapter 4 of the Clinical guide to transfusion 
Topics related to health maintenance for repeat donors by transfusion medicine registered nurse specialist Terrie Foster and medical officer Akash Gupta 
...and more!
Attendees at the event are also welcome to drop by booth #5 to say hello! There will be opportunities to learn about educational resources published over the past year, a chance to win prizes by completing a short survey, and an interactive connection map activity that aims to highlight the many ways that attendees contribute to or benefit from the research and education transfusion network.
The theme for CSTM 2023 is "Moving forward after 25 years of evolution". Follow along with #cstm_scmt on LinkedIn or Twitter as the conference gets underway!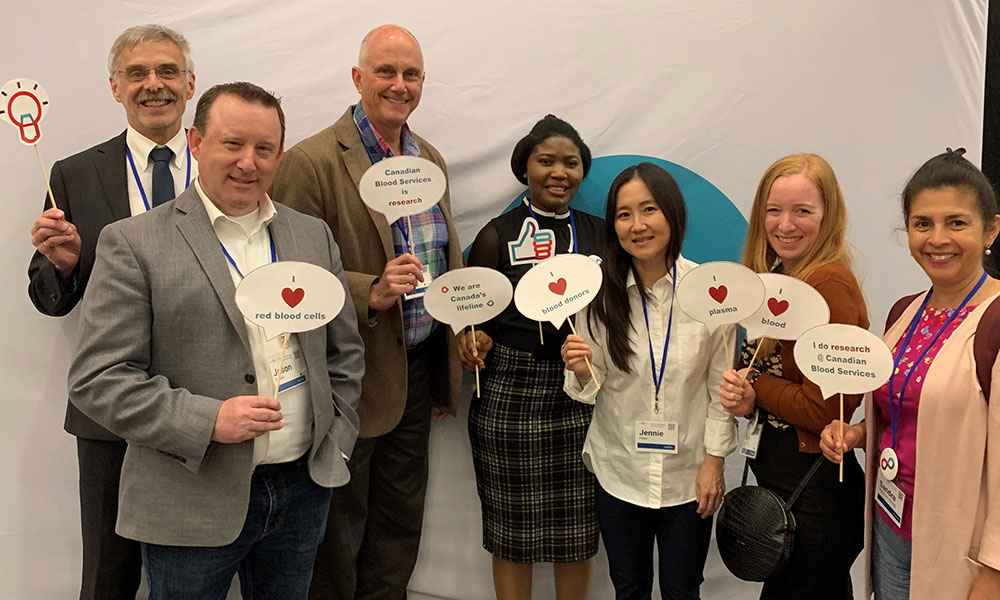 ---
Canadian Blood Services – Driving world-class innovation 
Through discovery, development and applied research, Canadian Blood Services drives world-class innovation in blood transfusion, cellular therapy and transplantation—bringing clarity and insight to an increasingly complex healthcare future. Our dedicated research team and extended network of partners engage in exploratory and applied research to create new knowledge, inform and enhance best practices, contribute to the development of new services and technologies, and build capacity through training and collaboration. Find out more about our research impact.  
The opinions reflected in this post are those of the author and do not necessarily reflect the opinions of Canadian Blood Services nor do they reflect the views of Health Canada or any other funding agency. 
Related blog posts
---
Thursday, September 29, 2022
Abby Wolfe
Each year, the Canadian Society for Transfusion Medicine (CSTM), in partnership with Canadian Blood Services and Héma-Québec, hosts an exciting conference for professionals in the transfusion medicine. We asked research trainees and transfusion medicine fellows to reflect on their experience attending the CSTM 2022 conference, held May 26–29 in Toronto.
---
Tuesday, July 26, 2022
Dr. Niamh Caffrey
Dr. Niamh Caffrey, an epidemiologist in Innovation and Portfolio Management's donation policy and studies group, shares her experience attending this year's Canadian Society for Transfusion Medicine (CSTM) annual meeting.
---
Thursday, July 18, 2019
Dr. Geraldine Walsh
The Canadian Society for Transfusion Medicine's annual conference took place in Calgary, Alberta in early June. The Centre for Innovation's Geraldine Walsh was there and shares her highlights.