Highlights from the Canadian transfusion community's annual conference
---
Thursday, July 18, 2019
Dr. Geraldine Walsh
Calgary, Alberta, in the foothills of the Canadian Rockies, played host to this year's Canadian Society for Transfusion Medicine (CSTM)/Canadian Blood Services/Héma-Québec annual conference. Canadian Blood Services is proud to be a key partner in this conference, which represents the major gathering of Canada's transfusion medicine and science community each year. Many Centre for Innovation members attend the CSTM conference to network and exchange knowledge with colleagues across Canada. The Centre for Innovation also holds its annual Research Day in the same place and around the same time as the CSTM annual conference each year. I had the opportunity to attend both events and share my highlights here. 
Looking to the future: Centre for Innovation annual Research Day 
On May 29, the extended Canadian Blood Services research network got together to hear the latest developments and discoveries supported by the Centre for Innovation. The Centre for Innovation's 2019 Research Day looked to the future. A series of talks described work the Centre for Innovation is conducting on "Blood Products of the Future", which includes research to characterize cold-stored platelets – a transfusion product being explored for use in patients requiring massive transfusion – and to prepare for pathogen inactivation technologies. The "Scientists of the Future" session was an opportunity for Centre for Innovation-affiliated research trainees to give two-minute talks about their research. There were also sessions on new technologies, and advances in the areas of donor and clinical research. Dr. Paul Kubes, an invited speaker from the University of Calgary, gave an excellent talk about his research using advanced microscopy to image platelets in the body – studies that reveal fascinating details about the behaviour of these cell fragments in the body. 
Canadian Blood Services chief scientist Dr. Dana Devine led a discussion of the role of research in "Transfusion Medicine of the Future". Touching on topics as diverse as the impact of new technologies, products and changing patient needs, to the system-wide challenges that may emerge as a result of climate change, this engaging discussion took full advantage of having a large portion of our usually dispersed research network in the same room.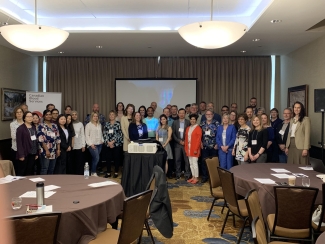 CSTM 2019: Transfusing wisely 
The CSTM annual conference began the next day. It brings together nurses, physicians, technologists and others involved in transfusion medicine to share information, learn about the most recent developments in the field and appreciate one another's contributions to providing effective transfusion therapy. Congratulations to all presenters from Canadian Blood Services – with 16 presentations at the conference's workshops or oral sessions, and 39 poster presentations, Canadian Blood Services' participation in the program was high as always.  
MSM Research 
For me, a stand-out session was "Changing Donor Management – MSM and Transgender Considerations". In this session, some eagerly-awaited but still preliminary results from two projects funded by the MSM Research Program were presented. Mike Morrison,  an award-winning writer and entertainment and lifestyle blogger from Calgary, gave an excellent presentation in which he showed the human side of the MSM deferral policy and its impacts. 
Research highlights 
I enjoyed two sessions that highlighted the latest research being conducted by Canadian Blood Services and Héma-Québec: the "Research Highlights" session and the "Selected Oral Abstracts – Scientific" session. During these we heard about cutting edge research linking viruses and viral infectivity to clotting, new technologies that deepen understanding of blood products, including microfluidics devices to analyze red blood cells and a new type of analyzer for white blood cells. We learned about exciting research to develop monoclonal antibodies as alternative therapies that may someday replace IVIg. There were also talks about the application of research to address issues related to donor health, including iron deficiency anemia. 
A tale of two Canadas 
A final highlight was the session "Transfusion Considerations in the Indigenous Populations and Remote Locations." This featured three presentations. Jennifer G. Daley Bernier, who has worked in Nunavut and the Northwest Territories for over a decade, described transfusion medicine challenges in Northern Canada. Ann Wilson described transfusion services in Northern Quebec. Darlene Richter and health worker Deanna Twoyoungmen provided the perspectives of Stoney First Nations towards medicine and laboratory procedures. Together these presentations highlighted the many unique challenges to the provision of medical services in northern Canada and to Indigenous people.  
While issues related to geography, weather and dispersed populations abound, it was eye-opening to learn about other perhaps less obvious issues. Communication can be a barrier. For example, there are 11 official languages in the Northwest Territories. To have a system accessible to all, hospital signage and information must be translated into all languages. Many challenges related to the effects of colonization remain. In transfusion medicine, medical histories are critical, but it can be difficult or impossible to get accurate medical histories from people who for various reasons may not have full knowledge of their medical past or who do not trust the medical system. Acknowledging cultural and socio-economic differences and adapting can help ensure everyone in Canada has access to the best care possible. 
These are a few of my highlights. The CSTM conference runs parallel sessions, so it's impossible to cover everything! Did you attend CSTM 2019 in Calgary? Please comment below to let us know your highlights! 
Image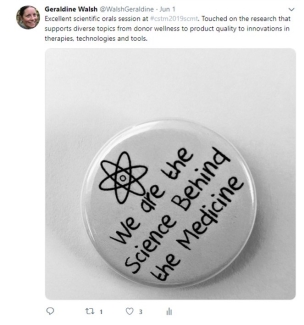 ---
Canadian Blood Services – Driving world-class innovation
Through discovery, development and applied research, Canadian Blood Services drives world-class innovation in blood transfusion, cellular therapy and transplantation—bringing clarity and insight to an increasingly complex healthcare future. Our dedicated research team and extended network of partners engage in exploratory and applied research to create new knowledge, inform and enhance best practices, contribute to the development of new services and technologies, and build capacity through training and collaboration. Find out more about our research impact. 
The opinions reflected in this post are those of the author and do not necessarily reflect the opinions of Canadian Blood Services nor do they reflect the views of Health Canada or any other funding agency.
Related blog posts
---
Thursday, April 27, 2017
Jenny Ryan
Last week, the 2017 Canadian Society for Transfusion Medicine Conference "Transfusion for All Ages" rolled into Ottawa. Each year, the CSTM presents this event in partnership with Canadian Blood Services and Héma-Québec.
---
Tuesday, May 30, 2017
Jenny Ryan
Since 2007, Canadian Blood Services and the Ontario Regional Blood Coordinating Network (ORBCoN) co-chair the planning and execution of an annual transfusion medicine symposium in partnership with a community hospital. The involvement of the community hospital is key in identifying topics of...
---
Thursday, May 04, 2017
Dr. Kendra Hodgkinson
This post was written with contributions from Dr. Miguel Neves, a post-doctoral fellow in Dr. Heyu Ni's Centre for Innovation lab at St. Michael's Hospital in Toronto. "Transfusion For All Ages," the 2017 Canadian Society for Transfusion Medicine (CSTM) annual meeting organized in partnership...