CSTM 2022: A return to in-person networking & presentations
---
Thursday, September 29, 2022
Abby Wolfe
This post compiles responses from Canadian Blood Services transfusion medicine fellows Dr. Bryan Tordon (University of Toronto) and Dr. Isabelle Blais-Normandin (University of British Columbia), along with research trainees Kiarra Durand, Wenhui Li, Mahsa Yazdanbakhsh, and Olga Mykhailova, and research assistant, Carly Olafson, all from Dr. Jason Acker's lab (University of Edmonton). Responses have been edited for length and/or clarity.
Each year, the Canadian Society for Transfusion Medicine (CSTM) partners with Canadian Blood Services and Héma-Québec to bring together practitioners, researchers, and trainees in transfusion medicine for an exciting conference. With an outstanding scientific program and a new host city every year, the event provides attendees an opportunity to learn, share, and network with peers from across the country and beyond.  
The 2022 CSTM conference was held in-person for the first time since 2019. We asked Canadian Blood Services transfusion medicine fellows and research trainees to reflect on their experiences at the conference. 
What was it like to be in-person and in rooms with actual people at this event?  
Bryan Tordon: CSTM 2022 was an opportunity to connect with peers within the transfusion community, share my research with new audiences, and learn about the exciting work being done in transfusion medicine across the country. After several years of virtual conferences, it was refreshing getting together in-person and overall it was an unforgettable experience.

Carly Olafson: Being in-person was refreshing! There are some benefits to virtual conferences, but the networking opportunities and the ability to easily spark up conversations made me realize how much I had missed in-person meetings.  

Isabelle Blais-Normandin: I enjoyed the opportunities to have deeper conversations about presentations after the meeting over a nice dinner. 

Wenhui Li: CSTM 2022 was a great opportunity to communicate with brilliant peers about our research. It was fantastic to meet in-person and to hear people laugh together. These interactions make understanding the subject easy and fun. And after presenting my poster about donor variance on immature red blood cells, I have a better understanding of how to connect to the audience! 

Mahsa Yazdanbakhsh: I was interested in meeting with like-minded people and industry peers. The conference had many guest speakers, keynote speakers, and workshops that significantly benefit my work.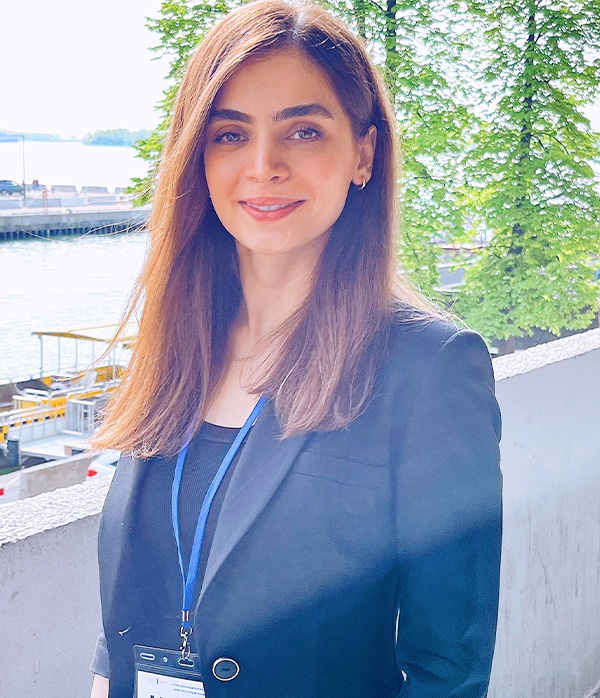 What was the most exciting presentation you attended or thing you learned at CSTM 2022?  
Bryan Tordon: It's hard to choose only one thing! Some of the highlights for me included talks discussing expansion of donor eligibility criteria and updates to the ICTMG albumin guidelines.  

Kiarra Durand: I particularly liked the presentation by Stephen Withers from the University of British Columbia on conversion of type A and B blood to O. I found the implication of this work very enticing, and he did an excellent job of describing the complex chemistry behind his research. 

Olga Mykhailova: I was very impressed by the truly inspiring talk of Mai Duong, who spoke in a plenary session called "Advancing equity, diversity and inclusion for donors." She not only saved her own life, but also keeps saving many lives by bringing ethnic diversity to stem cell registries!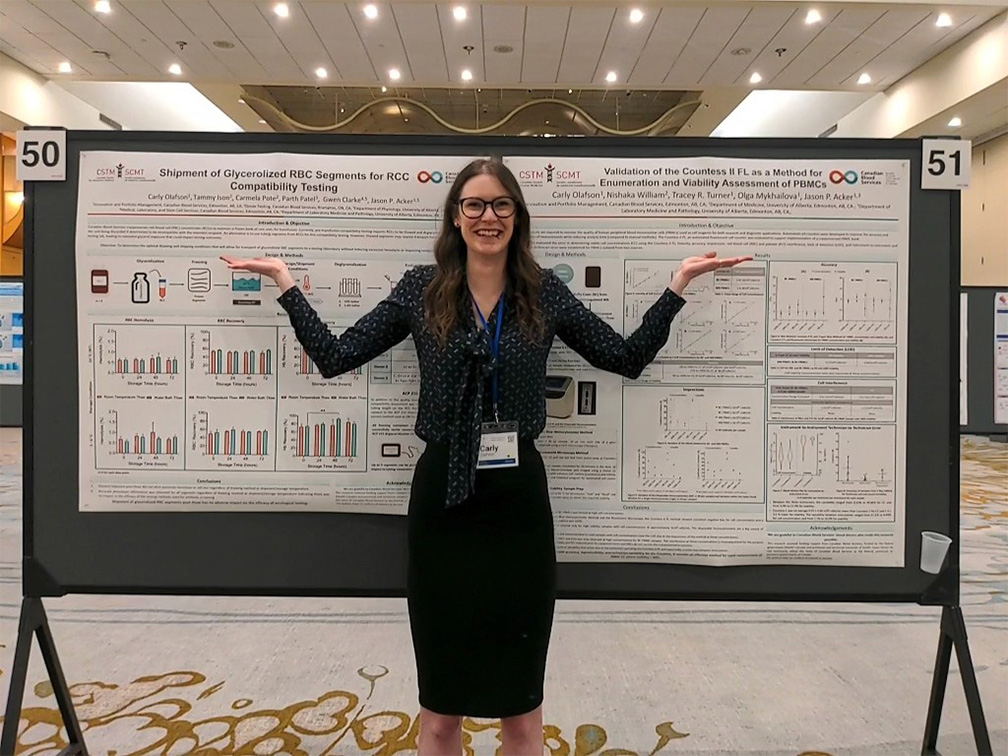 What was the focus of your poster or oral presentation at CSTM 2022? 
Bryan Tordon: I was excited to present multiple projects at CSTM this year, including a poster about red cell antigen genotyping of our Canadian Blood Services donor population. This research is part of ongoing work to further strengthen and support donors with hemoglobinopathies—inherited blood disorders like sickle cell disease and thalassemia—and other rare blood requirements.  

Isabelle Blais-Normandin: I shared a poster detailing a review of the current state of pre-hospital transfusion technical practice in Canada. Understanding this current state will help to establish quality benchmarks for a practice not addressed by current guidelines. 

Kiarra Durand: I am an undergraduate student in the Acker lab and my project hopes to improve ex vivo organ perfusion (the delivery of blood to organ tissue) using porcine red cell concentrate. I attended CSTM 2022 to present a poster about the first steps of this project that developed a processing method and assessing the storage quality of the perfusate.  

Mahsa Yazdanbakhsh: As a PhD candidate working on my thesis, I presented an oral abstract about hemoglobin oxygen affinity in teenage and senior donors. My research is important because it will provide information to optimize the quality of the blood components we produce, minimize adverse effects for blood donors, and provide a foundation for informing transfusion policies and future studies. The results will probably be presented at the conference next year! 
Looking ahead to CSTM 2023 
The next CSTM conference will take place in Montreal in May 2023. The theme for CSTM 2023 will be "Moving forward after 25 years of evolution." More details about the event will be available on the Profedu.ca Events listing as they become available. 
---
Canadian Blood Services – Driving world-class innovation 
Through discovery, development and applied research, Canadian Blood Services drives world-class innovation in blood transfusion, cellular therapy and transplantation—bringing clarity and insight to an increasingly complex healthcare future. Our dedicated research team and extended network of partners engage in exploratory and applied research to create new knowledge, inform and enhance best practices, contribute to the development of new services and technologies, and build capacity through training and collaboration. Find out more about our research impact.  
The opinions reflected in this post are those of the author and do not necessarily reflect the opinions of Canadian Blood Services nor do they reflect the views of Health Canada or any other funding agency.
Related blog posts
---
Tuesday, July 26, 2022
Dr. Niamh Caffrey
Dr. Niamh Caffrey, an epidemiologist in Innovation and Portfolio Management's donation policy and studies group, shares her experience attending this year's Canadian Society for Transfusion Medicine (CSTM) annual meeting.
---
Friday, September 06, 2019
Canadian Blood Services trainees
On the May 30, an eager group of Canadian Blood Services trainees gathered In Calgary, Alta. for the Centre for Innovation's Research Trainee Workshop. The attendees spent the day at the Eau Claire donor centre to learn about donor selection criteria, the blood donor experience, and the art of science blogging.
---
Thursday, June 02, 2022
Canadian Blood Services trainees
The 11th annual Centre for Blood Research Norman Bethune Symposium was held on April 6, 2022. With a focus on recent research advances in bleeding and thrombosis, the symposium engages scientists and clinicians at all levels of training.