Meet the Director: Dr. Chantale Pambrun
---
Tuesday, October 16, 2018
Jenny Ryan
Get to know Dr. Chantale Pambrun, Director, Canadian Blood Services' Centre for Innovation
Previously led by Judie Leach Bennett, who  joined the executive management team as Vice-President, General Counsel and Chief Risk Officer, Dr. Chantale Pambrun took over as Director of the Centre for Innovation in December 2017. She was formerly associate director, donor and clinical services and, prior to joining us at Canadian Blood Services, she was the Medical Director of Hematopathology at a tertiary health care centre for women and children in Halifax, NS.
Image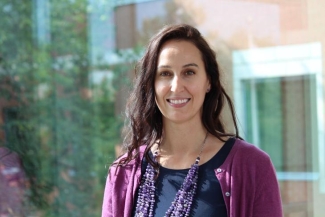 To get to know Dr. Pambrun better, we asked her a few questions…
Tell us a little about yourself… Who are you? Where are you from?
Canada has always been my home. My husband, two children and I have lived in many cities from coast to coast. Our nomad-like existence has made us adaptable and open to new experiences. Much of what drives me in my life and in my career is related to being a positive role model to my children. Each and every day, I strive to contribute to the best of my ability, so that I may inspire them to do the same.
How long have you been with Canadian Blood Services?
I first started with Canadian Blood Services in 2016 as a medical consultant working with Dr. Mindy Goldman in Donor and Clinical Services, which later expanded into an associate medical director role with responsibilities in donor eligibility and the national immunohematology reference laboratory. Donor health is an issue I consider very important in our work and I continue to support work in this area.
Read more: Dr. Pambrun on donor health
Tell us about your role with the Centre for Innovation…
In my role as Director of the Centre for Innovation, I work with a team of approximately 80 individuals who each hold a unique set of skills. Collectively the group helps Canadian Blood Services prepare for the future of transfusion and transplantation medicine, all for the benefit of donors and patients. Broadly the group works on discovery research related, applied development, knowledge mobilization and education, as well as health policy and leading practice.
As director, I'm responsible for making sure the team has what they need to succeed. I am very keen on fostering collaboration within our group, across the organization and beyond to the broader science and healthcare community.
Image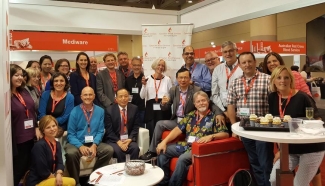 Before working at Canadian Blood Services, what was the most unusual or interesting job you've ever had? 
Once upon a time, I worked at the Chrysler minivan plant in Windsor, Ontario. I spent all day installing van doors – the same tedious task, day after day. That experience taught me that I was not built for an assembly line job. I prefer the challenge of a day that has at least a few surprises and puzzles to solve.
What drew you to Canadian Blood Services originally? 
I was drawn to the organization because it provided an opportunity to do meaningful work in a field with many diverse stakeholders. I knew early on that I wouldn't run out of things to do and that no day would ever be dull…
What do you like most about your job?
The people, the passion, and the cause. I love the diversity of what the Centre for Innovation does and what the group is able to achieve when we work together.
What do you find most exciting about your work?
I enjoy uncovering the untapped opportunities; seeing the team flourish in their day-to-day work; and challenging the status quo.
Read more: Searching for safer red blood cell bags for pediatric patients
What/who inspires you?
I am inspired by people who do what's right, who are authentic, who are passionate and who engage those around them. 
When you're not at work, where could we find you?
I most enjoy relaxing with my family, doing the simple things and enjoying life.
Tell us something about yourself that would surprise us... 
I'm a cowgirl at heart. I've always loved the great outdoors and love riding horses. After medical school I went on a cattle drive with my father in Montana… it was a long-time dream of ours. The simplicity of this life and the big open spaces is something I long for.
Image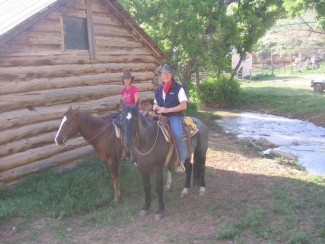 Three words that best describe you:
Enthusiastic, pragmatic, and optimistic. I always try to come to any table with an open mind and try to put a positive spin on whatever the challenge…
You're happiest when? 
When I am true to myself.
Learn more about Canadian Blood Services' Centre for Innovation and ongoing research and education initiatives
---
Canadian Blood Services – Driving world-class innovation
Through discovery, development and applied research, Canadian Blood Services drives world-class innovation in blood transfusion, cellular therapy and transplantation—bringing clarity and insight to an increasingly complex healthcare future. Our dedicated research team and extended network of partners engage in exploratory and applied research to create new knowledge, inform and enhance best practices, contribute to the development of new services and technologies, and build capacity through training and collaboration. Find out more about our research impact. 
The opinions reflected in this post are those of the author and do not necessarily reflect the opinions of Canadian Blood Services nor do they reflect the views of Health Canada or any other funding agency.
Related blog posts
---
Wednesday, August 03, 2016
Jenny Ryan
For this instalment of "meet the researcher" we caught up with Dr. William Sheffield a senior scientist with Canadian Blood Services' Centre for Innovation. How long have you been with Canadian Blood Services? I've been with Canadian Blood Services since before it existed! I joined our predecessor...
---
Wednesday, February 07, 2018
Dr. Kendra Hodgkinson
This week, we catch up with Dr. Sandra Ramirez-Arcos, Canadian Blood Services' development scientist and head of the microbiology laboratory in Ottawa. How long have you been with Canadian Blood Services? I started working at Canadian Blood Services on November 10, 2003, so it will be 15 years in...
---
Monday, January 22, 2018
Dr. Geraldine Walsh
For the latest instalment of "Meet the researcher" we chatted with Dr. John Blake, Canadian Blood Services' research engineer and also known as "the numbers guy".