This week, we catch up with Dr. Sandra Ramirez-Arcos, Canadian Blood Services' development scientist and head of the microbiology laboratory in Ottawa.
How long have you been with Canadian Blood Services?
I started working at Canadian Blood Services on November 10, 2003, so it will be 15 years in November 2018!
What's your role?
I am a Development Scientist in the Process and Products Development group at the Centre for Innovation. Development scientists conduct applied research to tackle some of the challenges faced by Canadian Blood Services during the processing of blood products. My role is focused on keeping the blood products safe from bacterial contamination.
Image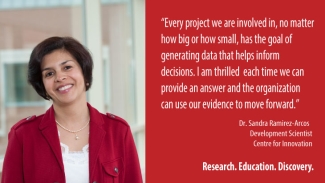 Where is your lab?
I am the head of the microbiology laboratory, which is located at Canadian Blood Services' Head Office in Ottawa, ON.
Tell us about your area(s) of research.
The development work carried out in the microbiology lab aims to improve the safety of blood components that are used for transfusion and transplantation. We validate and assist Canadian Blood Services in implementing methods for microbial screening of platelets and other blood components, including stem cells and cord blood.
We also work with industry partners to evaluate new technologies used for the detection of microbial contamination.
In parallel to the development work, I supervise undergraduate and graduate students and post-doctoral fellows on projects of a more basic nature. For example, we explore the dynamics of bacterial growth during storage of blood components, with a major focus on platelets. This discovery research increases our understanding of the biology involved in bacterial growth and helps us develop new ways to prevent or detect bacterial contamination.
In collaboration with national and international scientists, we have developed extensive expertise around bacteria that form surface-attached communities known as biofilms. Bacterial biofilm formation during platelet storage may negatively affect detection of bacteria with routine screening and increase the bacteria's ability to cause disease.
What are you working on now?
We are currently working on multiple projects of great importance. In the area of bacterial testing of platelet units, we are working to support the implementation of an in-house method to follow up on bacterial cultures obtained from platelet products that routine screening identifies as contaminated with bacteria. All platelet units that test positive in the routine screen must be re-tested to confirm whether or not bacteria are present. Currently, the bacterial cultures obtained during initial testing and re-testing are done by a third party.
Image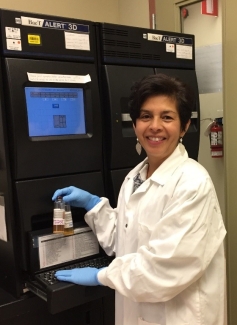 Dr. Ramirez  in the lab with the BacT/ALERT bacterial screening system.
Doing this testing in-house instead is very important because it will allow us to have timely results and release to the hospitals the other blood components (red blood cells and plasma) collected from the same donor if the initial result was a false positive and the platelets are not actually contaminated with bacteria. My group is doing the work needed to validate and implement this follow-up testing in-house.
Additionally, we are participating in a project aimed at performing bacterial testing of red blood cell units in a way that doesn't damage the product. Currently, testing for bacterial growth in red blood cell units is done on a small percentage of units that have been set aside for this purpose and are not available for transfusion.
This testing takes place after 42 days of storage and confirms that our processes and storage conditions do not allow bacteria to grow in the red blood cell units. If we could avoid setting aside units exclusively for testing after 42 days and develop a method to test for bacteria early during storage, it would reduce product waste due to testing and could allow testing of a larger number of units, which could ultimately improve our ability to detect products contaminated with bacteria.
We are also leading an international study to collect data regarding bacterial growth in units of thawed plasma that are stored in a refrigerator and exposed to uncontrolled temperatures during storage. These studies have the goal of increasing efficiency at Canadian Blood Services and other blood operators without compromising the safety and quality of blood components.
Why did you get into science?                                              
I have always felt passionate and curious about biology and discovering new things. Ever since I was a child, there was little doubt that I would study and work in science.
What inspires you?
The unknown — I'm inspired by the need to advance knowledge and discover whether (or not) a specific hypothesis can be proven.
What do you find most exciting about your work?
That we can bring change to practice. Every little or big project we are involved in has the goal of generating data to make decisions. I am thrilled each time we can provide an answer and the organization can move forward.
What work are you most proud of?
Almost everything I do makes me feel proud. If I must mention two big accomplishments of the microbiology lab in the last decade, I would say that providing evidence that helped in extending the 30-minute rule for red blood cells to 60 minutes was very important for me. Also, our work on bacterial biofilm formation during platelet storage has had great international recognition. Both projects make me especially proud because we have been pioneers in their research and knowledge translation.
Learn more about extending the 30-minute rule:
When you're not in the lab where could we find you?
Most likely spending quality time with my husband and 10-year-old son. You could also find me in a yoga class, at a movie theater, or curled up reading a book.
Image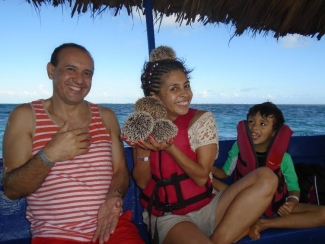 Dr. Ramirez and family on vacation in the Caribbean.
Subscribe to the Research & Education Round Up to stay up to date on research publications and funding opportunities. 
Visit our Funded Research Projects page to view projects funded by Canadian Blood Services.
---
Canadian Blood Services – Driving world-class innovation
Through discovery, development and applied research, Canadian Blood Services drives world-class innovation in blood transfusion, cellular therapy and transplantation—bringing clarity and insight to an increasingly complex healthcare future. Our dedicated research team and extended network of partners engage in exploratory and applied research to create new knowledge, inform and enhance best practices, contribute to the development of new services and technologies, and build capacity through training and collaboration. Find out more about our research impact. 
The opinions reflected in this post are those of the author and do not necessarily reflect the opinions of Canadian Blood Services nor do they reflect the views of Health Canada or any other funding agency.
Related blog posts
---
Wednesday, February 17, 2016
Jenny Ryan
Led by Dr. Sandra Ramirez, a development scientist at Canadian Blood Services' Centre for Innovation, this research project led to a new standard that will reduce the number of discarded red blood cell units. By Jenny Ryan and Patrick Walton The issue Since the 1970s, blood operators have limited...