For the latest instalment of "Meet the researcher" we chatted with Dr. John Blake, Canadian Blood Services' research engineer and "the numbers guy".
Who are you and what do you do? 
I am a member of the Centre for Innovation research and development staff.  While most of my Canadian Blood Services colleagues are scientists, I consider myself a "research engineer".
I am an industrial engineer by training and my role is to provide support to the organization, through the development of models used to inform decision-making. Sometimes the decisions revolve around blood inventory or logistics, sometimes they relate to stem cell registry size or composition, and sometimes they relate to optimizing the components in a blood bag. If pressed for a short answer, I usually say, "I'm the numbers guy".
Image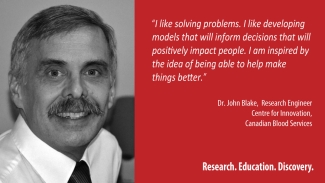 How long have you been with Canadian Blood Services?
I've been working with Canadian Blood Services since 1998. When just a newly minted PhD I had a research project here in Halifax, Nova Scotia with a couple of doctors at the QEII Hospital. Our work got the attention of Canadian Blood Services, which led to a collaboration the following summer to collect data at the Canadian Blood Services Halifax Centre. The folks at the Halifax Centre were very welcoming and the relationship developed from there. Since then I've had an active research program in blood. I spent sabbaticals in 2003 and 2010 with Canadian Blood Services. I became an adjunct scientist in 2004 and a full-time member of the staff in 2011. (I'm on secondment from Dalhousie University, so I'm somewhat unique in the sense that I don't have a Canadian Blood Services employee number.)
Want to learn more about Dr. Blake's use of models to inform decision-making at Canadian Blood Services? Check out this research highlight describing Dr. Blake's work to help the organization understand how consolidating blood production and distribution services in the Maritimes impacts product availability in hospitals.
Where is your lab?
I'm an industrial engineer and our models are mostly conceptual in nature, so my experiments are done in virtual space, rather than on physical objects. My lab is really a set of offices with some reasonably powered computers.
My location is at Dalhousie University in a repurposed apartment building in the south end of Halifax, dating from about the 1880s. My graduate students, until recently, were housed in the building that was used by the Canadian Red Cross during the Second World War.
Tell us about your area(s) of research...
I am interested in a type of applied research called "Operational Research" or OR. Operational Research got its start during the Second World War in the UK, where it was used to evaluate the effectiveness of military operations. Since then OR has been widely applied to a vast range of industries.
My particular expertise is in process simulation and mathematical optimization. In addition to mathematical modelling, I also have a background in statistics and software design.
My work at Canadian Blood Services has largely looked at the blood supply chain – where to collect, where to process, where to distribute, how much inventory to hold. If pressed for a short answer, I'd say that my particular expertise is applying engineering models to big, complex problems in blood supply.
What are you working on now?
My gosh, where to start? Looking at my to-do list today, I've got:
Platelet spoke-and-hub models: One of my students is looking at a model that would let us evaluate the benefit of a two-stage platelet shipping model – sending some platelets on a regular basis to smaller regional hospitals and then automatically moving them to a large tertiary centre. Something similar to this model has been trialed in Australia.
Rare blood: We've just finished a project to look at the amount of rare blood inventory that should be frozen. That was an interesting project with somewhat unexpected results.
Stem Cell Registry: We've been helping the our stem cell registry folks optimize their recruits, both in terms of the types of registrants recruited and number of individuals recruited over time.
Seven-day platelets: Another interesting project to estimate the likely reduction in wastage resulting from extending the shelf life of platelets from five to seven days.
Why did you get into science?                                              
There's an old joke that people go into engineering because they lack the personality to be an accountant, but honestly, I love being an engineer. Like most engineers, I liked math and science growing up. I did a bit of computer programming as a teen, back in the day when computers were rare objects. When it came time to pick a career I gravitated to engineering. It was likely more serendipity than planning, but I've been happy with the outcome.
What inspires you?
I like solving problems. I like helping people. I like developing models that will inform decisions that will positively impact people and the organizations that they work for or the places that they live in. I am inspired by the idea of being able to help make things better. It doesn't always have to be in big ways either. I recall organizing a group of Cub Scouts at a pancake dinner fundraiser. Just a bit of organization, combined with some simple flow models understandable to an 8-year-old hopped up on maple syrup, worked wonders.
What do you find most exciting about your work?
I like the fact that every day is different. I like the fact with every project I do, I learn something that I didn't know before. I am thrilled that, from time to time, I can share what I've learned with others.
What work are you most proud of?
I am proud when I see my work having a tangible impact. I was pleased that some of the work we did on red blood cell wastage is used as evidence (both for and against) changing the shelf life of red blood cells. I was proud of the fact that when the change in deferral period for women came into effect a year ago, the number of extra donors needed to make up for the deferral loss, quoted in the press, came from my research. I'm gratified that a small segment of my work made it onto a circular of information (Canadian Blood Services' product monographs) for one of our blood products.
But, by far, the best piece of feedback I ever had came from an odd source. A few years ago, I was working on blood distribution in the Maritime Provinces. I'd done some preliminary work on optimizing a delivery route. Towards the end of the project I called the folks in logistics and asked them to share with me the detailed data on deliveries. The logistics people promptly sent me back exactly the same table I'd drawn up a few months before, apparently forgetting that my research was the original source of the data! This demonstrated that the modeling we'd done and data we'd generated were spot on. The solution I'd provided earlier in the project had been adopted and accepted by the logistics people and was working well for them. To me, this was the ultimate validation our work and showed the value of the solutions and data we provide.
When you're not in the lab where could we find you?
Look for me somewhere outside. I've been an avid runner for 40 years and will go out in almost any conditions. I can also often be found at Scout camp. My 13-year-old and I are both active in Scouts. We've been all sorts of places and camped in some interesting conditions. When not outside, I can usually be found brewing beer in my basement or working to upgrade my cooking skills. 
Image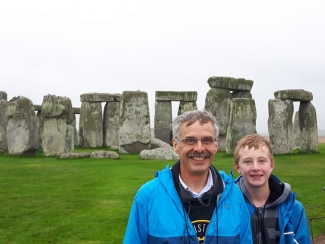 Dr. Blake and his son visiting Stonehenge, UK.
Subscribe to the Research & Education Round Up to stay up to date on research publications and funding opportunities. 
Visit our Funded Research Projects to view projects funded by Canadian Blood Services.
---
Canadian Blood Services – Driving world-class innovation
Through discovery, development and applied research, Canadian Blood Services drives world-class innovation in blood transfusion, cellular therapy and transplantation—bringing clarity and insight to an increasingly complex healthcare future. Our dedicated research team and extended network of partners engage in exploratory and applied research to create new knowledge, inform and enhance best practices, contribute to the development of new services and technologies, and build capacity through training and collaboration. Find out more about our research impact. 
The opinions reflected in this post are those of the author and do not necessarily reflect the opinions of Canadian Blood Services nor do they reflect the views of Health Canada or any other funding agency.
Related blog posts
---
Wednesday, August 03, 2016
Jenny Ryan
For this instalment of "meet the researcher" we caught up with Dr. William Sheffield a senior scientist with Canadian Blood Services' Centre for Innovation. How long have you been with Canadian Blood Services? I've been with Canadian Blood Services since before it existed! I joined our predecessor...