Meet the Researcher: Dr. William Sheffield
---
Wednesday, August 03, 2016
Jenny Ryan
For this instalment of "meet the researcher" we caught up with Dr. William Sheffield a senior scientist with Canadian Blood Services' Centre for Innovation. 
Image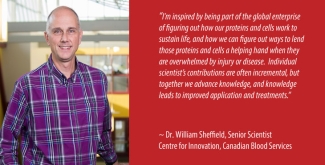 How long have you been with Canadian Blood Services?
I've been with Canadian Blood Services since before it existed! I joined our predecessor organization, the Canadian Red Cross Society, as a postdoctoral fellow, training with the legendary Dr. Mo Blajchman, in 1989, and never left.
What's your role?
I'm a senior scientist within the Centre for Innovation with an active research program. I also have an administrative role as associate director, research. I also share my subject matter expertise in plasma protein products and transfusable plasma quality with our colleagues in Canadian Blood Services' Supply Chain as needed.
Where is your lab? 
My laboratory is located on the campus of McMaster University in Hamilton. I'm a Professor of Pathology and Molecular Medicine at McMaster University.
Tell us about your area(s) of research...
Projects in my lab involve plasma, plasma proteins, and coagulation. We work with mouse models in which coagulation is impaired, with either too little activity (bleeding models) or too much (intravascular clotting models). In that context we study which plasma proteins, of the hundreds present in plasma, are most important for a beneficial effect of its transfusion. We also look at plasma protein products such as recombinant clotting factors or concentrates of prothrombin complexes or fibrinogen. We've engineered proteins to last longer in the circulation by combining them with albumin, and we've done molecular studies trying to understand how natural inhibitors of coagulation work. We are also involved on an ongoing basis with plasma quality studies, in which we assist Canadian Blood Services' Supply Chain by determining if a particular change in consumables, equipment, or procedures will change coagulation factor activities in our plasma products.
What are you working on now?
We're working on all kinds of things! To name a few, these include:
developing DNA-based drugs to neutralize coagulation factor XI and identify poorly storing red blood cells,
identifying the most important component of prothrombin complex concentrates,
using new technologies to assess plasma quality, and
rewiring a plasma protein so that it neutralizes a different clotting activity from the one it does in nature...
I could go on, but readers might fall asleep and injure themselves, so that's enough for now. Safety first!
Why did you get into science?
I was always drawn to science from the time I was a little boy. At first I was into dinosaurs and astronomy. My father, who started out as a radio communications engineer, encouraged these interests and led by example as a lifelong learner. Over time my interests became more focused on biology and disease. I also realized that while my mathematical skills were adequate for the biological sciences, they were not up to standard among astrophysicists!
What inspires you?
I'm inspired by being part of the global enterprise of figuring out how our proteins and cells work to sustain life, and how we can figure out ways to lend those proteins and cells a helping hand when they are overwhelmed by injury or disease. Individual scientist's contributions are often incremental, but together we advance knowledge, and knowledge leads to improved application and treatments. Of course it's even more fun when someone in my lab, or one of the team of research scientists at Canadian Blood Services with whom I work, is responsible for an advance. And we are all continuously inspired by reading a new discovery reported in a scientific journal in an elegant and convincing way that makes one say, "So that's how that works! Cool…"
What do you find most exciting about your work?
In research, just when you think you understand something, the results tell you to think again, and try harder. So, we are continuously challenged and things are rarely dull. That's pretty exciting when I step back and think about it, although in the moment, it may feel like a setback.
What work are you most proud of?
From a purely scientific standpoint, I'm proud of studies in which we've engineered plasma proteins to do entirely new things: to attach themselves to the surface of cells; to remain inactive until a molecular switch is thrown; and to circulate much longer than in their original forms. I'm also proud of work we have done with immediate practical value, like providing data to Health Canada about the stability of thawed plasma or thawed cryosupernatant that has allowed us to change regulations and reduce wastage. One kind of activity contributes incrementally, and the other directly. I'm fortunate to be able to do both, with my staff and trainees.
When you're not in the lab where could we find you? 
You will find me out on a run continuing my decade-long quest to qualify for the Boston Marathon (so far I'm too slow), spending time with my family, travelling with my high school sweetheart/wife (we toured Iceland this summer), or reading novels from the thriller, murder or sci-fi genres.
Image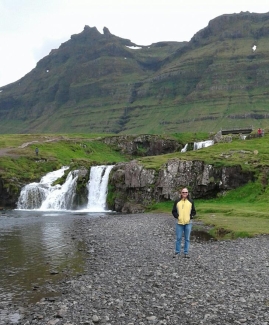 ---
Canadian Blood Services – Driving world-class innovation
Through discovery, development and applied research, Canadian Blood Services drives world-class innovation in blood transfusion, cellular therapy and transplantation—bringing clarity and insight to an increasingly complex healthcare future. Our dedicated research team and extended network of partners engage in exploratory and applied research to create new knowledge, inform and enhance best practices, contribute to the development of new services and technologies, and build capacity through training and collaboration.
The opinions reflected in this post are those of the author(s) and do not necessarily reflect the opinions of Canadian Blood Services.
Related blog posts
---
Wednesday, May 11, 2016
Jenny Ryan
Dr. Pineault and his team are working on a cellular therapy to improve engraftment (the process through which new blood-forming cells start to develop in the patient) following cord blood stem cell transplantation.
---
Wednesday, February 17, 2016
Jenny Ryan
Led by Dr. Sandra Ramirez, a development scientist at Canadian Blood Services' Centre for Innovation, this research project led to a new standard that will reduce the number of discarded red blood cell units. By Jenny Ryan and Patrick Walton The issue Since the 1970s, blood operators have limited...