Volunteer duo shows up to support donors and recipients
This National Volunteer Week, we celebrate people who help us meet patient need and brighten the donor experience.
April 22, 2022
Every day, volunteers show up to support donors at our donation and community events across the country. National Volunteer Week from April 24-30, 2022, is a time to celebrate the vital contributions these 3,500 dedicated volunteers make to Canada's Lifeline.
David and Mary-Alice Mirhady, a couple in Burnaby, B.C., are two of those volunteers. With their combined 35 years of giving their time at mobile donation events, as well as donating blood and platelets, this dynamic duo is demonstrating what it means to show up and help others.
David, the son of two doctors, and Mary-Alice, the daughter of a nurse, grew up with a distinct awareness of the need for blood and blood products. They both joined Canada's Lifeline in their late teens, as soon as they became eligible to donate blood. Their commitment grew from there.
"I had been a blood donor for many years. Then, when I learned the Knights of Columbus at my church were volunteering at a mobile clinic, it just seemed like a natural fit," said David, who is now the team leader for the Burnaby area and is approaching his 20th anniversary as a volunteer.
Meantime, Mary-Alice is approaching her 15th. She volunteers about three times per week in the areas of Tri-Cities, Burnaby, New Westminster and North Vancouver. She's been going in more often during the COVID-19 pandemic, frequently stepping in at a moment's notice to help.
"I've been volunteering so often and for so long that the staff really do make me feel like part of the team. I feel very connected to them, as well as the donors," says Mary Alice. When I walk in, they say 'yay, she's here!'"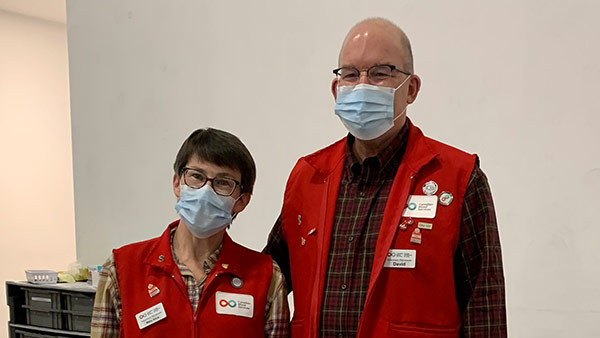 Volunteers create a fun and inviting experience for blood donors
Over the years, David and Mary-Alice have seen many of the same faces around the refreshment table. They have seen some donors bring their children with them, and then watched those children become donors as well.
David has been known to create some fun at donor events, too. He once brought his identical twin brother to a volunteer shift to prank the employees and donors.
"It might be the oldest trick in the book, but it sure made for some laughs," chuckled David.
David is also part of a local barbershop quartet. When he realized that Mary-Alice had a blood donation appointment booked for Valentine's Day a few years ago, he showed up with the quartet to treat her to a bedside serenade of love songs.
"It was a neat surprise and I was a bit embarrassed, but the donors and staff sure loved it," said Mary-Alice.
It is moments like these that have helped create a sense of community at the donation events where the couple volunteers. Donors leave feeling like they've done something to help others, but have also really enjoyed the conversation and experience.
Learn more about becoming a volunteer with Canadian Blood Services
Encouraging others to show up for Canada's Lifeline
Across Canada, Canadian Blood Services has 3,500 volunteers. In times of need, they show up to help people they know and people they don't. They help inspire donors to donate blood, platelets or plasma, to register as a stem cell or organ and tissue donor, and they help fundraise to support our lifesaving programs.
The Mirhadys take every opportunity in their personal and professional lives to make donation part of the conversation. Their unwavering support plays an essential role in meeting the needs of patients across Canada.
"I donate blood regularly myself and I always make a point to mention it to others. It often encourages them to ask questions, which I'm happy to answer without being pushy," says Mary-Alice.
David, who is a professor at Simon Fraser University, also talks about his history as a blood and platelet donor with his students. "It's an opportunity to create awareness about donation, but also about the stem cell registry for this younger age group. I may joke that they should donate for the pretzels and cookies, but for a recipient the need is no laughing matter. I'm grateful for every opportunity I've had to help others."
Throughout the ever-changing COVID-19 pandemic, dedicated volunteers such as the Mirhadys have continued to show up to help ensure Canadians receive blood, plasma, stem cells, organs and tissues when they need them most. We thank them for their positive impact and for inspiring others to join our volunteer community.
Volunteers are vital to supporting Canada's Lifeline and building connections between donors and recipients. To learn more about volunteering, please visit our 'Become a volunteer' page.