Donating blood for research helps improve Canada's blood system
Vancouver home to unique donor centre collecting blood for research
October 29, 2020
Five years ago, retired firefighter Kirby Graeme, 61, donated plasma every two weeks at a Canadian Blood Services donor centre in Vancouver. It was part of his routine along with some of his colleagues. When he got a false positive test for hepatitis B due to a recent vaccination and was told he could no longer donate, he was very disappointed. Because he was donating in Vancouver, however, he was able to join a special group of donors: the ones who give to our Blood for Research Program.
This special program in Vancouver is at our netCAD Blood for Research Facility at the University of British Columbia. It collects blood to support studies that improve Canadian Blood Services' products and processes, as well as the work of other scientists across Canada.
Graeme recently hit his 200-donation milestone.
Image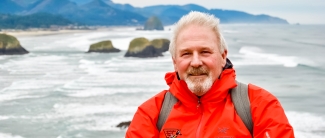 "I'm glad that I get to carry on giving through the Blood for Research Program," says Graeme. "In a way I find it more meaningful than donating directly for patients because I'm contributing to leading edge research that will hopefully help even more people in the long run."
Our Blood for Research Program is different from the typical donor centre because it screens using mostly donor safety eligibility criteria, such as hemoglobin levels and how often one can donate. That means many people in the Vancouver area who would be ineligible due to reasons such as recent travel to a malaria risk area, being a sexually active gay or bisexual man, or receiving a false positive on a test can help by donating for research purposes.
Research donors help us create the next generation of blood products
Blood for research is collected in a miniature donor centre attached to labs that are innovating the next generation of blood products while improving the efficiency of the blood system.
Right now, blood donated for research is helping us create products such as freeze dried plasma and whole blood with the white cells filtered out, which will both be especially useful for first responders, trauma patients and those serving in the military. It's also helping us introduced pathogen-reduced platelets, which uses UV light to blast away pathogens. Platelets are the cells that allow our blood to clot properly. They have a short shelf life of only five days and need to be stored differently than other blood products – at room temperature and constantly agitated. Pathogen reduction will help make these products safer for patients in Canada.
Blood for research donors help us test new processes and equipment to maintain high quality and improve efficiency in blood collection, testing and processing across Canada. The blood is also distributed to researchers across Canada, advancing science in many fields.
If you live in Vancouver and are interested in donating blood for research, please email researchdonations@blood.ca.