A grieving mother's journey to help others
Denice Klavano contributed to new plan to improve cornea donation in Canada
October 6, 2020
At her home in Eastern Passage, Nova Scotia, Denice Klavano has many reminders of her late son, Brad Howell.
There's his high school graduation portrait, and the Queen's certificate commemorating the young army reservist's death. But among the most stirring is a painting of poppies. It's a work of art created by a person whose life Brad changed in death: the recipient of one of his corneas.
Even before Brad's death, Denice was a dedicated and passionate advocate for tissue donation and transplantation because of her work at Nova Scotia's Regional Tissue Bank. As a tissue bank assistant, she retrieved donated tissues from hospitals and tracked tissue donation, including the donation of corneas, which are the clear outer layer at the front of each eye. The cornea bends light to help the eye focus.
Brad's tragic death 14 years ago inspired Denice to play a key role in improving the donation and transplantation system in Canada. Today, on World Sight Day, she can proudly say she was she contributed to the development of recommendations to eliminate the corneal waiting list in Canada by 2025. It's a contribution her son would be proud of, as his donation helped improve the sight, and lives, of two people.
'I asked him if he planned on being a donor'
Brad, an army reservist in Halifax, was only 18 years old when he passed away on March 13, 2006. The young corporal, who had just started his studies at St. Mary's University, was working a security shift at the Halifax Armoury when he accidentally became pinned between a truck and a forklift.
Just three months prior, he had proudly registered to be an organ and tissue donor in the event of his death.
How do you register to donate organs and tissues?
"I asked him if he planned on being a donor and he just looked at me with a smile and said 'Of course, Mom, this is just a rental' as he pointed to himself," recalls Denice. "Because of my work at the tissue bank, the conversation about choosing to be an organ and tissue donor was always an important topic at home with my four sons."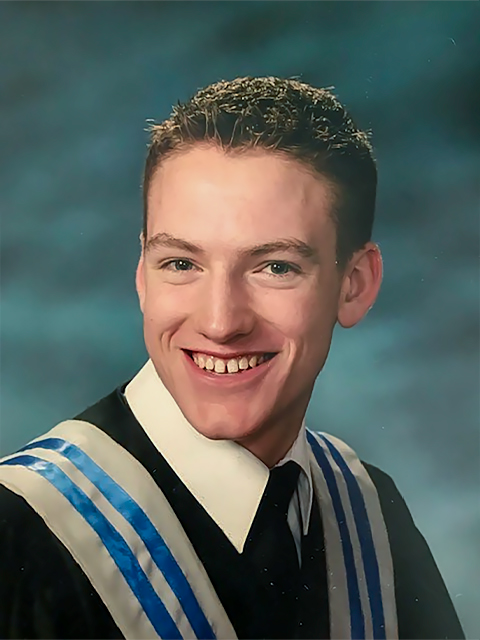 Brad Howell died tragically in 2006, but his cornea donations improved the lives of two people.
Denice left the tissue bank after Brad's death and now works in patient relations at the Nova Scotia Health Authority. She spends her spare time speaking to audiences, from medical professionals to paramedics to students, about Brad's story and organ and tissue donation from a parent's perspective. Author Sherry Topple was so deeply touched by one of Denice's presentations that she wrote a poem for Brad, hoping to inspire others to register as organ and tissue donors.
Denice is especially driven to help medical professionals confidently and compassionately discuss organ and tissue donation with parents who have just lost a child.
"Don't be afraid. I am that mother," she advises them. "By asking about organ donation, they're not making the situation worse. The family has already heard the worst news possible. The only question that they can ask that will have a positive outcome in this tragedy is 'Would your loved one want to be an organ and tissue donor?'
"I cannot describe the comfort of knowing that my son's eyes continue to see the world, although through a different lens."
Canadian Blood Services, which works with the Organ and Tissue Donation and Transplantation community to improve national system performance, approached Denice to participate in a committee to analyze and recommend improvements to Canada's cornea donation and transplantation system.
"Engaging patients, donors and donor family members in this type of process, from start to finish, is an essential part of developing quality leading practices," says Ken Lotherington, System Development Specialist for Canadian Blood Services. "Denice is very well known for her work and advocacy. She has a unique perspective as the mum of a donor and as a professional who has worked in the system. She is a passionate advocate and understands the powerful impact of donation and transplant from both sides."
In February 2020, the committee —whose members also include transplant recipients, in addition to donation and transplant experts and organizations across the country — made a bold recommendation: to create a Canadian cornea donation and transplantation system that is self-sufficient and eliminates corneal transplant waiting lists within five years.
"This is an appropriate goal for the community to strive for and yet a challenging one," says Lotherington. "Before I joined Canadian Blood Services, I was a certified eye bank technician. I spent many years allocating corneas and saw the waitlist grow. With national collaboration and a common goal to strive for, I believe we can be inspired to achieve it."
Image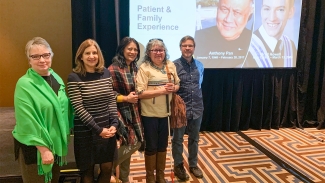 Denice Klavano, left, with Susan Harason (cornea recipient), Kathleen Tabinga (family member of a donor), Shirley Sinclair (cornea recipient), and Dr. Paul Postuma (cornea recipient) met in February.
After months of collecting evidence, analysis and collaborating with experts, the committee has now released the final report and recommendations to ultimately reach the goal of eliminating the wait list. The report is called Cornea Donation and Transplantation: A National Consensus Forum for Improving Access Across Canada.
"This report focuses on the gaps and barriers in Canada when it comes to cornea donation," says Denice. "One of the biggest issues we discovered was the inconsistency within the system. Someone may have to wait six months for a cornea in one province, yet another person may have to wait four years in another province. We can do better.
"The decision to donate is the only decision that may have the power to comfort" in the days following a death, Denice continues. "The only straw to grasp at, when searching for meaning in a meaningless and senseless event. The silent and heartfelt plea that another life may be lived through this gift. Another family spared this grief."
Denice hopes that by sharing her story, more families will learn about organ and tissue donation, and make their own wishes known to each other.
"We had those conversations at home. I knew what Brad wanted," she says. "Then it's easier for families to make those decisions."
Highlights from Cornea Donation and Transplantation: A National Consensus Forum for Improving Access Across Canada:
In Canada the waiting time for corneal transplant and the corneal transplant rate varies significantly between provinces. Depending on which province you live, a non-urgent patient will wait from one month to more than two years for transplant. The corneal transplant rate varies from 36 to 126 per million population.
The provincial demand for corneas for transplantation is increasing and will continue to increase due to an aging population and refined surgical techniques which allow for better outcomes, shorter hospital stays and wider indications for surgery. Unfortunately, despite this increasing demand, there has been no significant change in the "supply" of corneas in Canada over the last five years. 
Many Canadians are disadvantaged by the current systems and lack of communication and coordination in corneal donation and transplantation. Existing provincial infrastructure and resources can be optimized, and system improvements aligned and coordinated to significantly improve access to corneal donation and transplantation across Canada with reasonable and achievable resource allocations.
Canadian Blood Services works with the Organ and Tissue Donation & Transplantation (OTDT) community to improve national system performance. To help meet the critical need for more donors across the country, you can register to donate or learn more about living donation.