Umbilical cord blood donor celebrates the chance to save a life
A few years after Kelsey Koch donated her son's cord blood, it was matched to a patient for a stem cell transplant
September 9, 2021
A simple act of kindness by a family in Edmonton, Alta., helped deliver great hope to a patient in need.
Before her son Nixon was born five years ago, Kelsey Koch registered to donate his umbilical cord blood. The blood left in the umbilical cord and placenta after a birth is rich with lifesaving blood stem cells, so with mothers' consent, Canadian Blood Services' Cord Blood Bank collects and stores it for future use by any matching patient who requires a stem cell transplant. Just like stem cells found in bone marrow or circulating blood, those found in cord blood can be used to treat more than 80 blood diseases and disorders, including life-threatening cancers.
"If there was the slightest chance our baby's cord blood would help someone, it was a no-brainer for us to help that person," says Kelsey, who is a labour and delivery nurse at the Lois Hole Hospital in Edmonton, Alta.
A few years later, Kelsey had just given birth to her second child, Emmy, when she received a letter from Canadian Blood Services.
"When I opened the mail, I saw a certificate informing us that our donated cord blood unit was shipped to a patient," says Kelsey. "I got very emotional. I was overwhelmed with knowing that my son had potentially made a difference in someone's life."
"It's something I never expected to hear, and yet it brought us so much joy."
Saving lives here and around the world with Canadian Blood Services' Cord Blood Bank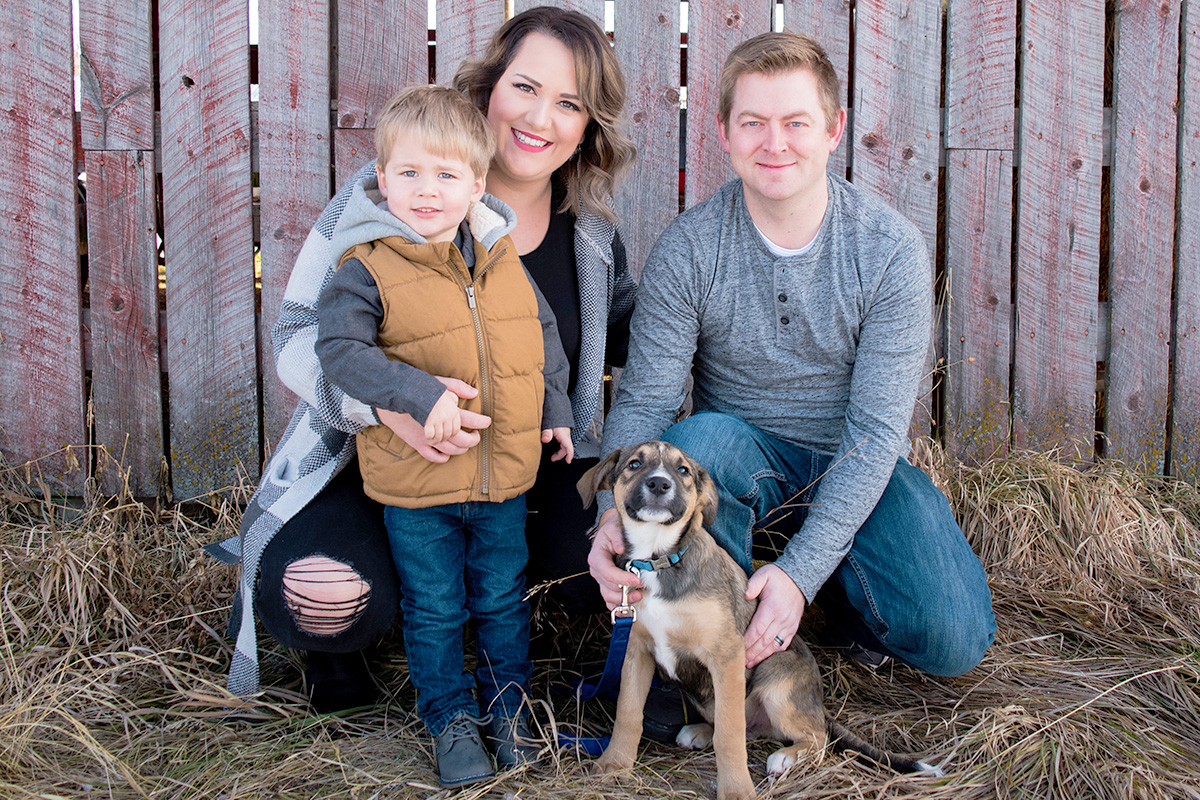 Kelsey Koch, seen here with her husband, Kyle Koch, and her son Nixon, donated umbilical cord blood after Nixon's birth. That cord blood was later matched to a patient for a stem cell transplant.
For some patients, cord blood is the best or only option
As a source of stem cells for transplant, cord blood has important advantages for some patients. While adult stem cells from bone marrow or circulating blood require a close genetic match between the donor's and recipient's human leukocyte antigens (HLA), stem cells from cord blood do not need to be an exact match for a patient. That makes cord blood a great option for patients who cannot find a match within Canadian Blood Services Stem Cell Registry.
Delivering hope, one cord blood donation at a time
How donated umbilical cord blood saved the life of another newborn
Also, because cord blood stem cells are collected and stored in advance, they can generally be made available to a patient more quickly than those obtained through a search for a matching adult donor. And during the COVID-19 pandemic ― which has prevented in-person recruitment for the stem cell registry as well as created challenges for the collection and shipping of adult stem cells ― our public cord blood bank has only grown in importance. The bank has shipped more cord blood units in the past year than in all previous years since its founding in 2013.
A cord blood donor driven by a passion
In addition to being a cord blood donor, Kelsey has been a passionate advocate for cord blood donation through her work as a nurse.
Kelsey started working at Lois Hole Hospital 12 years ago, as a recent nursing graduate. She's always had an interest in women's reproductive health, so she describes working as a labour and delivery nurse as her dream job.
Then in 2013, when Canadian Blood Services' Cord Blood Bank launched, her hospital was selected as one of the sites where Canadian families could donate their babies' cord blood to a national public bank. Since then, Kelsey has assisted with many cord blood donations as part of her day-to-day work. She constantly speaks to moms delivering at her hospital about choosing to donate their babies' cord blood to a public bank, and reminds them that it is free and easy to do so ― something she now knows from experience.
"Knowing how the cord blood donation process works and how little it affects the labour and delivery process made it very easy for our family to donate five years ago," says Kelsey. "After my delivering obstetrician placed my son on my chest, I didn't notice the donation take place. Being on the patient side of things for the first time, I really felt the process was seamless."
As a publicly funded national program, Canadian Blood Services' Cord Blood Bank collects and stores eligible blood stem cells from the umbilical cords and placentas of babies delivered at four designated hospitals. These are in the Ontario cities of Ottawa and Brampton, as well as in Edmonton and Vancouver, B.C. The choice of these locations allows the bank to focus on building an inventory of cord blood units that's truly reflective of Canada's diversity. That's important, because a patient's best hope of a stem cell match is with a donor who shares their ancestral background. More than 60 per cent of the bank's inventory is now comprised of donations from members of Asian, Hispanic, Indigenous, mixed-race and Black communities.
By deciding to donate, you give patients hope
When Kelsey became pregnant a second time, she looked forward to donating her baby's cord blood again. Unfortunately, her baby girl was born in the wee hours of the morning, outside the cord blood bank's collection hours. As Kelsey experienced, there's always a chance that a baby will arrive at a time when their cord blood can't be collected. However, all those who register to donate cord blood help give hope to patients in need. By registering, you reduce the chance that the cord blood and placenta will be simply discarded as medical waste.

Nixon Koch, whose mother donated his umbilical cord blood after birth, holds his little sister Emmy Koch.
As someone who's familiar with the public cord blood bank, Kelsey also knew that not all collected cord blood units are suitable for banking. Sometimes — for reasons that are not connected to the health of the mother or baby — their volume is insufficient, or they don't contain enough stem cells to be used for a stem cell transplant. In such cases, with the mother's consent, such units can be used for biomedical research. Our Cord Blood for Research Program helps to advance stem cell therapies and transplantation practices.
Learn more about the use of cord blood for research
Am I eligible to donate cord blood?
Whether moms choose to donate for research or transplant, their donation certainly helps patients. As a nurse and someone who's donated cord blood, Kelsey has a message for other expectant mothers.
"Donating your baby's cord blood could absolutely change someone's life," she says. "And given the fact that donating won't change your delivery experience in the slightest, there's truly no downside."
As World Marrow Donor Day approaches on September 18, we are celebrating the vital role of all stem cell donors who help us support patients. From the bottom of our hearts, we thank you for your contributions. If you are an expectant mother planning to deliver your baby in Ottawa, Brampton, Edmonton or Vancouver, you can give patients hope by registering online to donate your baby's cord blood.