Stem cells without borders
Connecting stem cell donors to waiting recipients has required extra-heroic feats of logistics during the pandemic
September 16, 2021
Tina Valcheva is one of the couriers who has been transporting stem cells for patients internationally, even during the COVID-19 pandemic.
On any given day, the constant flow of air travellers between various parts of the globe includes many couriers carrying time-sensitive biological products, among them lifesaving stem cells destined for patients awaiting transplants. When the COVID-19 pandemic hit, these vital messengers suddenly found themselves contending with modified travel requirements, tighter border rules and fewer flights. For the team at the Canadian Blood Services Stem Cell Registry, it was clear that couriers were going to need more support than usual to get stem cells from overseas donors to patients matched in Canada, and from registered donors in this country to recipients abroad.
As soon as the pandemic's likely impact became clear, Gail Morris, manager of donor services for the Canadian Blood Services Stem Cell Registry, shifted into overdrive. She began by assembling a cross-department network of colleagues whose responsibilities affected the transport of stem cells. They in turn reached out to relevant contacts in the federal government to ensure that international border closures would not restrict stem cell couriers' ability to make their deliveries.
The stakes were high. When lockdown measures began rolling out across Canada in March 2020, some stem cell patients were in the middle of conditioning, a process that typically includes intense chemotherapy and radiation to destroy their bone marrow prior to receiving a transplant. At that point, the patient is at risk of dying if the new stem cells are delayed. This gave added urgency to the alarms sounded by Gail and her colleagues. After some stressful uncertainty as logistics were ironed out, federal health officials acted quickly to permit pending courier deliveries to Canada.
How can I join the stem cell registry? 
What is the process to donate stem cells (from bone marrow or circulating blood)?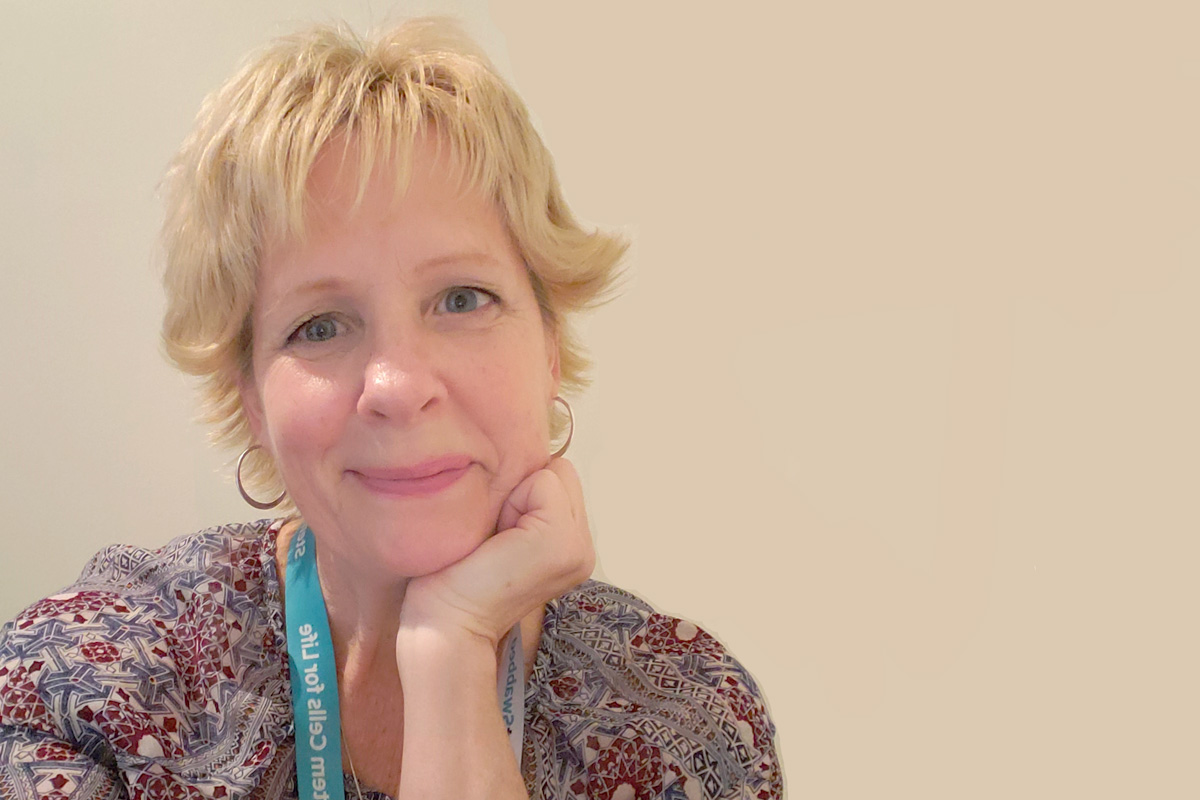 Gail Morris is manager of donor services for Canadian Blood Services Stem Cell Registry
A longer-term solution
The next step was to move beyond ad hoc arrangements and secure a permanent exemption from federal travel restrictions. The Canadian Blood Services team — in partnership with Héma-Québec, the operator of Quebec's stem cell registry — worked with the federal government to clear a path for all stem cell couriers coming to Canada — and also permitting them to depart again without quarantining in this country.
At the same time, Canadian transplant centres made adjustments to their procedures. Where previously they had used trained volunteers to carry stem cells, they now partnered with a service provider based in Germany, aiming to minimize the chances of transport glitches and also avoid exposing volunteers to any added risk of COVID-19 infection.
But then in late 2020, with the pandemic's second wave sweeping across Europe, even these professional couriers faced a new set of challenges. As borders were once again restricted and many flights were cancelled, some couriers were forced to travel to airports elsewhere in Europe in order to complete their journeys. Meanwhile, those heading to Canada to pick up stem cells for international patients faced another major hurdle: they were not yet cleared by the federal government to enter the country seamlessly.
By this time Gail was fielding countless late-night emails and calls from the courier company. So she wasn't surprised, in the early hours of December 24, when the phone at her bedside buzzed with yet another urgent message: a courier was preparing to leave Germany for Canada on Boxing Day, but the last person to attempt that trip had been prevented from boarding the aircraft and forced to make other travel plans. This time, the courier wanted written assurance of an uninterrupted journey.
Stem cells in time for the holidays
Gail emailed an urgent request for help from Rosanne Dawson, a lawyer with Canadian Blood Services, whose team had played a vital role throughout the pandemic, tracking and responding to all legal and regulatory developments affecting our operations. Within minutes, Rosanne had advised that an exemption from Canada's Chief Public Health Officer, Dr. Theresa Tam, was needed — and that more hands were required on deck.
Rosanne contacted Christian Choquet, vice-president of quality and regulatory affairs, and Lindy McIntyre, director of health policy and governmental affairs, explaining the immediate need and also filling in the bigger picture: "We currently have eight Canadian donors preparing to donate stem cells to international patients between now and January 21, 2021. So this issue will likely arise again early in the new year."
"Christian and I both reached out to government colleagues," Lindy McIntyre recalls, "and over the next 24 hours everybody was on high alert, ready to help at a moment's notice." That included Dr. Tam herself. On Christmas Day, she provided her personal assurance that the matter would be sorted out and, to that end, confirmed that a senior member of her team was engaging with the Canada Border Services Agency. On Boxing Day, the courier boarded a Canada-bound flight without incident and delivered the precious cargo.
Down to the wire
For Gail Morris, though, that holiday gift wasn't the end of the story. Until the federal government's travel orders were formally revised, all couriers coming to Canada for stem cell pickups would continue to need personal exemption letters. What's more, the timelines would remain extremely tight. A stem cell donor had to be cleared for donation, and the courier selected, before Gail could prepare any paperwork. She then needed the courier's exact itinerary from the German provider. And she had to work across time zones and often through language barriers to get required information from the international stem cell patient registry.
"Everything was constantly down to the wire," Gail says. "A courier would be leaving Europe at six or seven in the morning, their time, and we'd get the exemption letter at around midnight in Ottawa ― so very, very close to their departure, given the time difference." This continued until the government ultimately updated its travel restrictions in February 2021, following a concerted effort by Canadian Blood Services, Héma-Québec and federal officials.
Meanwhile, Gail and her stem cell registry team were grappling with a new challenge. In January the government began requiring all air travellers, including couriers, to secure negative COVID-19 test results within 72 hours prior to their flights to Canada. Some couriers had to be tested in Canada as well, to qualify for re-entry to their own countries. Gail worked with the courier companies to help arrange the necessary COVID tests ― no easy task, as many testing facilities refused access to anyone who had been outside the country in the previous two weeks.
Delivering healthy outcomes for stem cell recipients
Each time a challenge like this was resolved, another would rise in its place, in a pattern that has continued into the new fiscal year. But in hindsight, Gail and her team take great satisfaction in knowing they helped facilitate hundreds of lifesaving stem cell deliveries between April 2020 and the end of March 2021.
"All the stem cells that needed to get to a Canadian patient, or from Canada to an international patient, were successfully transported," Gail says. "There were a few grey hairs along the way, but also a lot of great collaborations. And now when we look back, we think, Wow, we did it!"
From the stem cell donors who stepped up in the middle of a pandemic to the couriers who bravely risked exposure to COVID-19, to the many members of Canada's Lifeline who worked long days (and nights) arranging critical deliveries, everyone agreed on the ultimate objective: ensuring a healthy outcome for people in need. "All stem cell registries have a common goal, which is to help patients," Gail says. "We share the same passion for what we do. And when we
collaborate across international borders, helping other registries and transplant centres as they help us in return, we all treat every patient as our own."
This story is one piece of our upcoming annual report (titled Changing Tomorrow) that celebrates how donors and employees stepped up to meet the challenges of today in order to ensure a healthier future for Canadians. Changing Tomorrow, will be available on our website in late October 2021. Sept. 18 is World Marrow Donor Day, and we are celebrating all those who make lifesaving stem cell transplants possible. We urge all healthy Canadians between 17 and 35 years of age to join Canadian Blood Services Stem Cell Registry online and order their swab kit to be delivered in the mail.