Selfless parents and a hockey hero inspired Zack Stringer to join Canada's Lifeline
Now this Regina Pats forward wants others to do the same, by registering to donate organs and tissues and stem cells
February 24, 2022
As we celebrate Black history and excellence at Canada's Lifeline during Black History Month, we're bringing you stories about Black contributions and connections to Canadian Blood Services. Zack Stringer is a forward with the Western Hockey League's Regina Pats and a Hockey Gives Blood Player Ambassador. Here, he reflects on his journey to becoming a hockey player and on his decision to register to donate organs and tissues.
Regina Pats forward Zack Stringer is rallying people to give hope to the thousands of Canadians waiting for lifesaving organ and stem cell transplants.
Zack, who has registered himself to donate organs and tissues, says he's been inspired by the outpouring of support that followed the Humboldt Broncos bus crash. That crash killed and injured members of a junior ice hockey team from Humboldt, Sask., in 2018.
"Reading about the impact of that crash and how Logan Boulet motivated people across the country to become donors, was the reason I became a donor," says Zack.
Logan Boulet was among the 16 people who died of injuries suffered in the 2018 crash. Inspired by his coach and mentor Ric Suggitt, Logan signed an organ donor card on his 18th birthday, just weeks before his death. He also made his wishes known to his friends and family.
Because of Logan's courageous decision, his heart, lungs, liver, kidneys and both corneas saved or improved the lives of six people. His decision and story also inspired more than 150,000 other Canadians to register to donate organs and tissues in the weeks that followed his death — a phenomenon that became known as the Logan Boulet Effect.
Logan Boulet's legacy continues with third annual Green Shirt Day
How to register to be an organ donor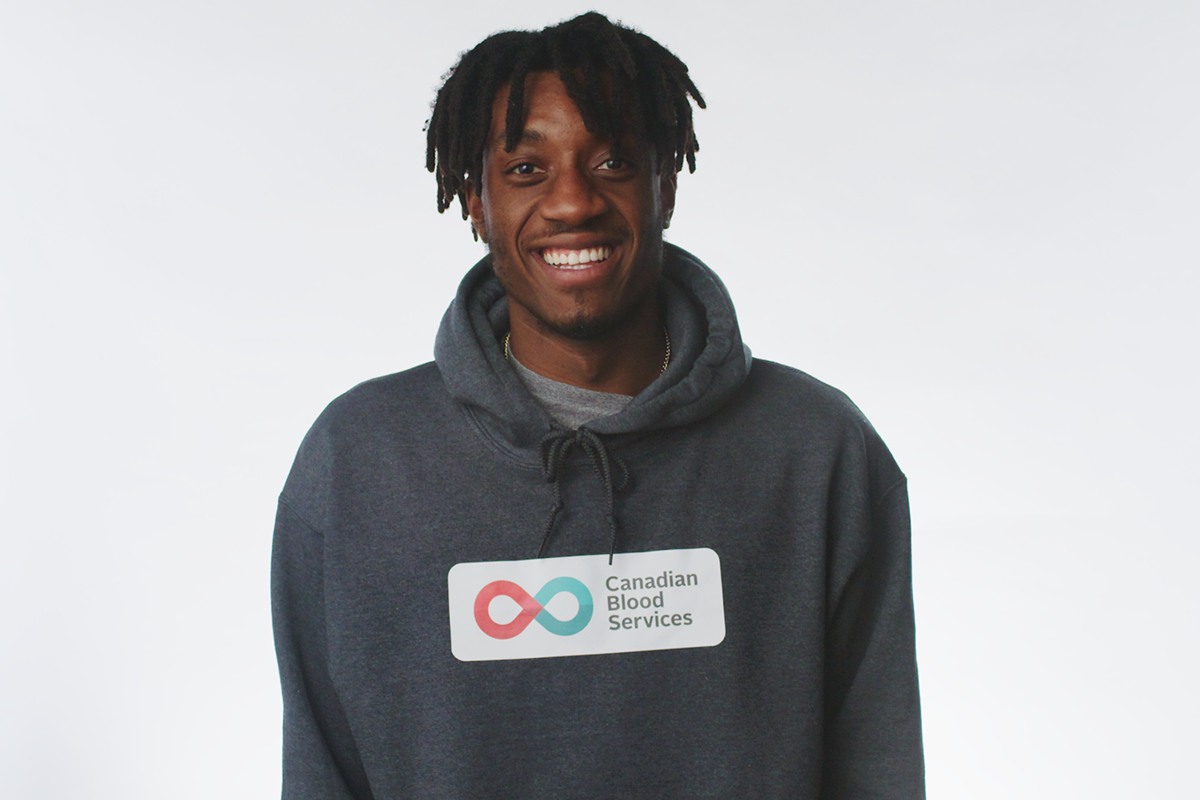 Regina Pats' forward Zack Stringer is rallying people to give hope to the thousands of Canadians waiting for a lifesaving organ transplant by becoming donors themselves. Zack registered his intent to donate his organs last year.
A selfless act by Zack's parents
It can be hard to think about what's going to happen to your body when you die, let alone about donating your organs and tissues. But being an organ donor is a selfless and courageous decision that can save lives.
Zack knows a lot about how a selfless act can change one's life. He was only 17 months old when his Canadian parents adopted him from a Haitian orphanage where he had lived for months after his birth mother passed away.
His adoptive parents — Ian Van Seters and Kyla Stringer — were skiing at a resort in southwestern Alberta when Kyla got the idea to adopt a child from Haiti. In Haiti, kids routinely face poverty and poor living standards, so adopting a child from that country felt like a chance to give a child a better life here in Canada.
After Zack's adoption in the fall of 2004, Ian and Kyla travelled with him for several hours from his hometown in Haiti to his new home in Lethbridge, Alta.. They worried that moving Zack from a tropical region to the Prairies might be difficult for him, but Zack adapted easily and enjoyed playing in the snow.
Zack's parents had an affinity for ice skating. His father was a huge hockey fan while his mom had a background in figure skating. They got Zack his first pair of skates when he was only two years old. That endeared him to the game of hockey.
"My father was the one who got me in my first set of skates," he recalls. "Going on the outdoor rink, or watching the Calgary Flames play, made hockey a strong part of our family life."
Sadly, Ian died of metastatic melanoma in 2012. Zack was only nine years old then, but he remembers how well his father encouraged him to participate in the sport.
"Dad was a big reason why I fell in love with hockey at such a young age," he says. "I'm very grateful for everything that he helped me accomplish."
'Kids at school were always wondering why my parents are white'
Playing hockey at a young age got Zack many cool friends, but those friends also had a lot of questions about his connection with his parents.
"Growing up, kids at school were always wondering why my parents are white," he says. "I questioned it myself. So I went back to my parents and asked why I was a little bit different from them. It was then they told me where I'm from and how they adopted me."
Participating in a white-dominated sport also proved challenging at times for Zack.
"Being Black, you kind of feel out of place sometimes," he says. "It's even harder when you're the only Black guy there. But my teammates are supportive, and they always have my back."
This Black History Month, Zack is reflecting more on what it means to be Black. He's also reflecting on the altruism of his adoptive parents and urging Canadians, particularly people from the Black community, to also be selfless — by joining Canadian Blood Services Stem Cell Registry.
Celebrating Black excellence and contributions to Canada's Lifeline
"Right now, the Black community represents less than two per cent of registrants on Canadian Blood Services Stem Cell Registry," says Zack, who's also a Hockey Gives Blood Player Ambassador. "Unfortunately, this statistic makes it difficult for individuals from our community to find a matching stem cell donor."
Currently, more than 1,000 patients in Canada are waiting for stem cell transplants, and about 75 per cent of them will not find matching donors within their own families. To survive, they will turn to Canadian Blood Services Stem Cell Registry, with its database of healthy prospective stem cell donors.
'I desperately need a Black donor to come forward'
And because stem cell matches are determined by DNA markers found on the surface of white blood cells, and those markers are inherited from our parents, a patient's best hope of a match is with a donor of similar ancestral background. To meet the needs of all patients, we actively seek new registrants from diverse backgrounds.
"Now is the right time to join the registry," says Zack. "Everyone who registers this February will receive a limited edition #BeAHero toque with the swab kits. It's free and you'll be giving hope to a patient in need of a lifesaving stem cell transplant."
In this video, Zack Stringer joins his Hockey Gives Blood Player Ambassador colleagues to explain the critical need for stem cell donors from all ancestral backgrounds. Joining the registry online takes just a few minutes. Start the registration process at blood.ca/BeAHero.
'It was very easy to sign up for organ donation'
"Registering one's intent to donate organs is as important as joining the stem cell registry and you can do both online," says Zack, as he recalls how excited he was to join the organ and tissue registry when he turned 18 last June.
A year earlier, he had publicly announced on Twitter that he would become a registered organ donor after that milestone birthday.
"It felt good bringing that goal to fruition," he said. "It was very easy to sign up for organ donation online. I only had to fill out a couple of questions and that was it."
But it didn't stop there for Zack. He's been telling his friends and encouraging his teammates to join him in becoming registered organ donors.
"I tell my friends and teammates not only to join, but to also make sure their families know about their wishes regarding organ donation," he says.
Three ways to learn more about the power of living organ donation
Am I eligible to be a living kidney donor?
Having a conversation with your family is important when deciding to register to donate organs and tissues. In a time of tragedy, your family will be asked to provide consent. Family members will also feel better about their decision if they have talked to you and know what you want.
"When I was registering, I read that hundreds of Canadians die every year waiting for their lifesaving organ transplant," says Zack. "I hope my story encourages others like me to register their decision."
Creative new resources boost organ donation and transplant knowledge
Black History Month is an important time to reflect on the contributions of Black Canadians to society. It also reminds us that actions are necessary to remove barriers, develop equitable opportunities and foster inclusive spaces not only during the month of February, but year-round.  Learn more about our commitment to diversity, equity and inclusion at blood.ca/DEI.