Saving lives across Canada with Ismaili CIVIC
Blood and plasma donors and volunteers with this Partners for Life group support patients across the country
June 17, 2022
Imran Kanji has been a blood donor for many years, and now works with Ismaili CIVIC through our Partners for Life program to support Canada's Lifeline
We need 100,000 new donors to join Canada's Lifeline this year. You can help by making an appointment to donate blood or plasma. Using the GiveBlood app? Just click "take a selfie" to inspire others on social media. Don't forget to tag @canadaslifeline!
Nazir Jaffer made his first blood donation as a high school student in Tanzania more than 30 years ago.
"It was organized by the school itself. And thereafter, every two months, we were ready for another donation," he recalls. "Since then I've been a regular blood donor."
Nazir's commitment continued after he moved with his parents and sister to Canada in 1989, joining a brother who had immigrated a few years before. He donated blood before becoming a regular plasma donor in Toronto, as well as an advocate for blood and plasma donation in his community.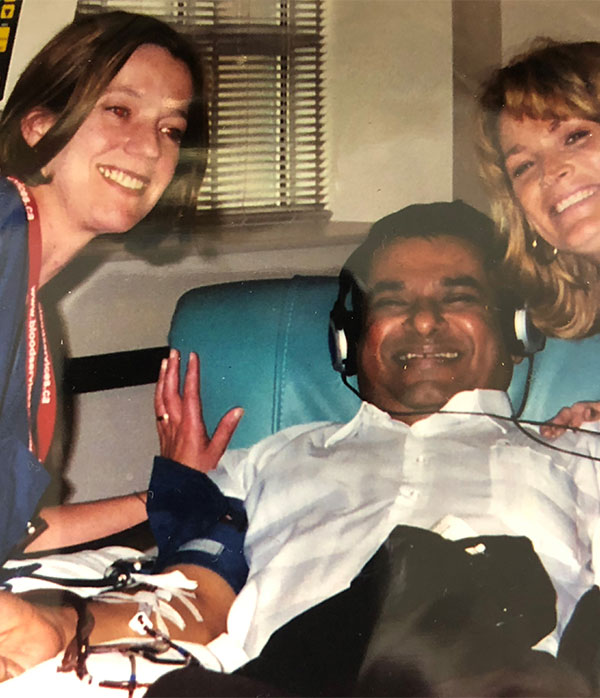 Nazir is a Shia Ismaili Muslim who is active with Ismaili CIVIC, an initiative that brings Shia Ismaili Muslims together to improve their communities around the world through volunteer service. CIVIC groups across Canada began supporting Canada's Lifeline five years ago through the Partners for Life program, and as a longtime blood and plasma donor, Nazir was naturally drawn to that effort.
"In Canada we have a very big number of Ismaili Muslims," says Nazir. "As a group we try to talk with each other about blood donation. And every year we get together in June to donate blood."
This year, in cities across the country, Ismaili CIVIC groups will attend blood donation events to recognize National Blood Donor Week and encourage new donors to join Canada's Lifeline. Ismail CIVIC's own Partners For Life group is growing and is likely to have more than 400 members by the end of this year. They strive to increase their donation numbers each year, and in June alone, they hope to make more than 200 donations.
Nazir doesn't limit his advocacy to Toronto. His niece and nephews in Calgary are also donors.
"They donate because I asked, and I encourage them to continue," he says.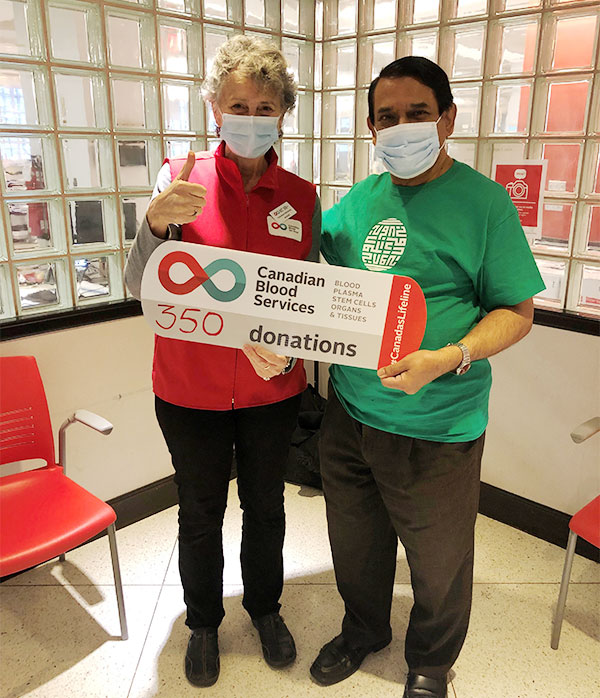 The Ismaili CIVIC blood donor events in June encourage whole blood donation, but members such as Nazir are helping to raise awareness of plasma. This straw-coloured component of blood is used to manufacture lifesaving medications for which demand is rapidly increasing.
"When I go for my plasma donation every two weeks, I speak to different people in the centre. I try to talk with them and encourage them to continue," he says.
"They ask me how many donations I have made. I tell them, 'It's a lot, try to guess.' And they start with five, ten or 15. But when I show them my card, they are surprised."
And understandably so, as Nazir has made 360 donations. Because other blood components are returned to the plasma donor's body during the plasma donation process, plasma donors can donate as often as once a week.
For Nazir, the need for blood hits close to home. In Tanzania, some of his own family members have received blood products in the past. He also admires Canada's national blood system. It's quite different from Tanzania, where families can be expected to supply blood themselves in advance of an operation.
"It is very difficult for the family. That's what encouraged me to donate often." 
What is the process to donate blood?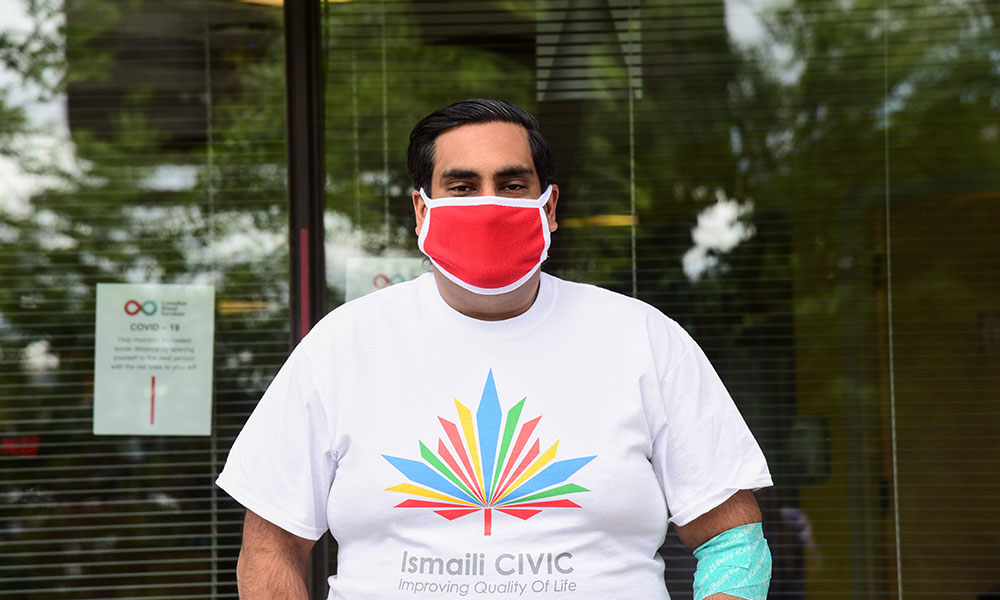 Imran Kanji is another Shia Ismaili Muslim who is active with Ismaili CIVIC. He's been donating blood since he made his first blood donation at an event at the University of Guelph in Guelph, Ont.
"I started when I was living on campus and Canadian Blood Services used to come to the university every few months," says Imran, who now lives in Ottawa, Ont.
Imran was motivated to start donating blood by his girlfriend, now wife, who has type 1 diabetes.
"She takes five to six needles every day, and one day she was saying, 'You don't know what it's like for me to have to take those needles.' And it just so happened the blood donor event was coming up. So, I told her 'I'll go take one right now!' And that was my first time donating."
After graduating and moving to Ottawa, Imran continued to donate semi-regularly on his own and with groups of friends.
"Before the CIVIC initiative had started, a whole bunch of us friends in the Ismaili community would get together and go donate every once in a while," he says. "And then we would go for wings after. It was 'bloody wings night'."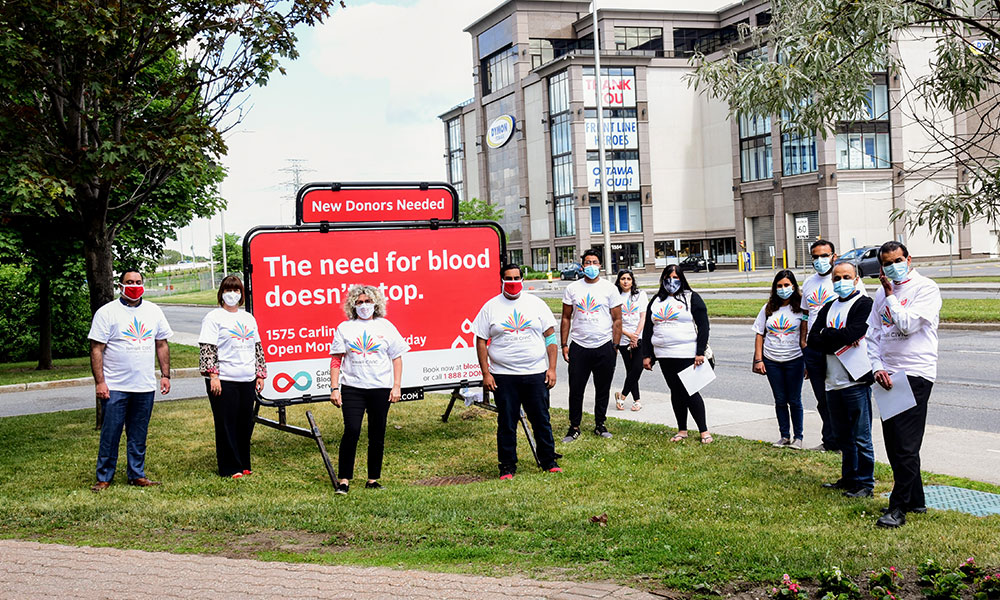 Eventually, Imran's love of blood donation and involvement with CIVIC came together when Ismaili CIVIC joined the Partners for Life program and Imran volunteered to promote one of the first donor events.
Imran is now approaching his 60th donation. He's grateful for the good health that makes it possible. Along the way, he has inspired both his mother and father-in-law to donate as well and continues to encourage others. "I'm so grateful to have my good health," he says. "So, while I have good health, why not make the most of it and donate? It's such a warm and fuzzy feeling inside of me when I donate. I actually miss it when I can't donate because I've travelled. And, you never know when you'll need blood. And I love the cookies."
Learn more about travel and donor eligibility
Inspiring blood donors across the country
The Ismaili CIVIC group in Calgary is also supporting Canada's Lifeline this year. Alyssa Manji made her first blood donation during the group's blood donation event in 2021, and it has inspired her to encourage others to become donors.
"The Shia Ismaili Muslim community and CIVIC are very passionate about serving the community, about improving quality of life, and that's why we're a Partners for Life team," says Alyssa.
"I've been involved as a volunteer with CIVIC for many years, really since I was since I was a kid," she continues. "We like to get people involved at different ages. There are events that cater to different age groups, different skill sets, all of that. Last year I became more involved at the organizational level."
It was after joining the planning committee for the CIVIC blood donor event last year that Alyssa sat in a donor chair for the first time.
"Being a first-time donor was a really fulfilling experience," she says. "The staff were so wonderful, they made it a comfortable experience. It wasn't scary at all."
This year she is expecting even more donors to come out during their blood donor events. Alyssa was so inspired after working with CIVIC and Canadian Blood Services that she decided to organize a blood donation event through her work at TC Energy in Calgary.
"TC Energy is also a Partners for Life group," Alyssa says. "I have a blood donation event planned during National Blood Donor Week, around the same time as the CIVIC events."
In her role with that partner group, Alyssa will be working with new employees at TC Energy, and engineers-in-training, to encourage them to join Canada's Lifeline.
"I'm so glad that CIVIC brought me into the donor life," she says. "You never know where your blood's going. It could be a friend or family member that needs blood one day and knowing that you've done your part to contribute is a very rewarding feeling."