Young Canadian Blood Services volunteer honoured with national awards
Hassan Nawab is only 21 years old, but his record of volunteer service would be impressive for someone twice his age.
December 5, 2019
Hassan, who began volunteering with Canadian Blood Services as a grade 10 student in 2014, has been honoured for his contributions with two major national awards.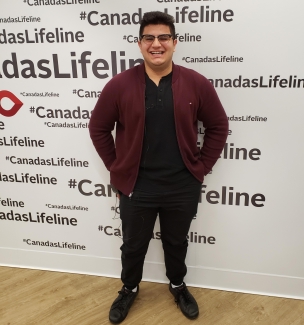 In October, he met Alberta's Lieutenant Governor to receive the Sovereign's Medal for Volunteers, which honours those who have made significant, sustained and unpaid contributions to their communities. He's also a recipient of the Terry Fox Humanitarian Award, which is providing him with a $28,000 scholarship in recognition of his work for Canadian Blood Services and numerous other causes.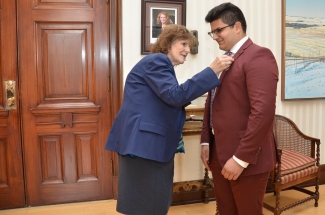 Hassan is clearly proud of all his contributions, but he describes Canadian Blood Services as a cause particularly dear to his heart as well as his longest-running volunteer commitment.
"For as long as I can, I'll volunteer with Canadian Blood Services," said Hassan, who is now studying psychology at the University of Alberta. "I see the impact that it has, and I see how I can be part of that impact."
Since becoming a volunteer, Hassan has done everything from checking blood types at Canadian Blood Services 'What's Your Type?' events, to booking donor appointments, to leading donor recruitment drives for blood and stem cells.
"Blood and blood donation, stem cell donation, all of these things are crucial to Canada's health care system," said Hassan.
He's also served on the executive of the Canadian Blood Services Youth Committee in Edmonton and helped to recruit other youth volunteers. He enjoys training volunteers and staffing information booths, where he educates others about the important role of blood products within the health system.
"I start off my conversation like, 'Did you know?'" he said. "I give them a fact. 'If someone gets into a severe car crash, up to 50 units of blood are needed.'
"Some people don't know what a unit of blood is, so then I go on to explaining that."
Overcoming obstacles
Winners of the Terry Fox Humanitarian Award are selected not only for their humanitarian achievements but for their courage in overcoming obstacles. In Hassan's case, one of those obstacles was his mother's diagnosis of breast cancer approximately two years ago.
Following the diagnosis, Hassan withdrew from university for a semester to help care for her but persisted with his many volunteer commitments. With his mother now in remission, Hassan has fully embraced a new cause: student mental health. He's started a University of Alberta chapter of the group Active Minds, which works to support students and decrease stigma around mental illness.
He also delivers advanced first aid as a volunteer with St. John Ambulance. That regular contact with patients in crisis further motivates him to keep booking shifts at Canadian Blood Services.
"Hassan is very devoted to supporting the work of Canadian Blood Services," said Olga Elizarova, coordinator of volunteer resources at Canadian Blood Services. "He represents the new generation of volunteers who combine the best qualities: devotion to the mission and the resourcefulness to achieve results."
Hassan hopes to channel his passion for health care into a career as a clinical psychologist or psychiatrist. In the meantime, he's building important skills as a valued volunteer.
"Canadian Blood Services is a beacon of light and hope that makes a difference in our community," Hassan said. "By volunteering with Canadian Blood Services, I've developed lifelong skills in collaboration, advocacy and leadership that I will definitely carry forward with me."
International Volunteer Day is a global celebration of volunteers held each year on Dec. 5. Do you know someone who might like to volunteer for Canadian Blood Services? They can visit the volunteering section of our website to learn about opportunities and apply. Youth aged 17-24 can also participate in our NextGen Lifeline recruitment program.