Plasma associate Amelia Greeno gives back through her work
Ensuring access to lifesaving products is the goal at new Lethbridge plasma donor centre
February 8, 2021
Amelia Greeno remembers the shock she felt after being told her one-year-old son required an immediate blood transfusion. The shock didn't come from the need for treatment for severe anemia, but from the few words that followed: If we have it.

"It was hard to hear," says Amelia. "I thought, 'What do you mean, if we have it. We should have it.' The possibility that the hospital didn't have the product was real and it was scary."

Thankfully, the hospital did have the blood required on hand and her son received a lifesaving transfusion. Within three days, he'd become a whole different child — alert, lively and full of energy. This February, the family will celebrate his ninth birthday.

"I have so much gratitude and endless thanks for my colleagues and donors," says Amelia, a plasma associate at the newly opened plasma donor centre in Lethbridge, Alta. "To have a lifeline like Canadian Blood Services there for us — it was my son's lifeline. When people come in and share their stories about why they donate, I get it because I've been there."

Amelia has worked at Canadian Blood Services for more than a decade. She understands the importance of making sure patients have access to the right product when they need it. It's just one of the reasons she's so enthusiastic about her new role in plasma collections and the opening of the Lethbridge donor site.

In true Canadian winter style, the Lethbridge plasma donor centre opened in the midst of a snowstorm on Dec. 22, 2020. But despite the blizzard and less than ideal road conditions, not one donor missed their appointment over the first two days of collections ― a testament to their incredible generosity and commitment to Canada's Lifeline.
The first donor through the door was Bill Alston, a longtime blood donor who made his first plasma donation that day. It brought his total number of potentially lifesaving donations to 118.
Image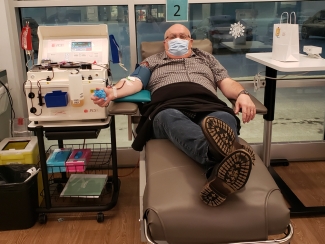 Lethbridge resident, Bill Alston, makes his first plasma donation at the new plasma donor centre in his community.
"With a snowstorm, rising cases of COVID-19 and Christmas just days away, the team was prepared for anything on opening day," said Mike Mayo, donor centre manager. "It seemed nothing could stop the community spirit in Lethbridge. Every donor came in smiling through their masks and excited to be part of this new chapter."
Since opening in December, Lethbridge has been steadily booked. Since Jan. 9 it has collected 313 units of plasma, totalling 204 litres. In the first three weeks, collections have grown from 61 to 161 units per week.
The success to date is a true testament to the collaborative spirit of the donor centre team. They spent several weeks training, onboarding and giving back to the community as opening day approached.
Image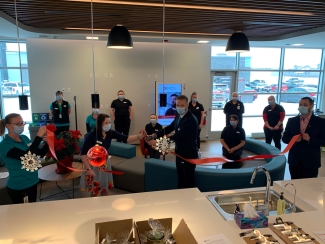 Donor centre manager Mike Mayo, centre, and business development manager, Brenna Scott, far left, celebrate the opening of the new plasma centre in Lethbridge with the donor centre team.
"I'm still just blown away with what we're accomplishing with fractionated plasma. We're taking something so pure and raw from our donors and breaking it down into medicine. It's a medical advancement and having the capability to do this is huge," Amelia says.
Plasma protein and related products are used to treat bleeding disorders, burns and immune deficiencies, and demand for these products is high.
Canadian Blood Services is responsible for ensuring a safe and secure supply of plasma, and for mitigating the risks and impacts of the growing global demand for plasma protein products within Canada's national health-care system.
In the past, when there were fewer plasma products available, the organization was focused on managing supply to ensure patients received the products they needed. Over the past decade, there has been a significant increase in the number of products used, as well as a growing list of illnesses that can be successfully treated with plasma and plasma-related products.
"Our vision, to be there for everybody, is what we do. This is why we opened the plasma donor centre. It's not because we don't need whole blood, it's because there are so many people out there who need other products like plasma," says Amelia. "I live our vision and our donors do too. They talk about it, they share it and it brings more people in who are curious about it."
How your plasma donation helps
Amelia is a devoted ambassador for Canadian Blood Services and one of her biggest priorities is ensuring donors have the best experience possible when they visit. On Jan. 3, 2021, Amelia rolled up her sleeve to donate plasma for the first time in the new plasma donor centre, an experience she described as "amazing."
"I love what I do, and it's hard to explain, but it's just endless gratification towards what we're providing to people. It's absolutely wonderful. There are no words to describe it," she says. "We have wonderful relationships with the donors. The care, the love, the appreciation and the trust that's built between all of us — donors and employees — it just makes you feel so good about what we're doing and why. We're saving lives."
Becoming a plasma donor can make a lifesaving difference to patients across Canada. To book an appointment, visit blood.ca/donate, download the GiveBlood app or call 1 888 2 DONATE.