Richard Landry, a longtime blood donor, has also donated stem cells twice
Richard Landry lives in a small Acadian community three hours from Halifax, N.S., and has made a huge difference to families far and wide. Not only has he donated blood more than 100 times, he's also donated stem cells twice.
Stem cells, specifically blood stem cells, are immature cells that can develop into any cell present in the blood stream. They are found in bone marrow, the spongy tissue at the centre of most bones. Stem cell transplants from matching donors help patients with many life-threatening conditions, and in 1998, the people of Saulnierville, N.S., were rallying to support one such patient in their community.
"The public was invited to come and join the bone marrow registry to help find a match for a young woman needing marrow," explains Richard. "I went with many others to participate and that is when I joined the registry."
Healthy volunteers from Canadian Blood Services Stem Cell Registry (formerly called the Unrelated Bone Marrow Donor Registry and OneMatch Stem Cell and Marrow Network) may be matched at any time to a patient in need. The registry also facilitates matches across borders, through links to similar registries around the world.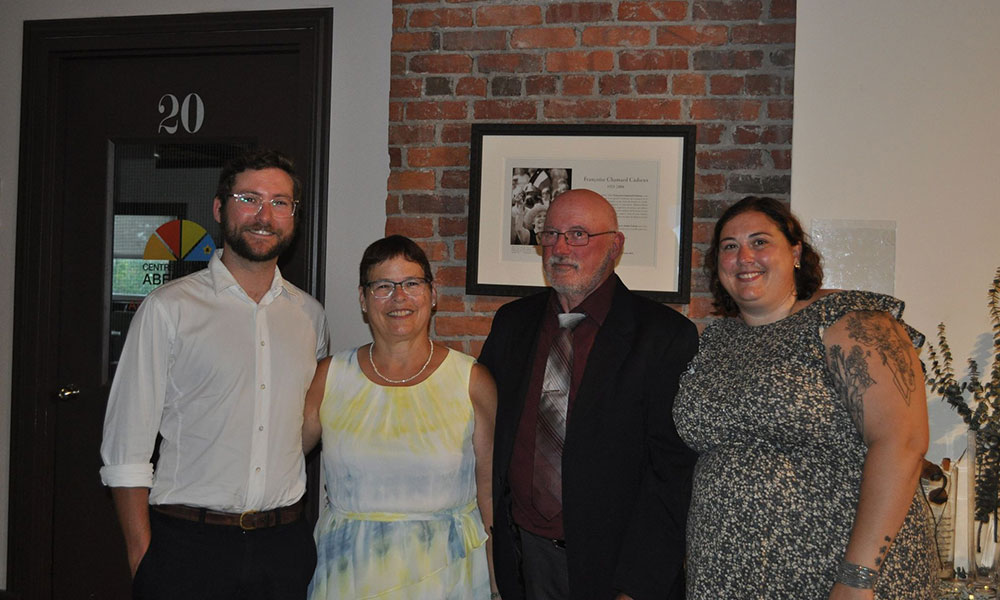 Richard was not a match for that young woman in 1998. But a few years later, he was identified by the registry as a potential match for another patient.
"They called me and said I could be a match and needed blood tests to confirm," he says.
When a potential stem cell donor has been identified as a match for a patient, further screening is required to assess the donor's eligibility. A health screening questionnaire, additional blood work and an information session is arranged so the donor fully understands the process.
Once it was confirmed that Richard was a match and he was able to donate, the donation was booked.
"On August 15, 2001, which I specifically remember because it is National Acadian Day, I was admitted to hospital in Halifax and my marrow was collected," Richard recalls.
The procedure only took a few hours with Richard under general anesthesia. Later that afternoon, he and his wife were able to take a stroll around the Halifax waterfront.
Aside from a bit of discomfort in his hip where the bone marrow had been extracted, Richard had no complaints. A donor's body automatically replenishes donated bone marrow within a few weeks, and he knew his gift was en route to help save a life.
"I have no idea where the recipient was from," Richard says. "They mentioned a flight to transport the bone marrow donation, but that means the recipient could be anywhere in the world."
A letter from a grateful stem cell recipient
That fall, Richard received an unexpected piece of mail: a letter from his recipient, "thanking me for the chance to continue enjoying the world," he says. While he didn't learn anything about the patient's identity, he was happy to hear from them.
"I replied by letter to introduce myself and wish them well."
A few years later the recipient followed up with a second letter, with more news of their continuing good health.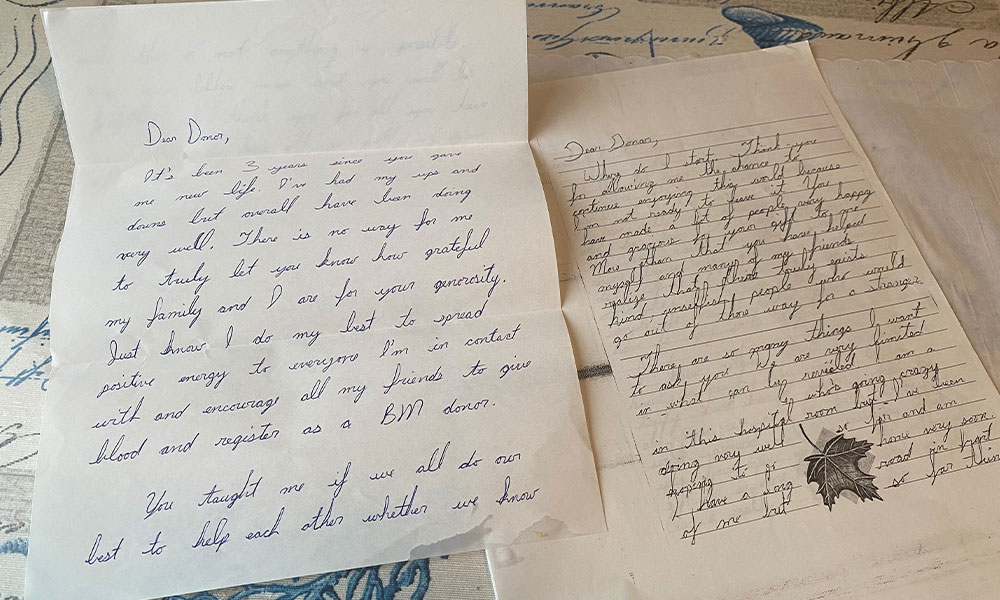 A second call to donate stem cells
In the years that followed, Richard often thought about the recipient and hoped they were healthy. But in October 2008, he learned they were in need of a second stem cell transplant ― not by letter from the recipient, but through the registry.
Richard didn't hesitate to help again, though he was asked to donate stem cells through a different process this time.
Peripheral blood stem cell donation, which is now the most common method, does not require surgery. Instead, donors receive injections of a medication to stimulate the release of stem cells into the blood stream. Then they donate by a method similar to the one used for donating plasma or platelets, though it takes longer ― four to six hours on average.
"Preparation started on November 27 at the hospital in Halifax, and I made the donation on December 19," recalls Richard. "The donation process was simple. They took blood from one arm through a machine that harvested the stem cells and returned the rest of the blood through the other arm. I did everything wide awake while reading a book and felt fine."
Stem cell donors make all the difference
Every year, hundreds of patients in Canada need lifesaving stem cell transplants, and the majority of them will not have matching donors within their own families. They'll rely on the generosity of unrelated donors. Donors like Richard.
When asked what he would tell others about joining the registry, Richard refers to one of the letters from the patient he helped.
There is no way for me to truly let you know how grateful my family and I are for your generosity. Just know I do my best to spread positive energy to everyone I'm in contact with and encourage all my friends to give blood and register as a donor. You taught me if we all do our best to help each other whether we know each other or not, anything is possible.
"I cannot say it any better," says Richard.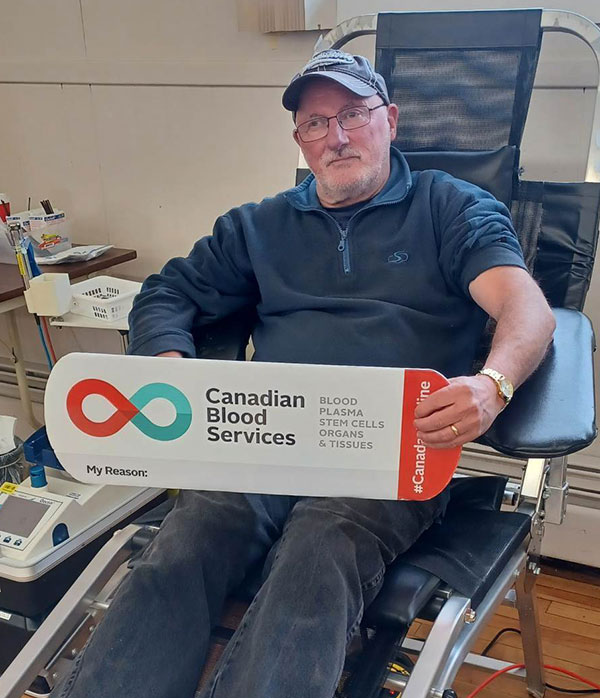 Having donated stem cells twice, Richard is no longer on the registry as he reached the maximum number of donations from a single donor. He continues to donate blood at donation events in Saulnierville. After he made his 100th blood donation in 2021, he received a certificate marking the milestone. And he's now at 103 with no plans to stop.
"I can still donate blood, so I continue to do so," he says.