Liver donor, recipient mark fifth anniversary of lifesaving transplant
Jenn Bruno pursued liver donation to help Tony Pasqua, father of a lifelong friend.
October 6, 2020
 Five years ago, while walking the dog with a good friend, Jenn Bruno made a decision that both saved a life and set her on a new career path. 
"Earlier that evening, I had visited the Pasqua family," she says. "Filomena Pasqua and I have been friends since we were little and our families are still close. Over dinner, Filomena's father Tony told us that his cancer had gotten worse and that he needed a liver transplant."   
During the walk, Jenn told Filomena that she'd resolved to become a liver donor. Filomena immediately tried to talk her out of it, saying that it would involve major surgery and that she was unlikely to be a suitable match.   
"But once I make up my mind, no one's going to change it," Jenn says. The next day, she put her name forward as a potential living donor for Tony. 
Liver donation and transplants on the rise in Canada 
Unlike other organs, the liver regenerates. This makes it possible for surgeons to transplant part of a living donor's liver into a recipient, where it can grow and function normally. Liver transplants are increasingly common in Canada, with about 400 performed per year. The procedure poses few risks to the donor, whose liver typically grows back to about 90 per cent of its original size and starts to work normally again within 6-12 weeks. 
A battery of medical tests revealed that Jenn Bruno was an ideal donor for Tony Pasqua, which was extremely unlikely, since the two are not related. The match, along with Jenn's determination to donate, convinced doctors to proceed with transplant surgery at Toronto General Hospital. The procedure was successful, as about 80 per cent of liver transplants are, and Tony and Jenn soon recovered fully. 
"I consider Jenn my angel," says Tony Pasqua. 
"Donating part of my liver gave me a new sense of purpose in life," says Jenn Bruno. "While in hospital, I met other donors and recipients, and was inspired to do even more to help them."  
Along with the physical challenge, transplant surgery can also be financially difficult. Provincial healthcare plans do not cover the costs of travel and accommodation needed for recipients to undergo the many tests required before surgery, for instance. To help offset these costs for organ recipients, Jenn and Filomena founded Ottawa Donors, a charity that raises money for the Toronto General & Western Hospital Foundation's Transplant Patient and Family Support Fund. By staging a series of events, including the annual Give Gala, Jenn and Filomena have raised more than $48,000 for the Fund. 
Image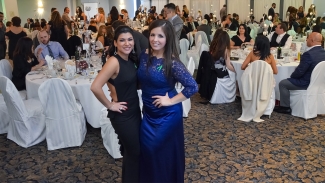 Filomena Pasqua (left) and Jenn Bruno at the 2017 Ottawa Donors Give Gala.
Liver donation also inspired Jenn Bruno to embark on a new career path. She left a good job with a recruitment agency to coordinate events for Canadian Blood Services and soon rose to a management position. 
How does Canadian Blood Services support organ donation and transplant? 
"I love what I do," she says simply. "I'm continually inspired by the donors and recipients I meet. They remind me what life is all about and the importance of helping others. I want more people to recognize that there's no better feeling than saving someone else's life."    
Approximately 4,400 Canadians await a lifesaving organ transplant. Canadian Blood Services works with the Organ and Tissue Donation and Transplantation community to improve national system performance. Canadian Blood Services also manages clinical programs that support interprovincial sharing of organs. Learn more about living donation and about organ and tissue donation.