COVID-19 inspires new donor to keep giving blood
Jenn Lanteigne made her first donation during the pandemic 
June 9, 2020
During National Blood Donor Week, we celebrate and thank donors for their generosity and commitment. This year, during the COVID-19 pandemic, we need donors to fill every available appointment to meet the rising need. To book an appointment you can download the GiveBlood app, call 1 888 2 DONATE (1-888-236-6283) or book now at blood.ca. 
Jenn Lanteigne grew up watching her mother donate blood at the donor centre in Kitchener, Ont.
While her mother was donating, young Jenn would wait while on her best behaviour for the cookies they'd enjoy together afterward. Later, she accompanied her sister to blood donation appointments as well. But those fond memories weren't quite powerful enough to displace the fear of needles that kept Jenn from donating herself.
That changed a couple of months ago after Jenn settled back into life in Canada following some trips abroad and decided to face her fear.
"I decided to focus on two things," Jenn said. "First, the whole process of having the needle going in takes about two seconds. It's so quick. Second, I don't like looking at the needle enter my vein, so I just turn my head around. Just like that the fear is gone."
Image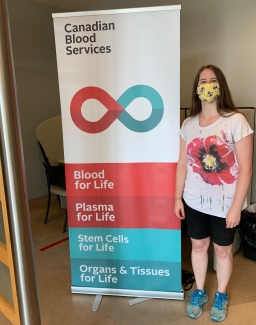 A way to help others during the pandemic
Her first donation also came at a time when COVID-19 forced people in Canada and around the world into isolation. Knowing some people might be afraid to leave their homes to donate, Jenn felt it was more important than ever to book that first appointment.
Originally, Jenn had planned to donate with her YMCA colleagues as a group, but when the pandemic forced the cancellation of such events, Jenn decided to go it alone.
"With the Kitchener donor centre being so close to me, I found that booking an appointment online was very easy," Jenn said. "From the time I left home, donated blood and got back, it was less than an hour. It's such a simple and speedy process. My next appointment is booked for July 9th."
We need to fill every appointment
The pandemic has turned our world upside down, but it's also shown we can still count on the unwavering support of donors such as Jenn.  COVID-19 has brought out the best in those who are already committed to the blood system in Canada. 
Enhanced wellness measures are in place in our donor centres to guard against the risk of COVID-19. Jenn also continues to enjoy the snacks as part of the donor experience.
"With salty snacks being encouraged for donors more than the sweet cookies that I used to love as a kid, I've found a new favourite – Crunchy Cheetos!"
Jenn Lanteigne and all our donors have shown incredible flexibility and commitment throughout COVID-19 and we need that to continue as we adjust and respond to this next phase. Right now, we need donors to fill every available appointment and play an essential role in meeting patients' rising need for blood across Canada.