Everything you need to know about donating blood: A guide for first-timers
Donating blood is one of the most important things that you can do
June 11, 2022
It helps save lives and it's a simple process. In this guide, we will walk you through everything that you need to know before your first time donating blood. We'll cover where to start, what you'll need, and why it's important. Thanks for choosing to donate blood!
Why should I give blood?
There are many reasons why you should give blood. One of the most important reasons is that it helps save lives. Every day, there are people who need blood transfusions to survive. By donating blood, you can help make sure that these people get the treatment they need.
Another reason to donate blood is that it's a simple process. It doesn't take much time and is a great way to give back to your community and make a difference in the world.
Finally, giving blood is important because it helps improve the health of those who receive transfusions. Blood transfusions can help treat a variety of medical conditions, including anemia, cancer, and injuries. By donating blood, you can help make sure that people who need transfusions get the treatment they need.
With that being said, let's start your blood donation journey with a few introductory steps.
Booking your appointment
Check to see if you're eligible to donate blood
Before going to donate blood for the first time, you may want to check your eligibility! Most people are eligible to donate, but there are a few things that could make you ineligible. For example, if you have had a tattoo in the past three months or have been pregnant in the past six months, you will not be able to donate. To see the full list of eligibility requirements, visit our eligibility page.
Finding your nearest donor centre
The first step is finding a blood donation centre near you. Once you've found a centre, you'll need to make an appointment at blood.ca, or by using the GiveBlood app. In many locations, you can even book a same-day appointment.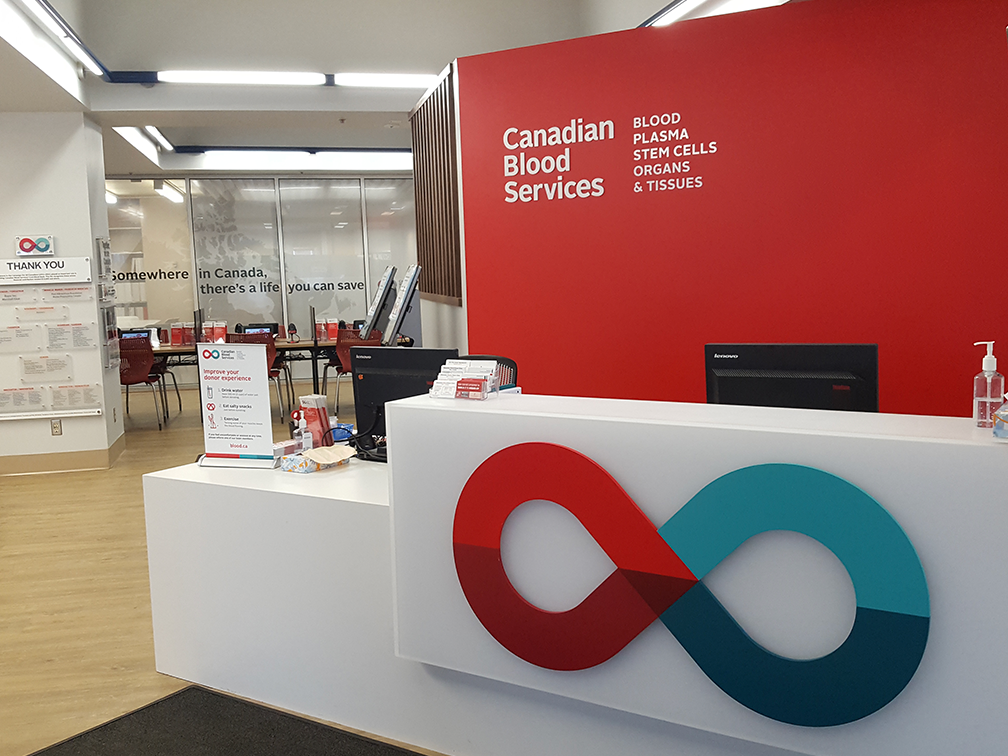 Things to prepare before your appointment
Mentally prepare yourself to change somebody's life!
Of course, the most important thing you need to do before donating blood is to mentally prepare yourself. This may seem like a small task, but it's an important one. Donating blood can be a bit of a daunting experience, especially if you've never done it before. But remember, you're doing something amazing! You're helping to save lives.
One of the best ways to prepare for your donation is to learn as much as you can about the process. You can read articles, or talk to someone who has donated before. The more you know, the more comfortable you'll feel going into your donation.
Be sure to eat and drink plenty of fluids prior to your donation
We suggest having something salty to snack on, and drink lots of liquids before attending your blood donation. 500ml of water and a snack-sized bag of plain chips would be a good suggestion for what to consume. The reason why we encourage lots of water and a salty snack is to help your blood volume and improve your donation experience.
Wear a shirt that will allow easy access to your arm
We suggest wearing a shirt or blouse with sleeves that can be rolled up easily. This will allow our staff to have easy access to your arm for the donation process.
Bring a government-issued photo ID or your donor card
When you arrive for your appointment, you'll need to bring identification with you. This can be a driver's license, passport, or other government-issued ID with your full name and date of birth. After your first donation, you'll receive a donor card in the mail which you can present at your next appointment. That card will also tell you your blood type.
Pro tip: next time you come in, you'll be able to book your next appointment at the same time you check in. So convenient!
Donating blood
Check in to your appointment
Once you enter the donor centre, you'll check in with the staff and present your government-issued ID.
Complete your questionnaire
If you're a first-time donor, you'll need to complete a questionnaire on a touchscreen. It is completely confidential. This is to make sure that you are eligible to donate blood. In the future, you'll be able to fill out the questionnaire online in advance (saving time at your appointment!).
Read the blood donation pamphlet 
Your safety is very important to us at Canadian Blood Services, so you will be asked to review a special pamphlet before you donate. It covers many of the topics discussed in this article, and gives you an overview of what to expect before, during and after your donation. You can visit blood.ca or call 1 888 2 DONATE if you have questions not covered in the pamphlet — alternatively, you can ask somebody on staff at the donor centre.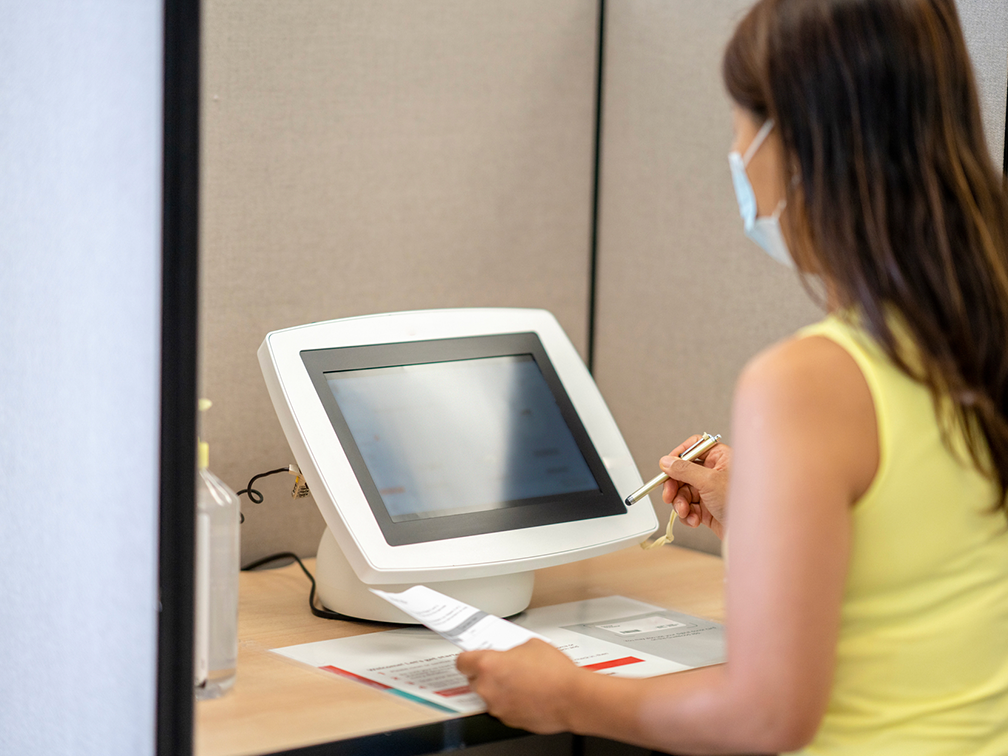 Screening questions with a nurse
After you've completed the questionnaire and read the pamphllet, you'll meet with a nurse. They will review your questionnaire and ask you some questions about your medical history and current health. The nurse will also take your temperature and check your hemoglobin level. The screening process is for your own safety as well as that of the patient who could receive your blood (after it goes through extensive testing).
The part where you actually donate blood
Once everything is all prepared, it's time to donate! You'll be seated in a comfortable chair and the crook of your arm will be cleansed with an antiseptic. A needle will then be inserted into your vein and the blood will flow into a bag. The needle used during your donation is sterile, used only once and then discarded. Once enough blood has been extracted, we will sanitize your arm and place a bandage over the area where the needle was inserted.
We will collect about 450 ml of blood. The process generally takes about 10-15 minutes to complete, though it varies from person to person. We will also ask you to do muscle tensing exercises while you donate and before getting up.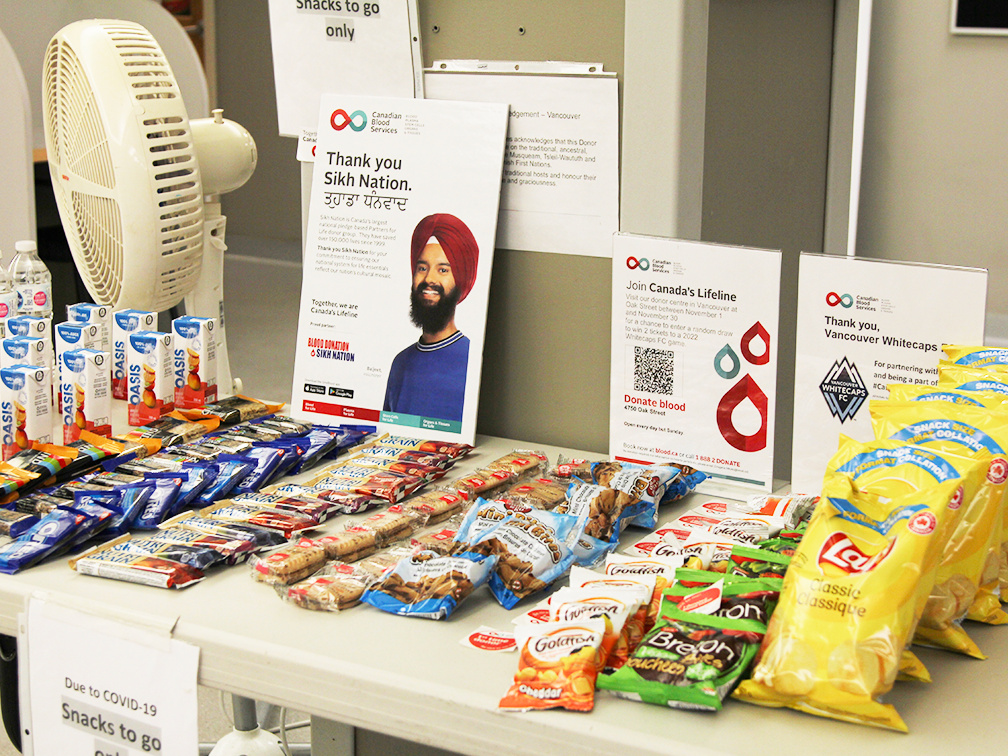 Post-donation
Grab a complimentary snack and drink
After you're done donating, you'll visit the refreshment area for a complimentary snack and drink. You can choose from juice, water, or pop. For your snack, you can choose between a variety of options which regularly include cookies, chips, and crackers. Make sure to choose your favourite, you deserve it! Be sure to eat it very soon after donating - it'll help ensure you continue to feel well after your appointment.
You are encouraged to stay in the refreshment area for about 15 minutes to rehydrate and have your snack, and so our staff can monitor your well-being. If you feel faint or dizzy, tell a staff member.
After you leave
Chances are you'll feel just great after your appointment, but if you do develop troubling symptoms after leaving, consult a health care provider. And when you can, please also give us a call at 1 888 2 DONATE to tell us about it.
You should avoid strenuous activity for six to eight hours and heavy lifting for 24 hours after giving blood. Also, if you feel faint while driving afterward, pull over. Don't continue driving until you've fully recovered, or call for help.
When you get home, remove the bandage and wash the donation area with soap and water to prevent a rash.
It's important to eat iron-rich foods, and also drink plenty of fluids in the hours and days following your donation (but do avoid alcoholic beverages on your donation day).
The best part about donating blood
The best part about donating blood (besides the complimentary snack) is that it helps save lives. Every year, thousands of people need blood transfusions and by donating, you're helping to make sure that there's enough blood for everyone who needs it. Not only that, but it's a quick and easy process and a great way to give back to the community. So, if you've been thinking about donating blood, we hope this guide has helped you take the first step.