First-in-Canada approach for personalized hemophilia care gets national award
Canadian Blood Services and CHEO recognized for their research partnership that supports children living with hemophilia
March 18, 2022
A collaborative team from Canadian Blood Services and CHEO received a prestigious national award this February for research showing impressive early results for patients with certain blood disorders.
The award-winning project, funded entirely by philanthropic donations to Canadian Blood Services, engaged a hospital pharmacist to help deliver more personalized care for young hemophilia patients — a Canadian first.
This groundbreaking approach charts new territory for the role pharmacists can play in prescribing plasma protein and related products. It also resulted in the joint team receiving the 2022 Excellence in Pharmacy Practice — Leadership Award from the Canadian Society of Hospital Pharmacists, which recognizes projects that inspire a shared higher purpose and vision of pharmacy care.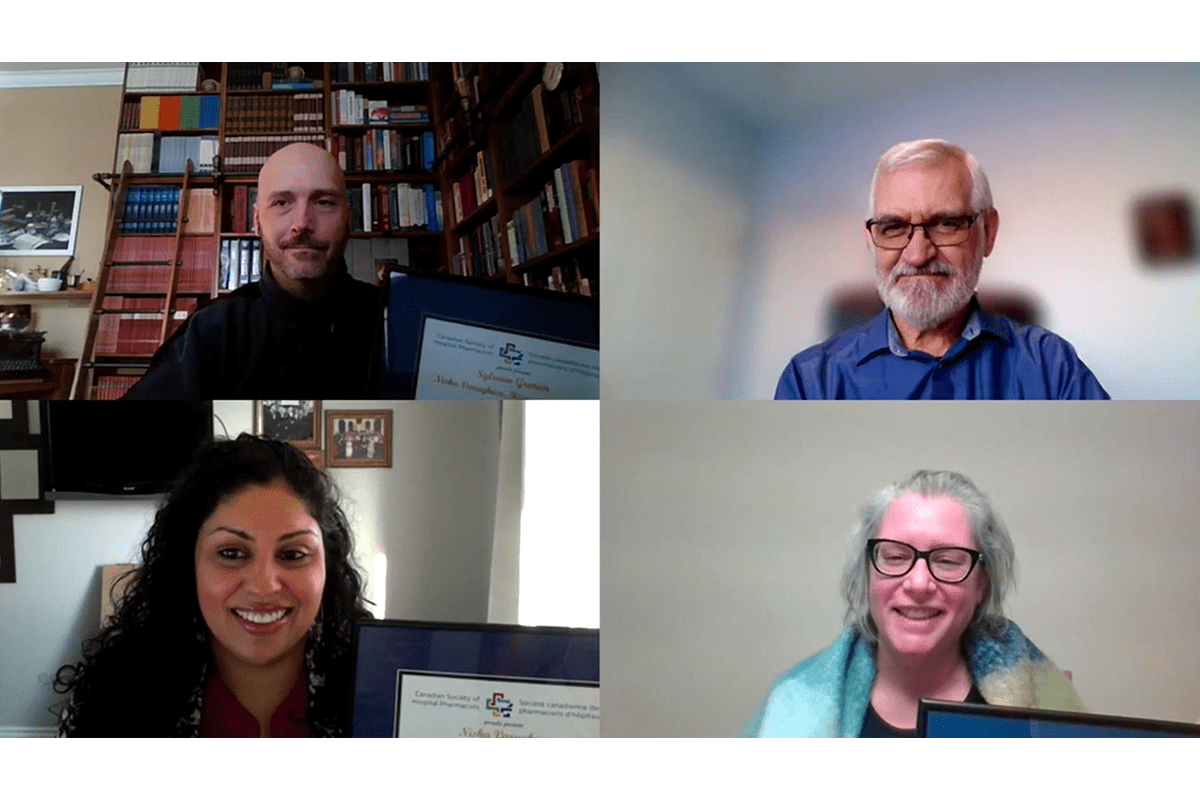 Dr. Sylvain Grenier (top left), Dr. Régis Vaillancourt (top right), Dr. Nisha Varughese (bottom left) and Dr. Sarah Jennings (bottom right) were part of the collaborative team from Canadian Blood Services and CHEO recognized with an award from the Canadian Society of Hospital Pharmacists. The four accepted their awards at a virtual presentation this February.
For patients with hemophilia, a bleeding disorder in which the blood does not clot properly, specialized medications help prevent and stop life-threatening bleeding episodes and maintain their overall quality of health.
In Canada, these medications are often prescribed by physicians at hospital hemophilia treatment centres and are accessible to anyone who needs them through the plasma protein and related products formulary, which Canadian Blood Services manages nationwide (except Quebec).
Therapies on the formulary are specialized medications made from proteins extracted from donated human blood plasma, or from proteins and molecules created in a laboratory that are designed to be an exact replacement — or to do the same job — as human proteins. In Canada, demand for these products is increasing as they can treat immune deficiencies, bleeding disorders, autoimmune diseases and more.
How does medication made from plasma help patients?
Dr. Sylvain Grenier is the director of Canadian Blood Services' plasma protein and related products program. As a former military pharmacist who also practiced in community and hospital pharmacies, he saw an opportunity for pharmacists to apply their expertise on a hemophilia treatment team. Pharmacists traditionally aren't involved in hemophilia care in Canada, but they are trained in methods that help personalize prescriptions based on a patient's unique needs — a skill that can have particular benefit for patients with hemophilia.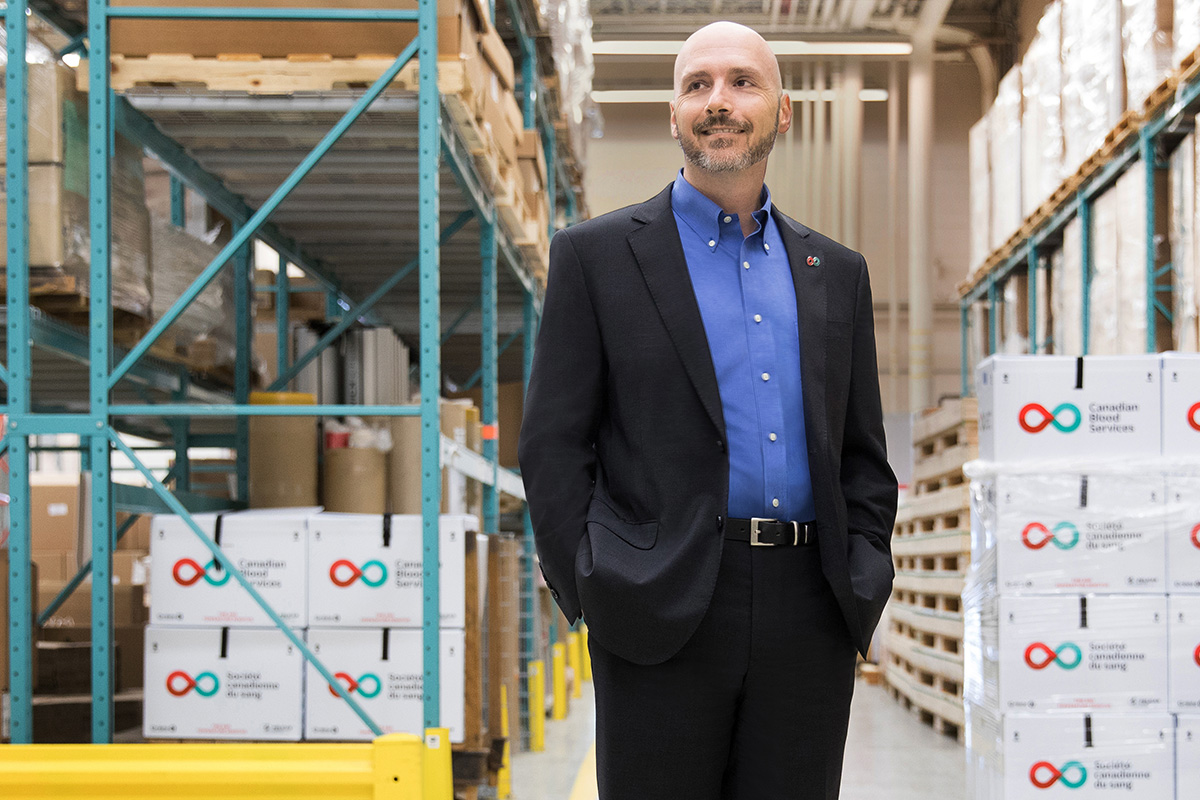 Dr. Sylvain Grenier is a pharmacist and director of Canadian Blood Services' plasma protein and related products formulary program. His team co-created a research pilot, alongside CHEO, that integrates a pharmacist in the treatment of children living with hemophilia. (Photo taken prior to the COVID-19 pandemic.)
Hemophilia presents differently person-to-person, and how each patient responds to various treatments also varies. Therefore careful tailoring of medication, which can be self-infused as often as every two days, can have transformational impact on patients and on health systems overall.
"As a research team, we wanted to know if integrating a pharmacist into the hemophilia patient treatment setting would have a benefit," shares Dr. Grenier. "Through the research project, we found that the answer is yes."
About the collaborative research project
After a brainstorm with Dr. Régis Vaillancourt, director of pharmacy at CHEO, a pediatric hospital and research centre in Ottawa where Dr. Grenier had previously practiced as a pharmacist, they worked on a plan to get the research started.
Dr. Vaillancourt worked with CHEO's hemophilia clinic to put a study protocol in place while Dr. Grenier's team at Canadian Blood Services designed an education program. The goal of the education was to train the pharmacist on the medications available through the national plasma protein and related products formulary. 
After collaborative preparation and intensive training, a pharmacist from CHEO was introduced to CHEO's hemophilia treatment centre in July 2020.
Dr. Nisha Varughese was the first pharmacist to implement and stabilize the program, which was then taken over by another pharmacist, Dr. Alexandre Wong. Dr. Wong helps the physicians and nurses at CHEO treating patients with hemophilia. He lends his expertise on how, when, and how much of a pharmaceutical product patients should take to manage their condition.
"When I explain to patients that, through our study, I can help customize an infusion regimen that could change their injections from every four days to every five, for example, there's usually immediate buy-in," says Dr. Wong. "Prolonging their dose by one day is not a huge shift, but over the course of a year, that can mean as many as 40 fewer injections for some patients."
This highly personalized approach incorporates pharmacokinetics, which is foundational to pharmacy practice, but is not something medical treatment teams always have the resources to deliver.
"Put simply, pharmacokinetics looks at how the medication one takes moves around inside the body and how long it stays in the bloodstream," explains Dr. Grenier.
These assessments start with the study's pharmacist entering raw data from a patient's bloodwork into an online tool called WAPPS-Hemo, which was developed by McMaster University. This tool then provides results on how much clotting factor is in a patient's bloodstream over a certain period and helps the pharmacist pinpoint when they will need another injection.
This more personalized approach helps curb unnecessary dosing and use of medications that many patients rely on. And with the treatment team's guidance and empowering patient apps like myWAPPS and myCBDR, these assessments also give patients living with hemophilia greater clarity on their own health.
Early results show benefit of pharmacist integration
Most importantly, early results of this research found that 100 per cent of the CHEO patients involved experienced unchanged or reduced spontaneous bleeding events — a very promising outcome for patients with hemophilia.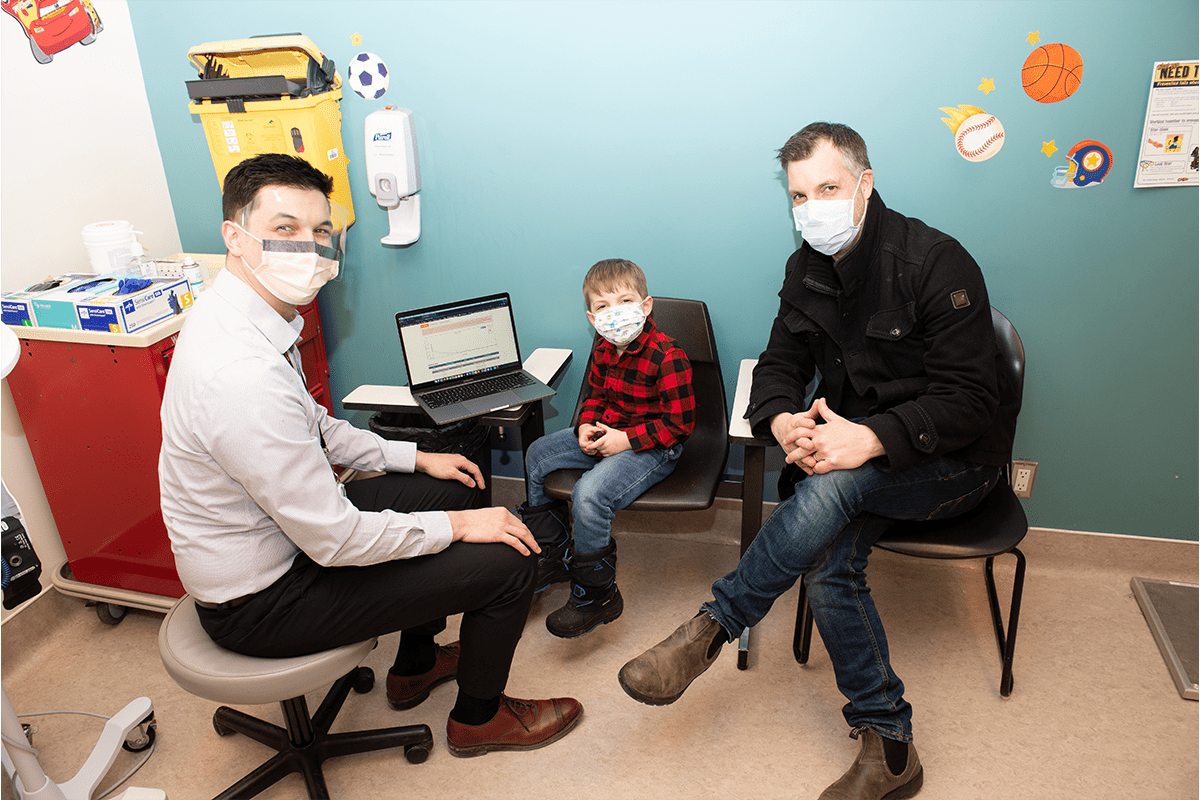 As the pilot's pharmacist, Dr. Alexandre Wong (left) provides recommendations on when and how much medication a patient living with hemophilia should take to manage their condition. The work of this study is making a difference for children living with hemophilia and their families, like Laurier (centre) who visited Alexandre at CHEO's Hemophilia Treatment Centre with his dad, Daniel (right).
Many patients with hemophilia rely on medication that is made from a synthetic derivative of plasma. Because these products are costly, this approach also resulted in significant savings. After just nine months of seeing patients, more than double the pharmacist's salary was being saved on medication and program costs.
The team estimates that at CHEO alone, more than $300,000 could be saved on treating children at their hemophilia clinic every year.
Securing Canada's plasma supply
Dr. Robert Klaassen is a pediatric hematologist and leads the Comprehensive Hemophilia Care Clinic at CHEO. Since adding a pharmacist to his hematology team, he says the impact has been transformative.
"In addition to the impressive impact on the care of hemophilia patients, the pharmacist has made major systematic improvements in many areas including how we keep track and vaccinate our many immunocompromised patients; patient education regarding drug decision making; in-depth strategies to improve drug adherence; and enhanced monitoring of drug response through drug levels or biomarkers," says Dr. Klaassen. "This initiative has had clear benefits to our patient population and has generated significant interest across Canada and internationally."
The results of CHEO and Canadian Blood Services' innovative research show exciting potential, as the national award from the Canadian Society of Hospital Pharmacists acknowledges. Given the encouraging results, the next phase for the pilot would involve further study with the adult patient population. This includes plans for a similar project with the team at St. Michael's Hospital in Toronto to examine the impact of a pharmacist on patient care at Canada's largest hemophilia treatment centre. This important work will be made possible through the ongoing generosity of Canadian Blood Services' philanthropic donors.
Financial gifts to fuel continued innovation in patient care
This award-winning work involves the collaboration and involvement of many people, including Canadian Blood Services' financial donors. In fact, this innovative research is funded entirely by philanthropic gifts to the organization.
Continued financial gifts from donors will be instrumental in fuelling the world-class research that Dr. Grenier and his team have planned next.
"Philanthropic donations from some of our loyal corporate supporters helped to get this research off the ground," says Margaret Miedema, director of philanthropy at Canadian Blood Services. "But much of the funding has and continues to come from a collection of many individual financial donors who select 'area of greatest need' when making their gift. The success of this work shows the positive impact an altruistic giving community can have."
When someone directs their financial donation to where it's most needed, it goes toward priority projects that may need a funding boost. It can also contribute to emerging and novel initiatives, like the hemophilia pharmacist research project, that can have a positive impact on patients in Canada.
For Dr. Grenier, the fact that philanthropic donations are funding this work is significant.
"This support from philanthropic donors enables Canadian Blood Services to be a national leader in innovative and objective research of this kind," says Dr. Grenier. "The fact that this work was selected, out of hundreds of projects, for an award by peers at the Canadian Society of Hospital Pharmacists is incredibly valuable."
This award-winning research integrating a pharmacist in the care of patients with hemophilia is charting a course for more personalized care, a new area of pharmacy practice, and significant cost savings for health systems. This research is made possible by Canadian Blood Services' philanthropic donors. To learn more, watch the project presentation, and to support this groundbreaking work with a financial gift, visit give.blood.ca.