Taking education about organ and tissue donation to new heights
Lucie Dumont, a teacher and mountaineer, felt destined to create a curriculum for teens on this important topic
November 10, 2021
A series of unexpected events put Lucie Dumont on a path to becoming a powerful advocate for organ and tissue donation.
That path was a winding one, but you could say the journey began when the veteran English as a Second Language (ESL) educator met her now-husband Claude Duguay.
"He's a famous mountaineer, and when I met him, a whole new world opened up for me," recalls Lucie, who lives in Rivière-du-Loup, Que. "Thanks to him I started working for a climbing company as his assistant. One time, I was asked to help guide a group in Peru because I could speak Spanish and that's how I started guiding myself."
That love of mountain climbing motivated her to leave her work as a consultant for Kamouraska-Rivière-du-Loup to go back to classroom teaching full-time. Her purpose at the time was simple: get access to a sabbatical leave so she could pursue her new passion for climbing. Then after her return to the classroom following the leave, a second life-altering event occurred.
An encounter with a teen waiting for an organ transplant
In 2004, Lucie was asked to coordinate a public event and media reception with the ESL students in Rivière-du-Loup. The event was to honour Kristopher Knowles, a young man from Ontario who was waiting for a liver transplant and walking across Canada to raise awareness of organ donation.
Local students had followed Kristopher's journey and worked to raise money to help fund his project. The event included a reception with the mayor, a walk with all the students, and a visit by Kristopher and his father to an English class to talk about the shortage of organs.
"It was the one moment in my life that really touched me the most. The students were extremely excited and used their newly-acquired English skills to explain how they had been following Kristopher from the start of his journey in Newfoundland," Lucie says.
Both Kristopher's story and her students' enthusiasm for it were an inspiration to Lucie. She realized how little people knew about organ donation and started to look for ways to change that. In 2007, another opportunity appeared. The Step-by-Step Organ Transplant Association launched a national contest to encourage students to help raise awareness about organ donation among young people. One of Lucie's grade 11 students, Josianne Sirois, approached her for help to create a website.
Lucie had been thinking about that request when one night, she dreamed that she was climbing Mt. Everest. She awakened from this dream with a powerful sense that bringing organ donation education to schools was her life's mission. "I knew it was going to be a long and challenging journey, and many things would have to work together to help make it happen," Lucie recalls.
 "In my dream I was told that this journey would be the living proof that there is something bigger moving the checkers around."  
The journey to create the Chain of Life education program has indeed been punctuated by incredible synchronicities from the beginning. That's one of the reasons the program is so unique.
Join the organ and tissue donor registry in your province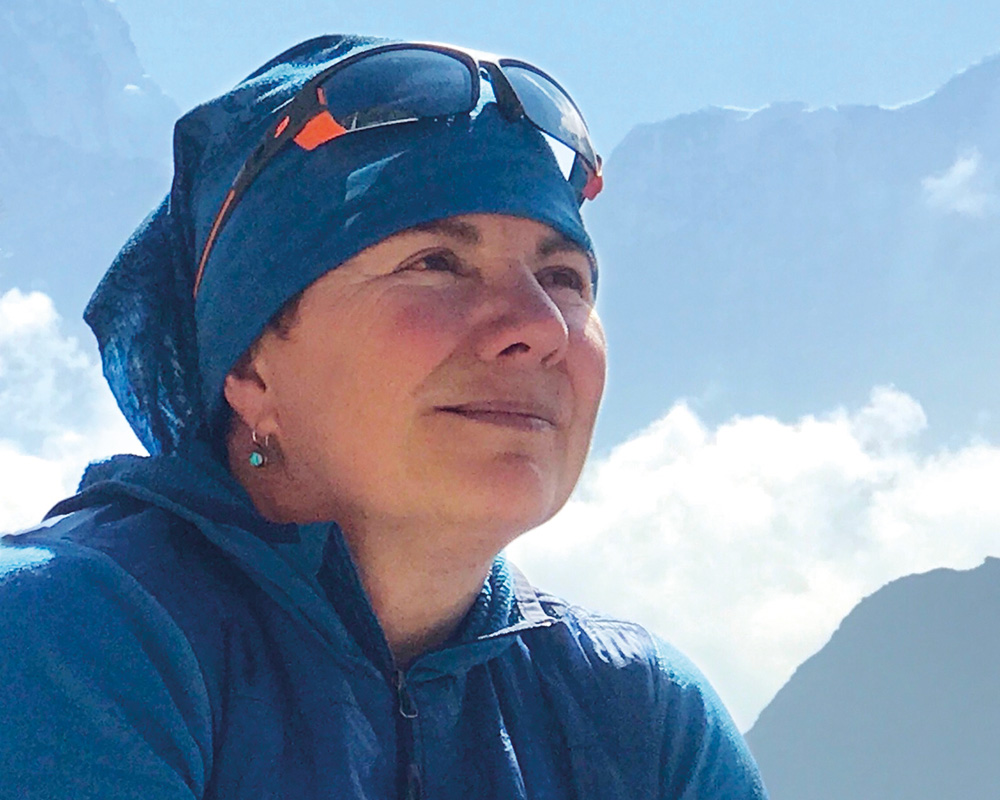 Organ donation advocate Lucie Dumont enjoys a moment while guiding a trek to Everest Base Camp in Nepal in March 2018.
Organ donation education as a mission
As both a veteran teacher and mountain climber, Lucie knew a little something about uphill battles. She knew it would be challenging to introduce a new program to teachers whose workload was already heavy. She needed to develop something that would help them with their workload rather than add to it.
For that reason, she sought to develop turnkey materials for ESL and Language Arts teachers. She knew that fun, meaningful and creative activities help students learn language. Values such as generosity, solidarity, health, and personal and social responsibility would also be at the heart of this curriculum.
Lucie's goals were clear: to inspire students to have family discussions about organ and tissue donation, as well as to adopt healthy lifestyle habits. She knew that success would depend on both the quality of the program and on the motivation and commitment of the teachers presenting it. She sought the input of many teachers and experts including Judith Rohlf, a renowned specialist and writer in ESL teaching resources.
After seven years of development, validation by teachers and adjustments, the organ and tissue donation education program that is now called Chain of Life was born.
What is Chain of Life?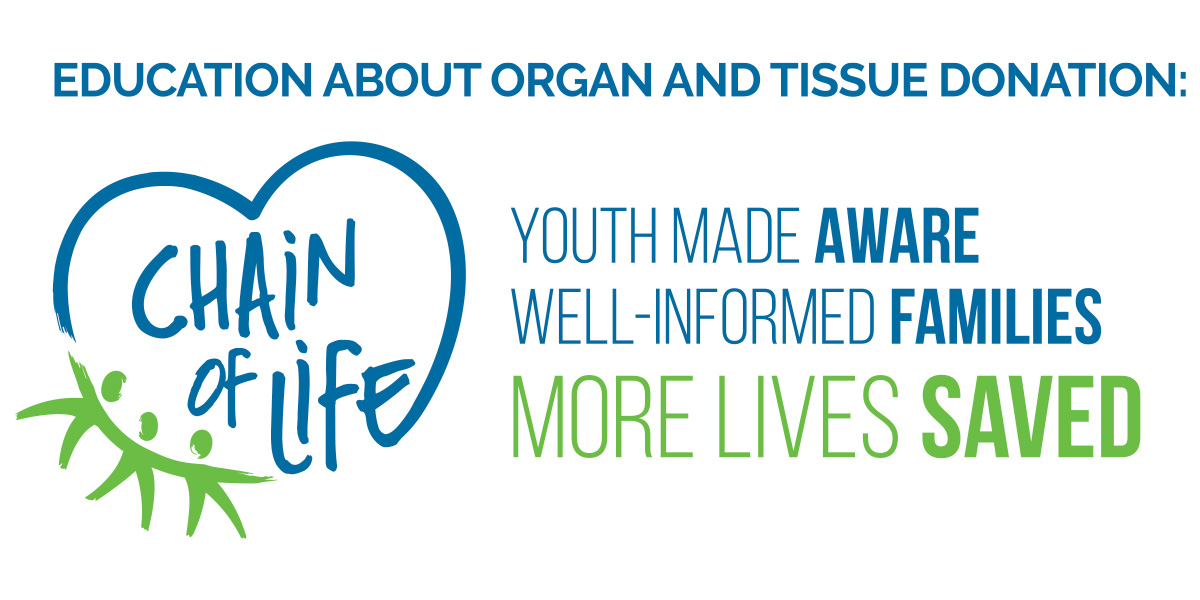 Canadian Blood Services is working with Chain of Life to help educate teens aged 15 to 17 about organ donation
Chain of Life is a charitable organization. Its primary mission is to support a program for secondary schools that educates youth aged 15 to 17 about organ and tissue donation. The program helps young people to make informed personal decisions about organ donation and encourages them to become ambassadors within their own families for more discussion of this important issue. It also helps them understand the wonder of the human body and the importance of good health.
The Chain of Life program is currently being taught in approximately 100 schools in Quebec. Already, nearly 100,000 young people have been touched by its message, and Canadian Blood Services hopes to help it reach even more. The Chain of Life curriculum is one of the resources included in the new Organs & Tissues for Life Education Portal, which was developed in collaboration with the broader community of organ and tissue donation and transplant organizations in Canada. The portal is a way to collect and share age-appropriate, easy-to-access and easy-to-use teaching resources with educators, parents and students, to spark interest in, and conversation about, organ and tissue donation and transplantation.
The links in the Chain of Life program evolved through great collaboration with people from the health and education sectors. The program ultimately involves everyone with a role to play in increasing awareness of organ donation.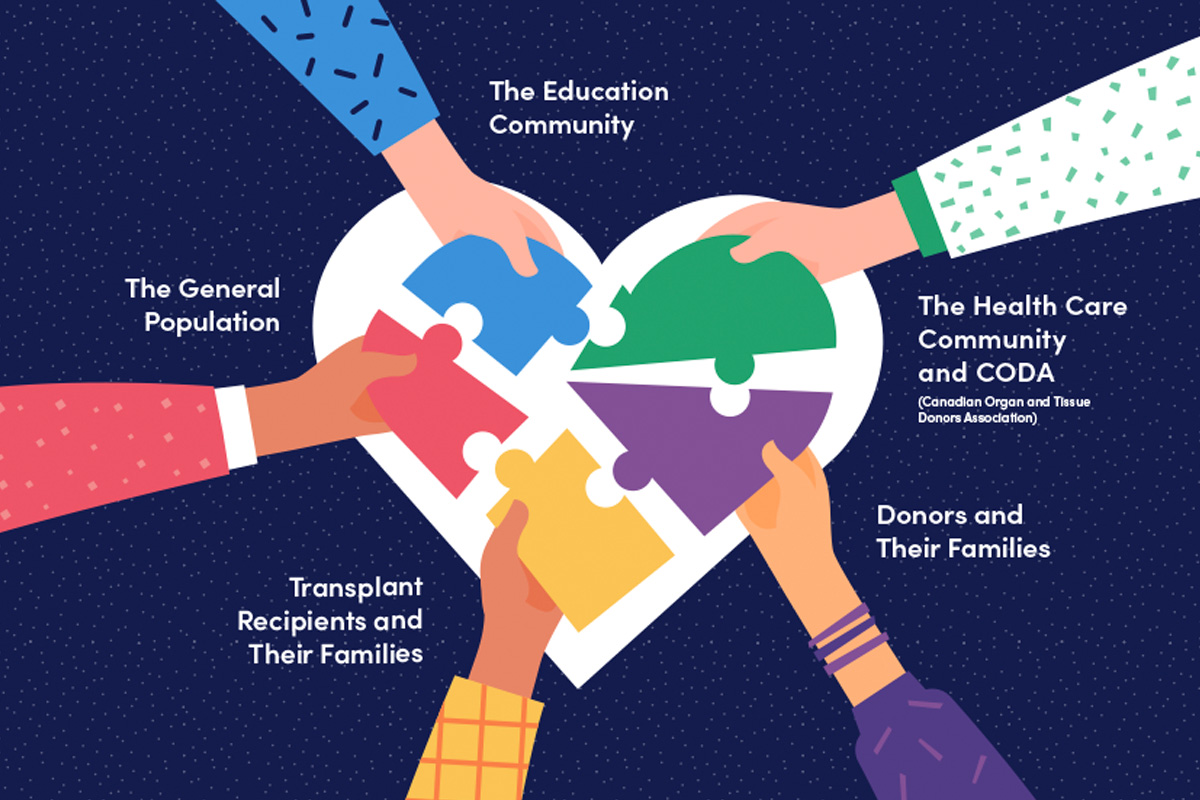 This graphic from Chain of Life shows the many people and organizations with a role to play in promoting organ donation, and in education about organ and tissue donation and transplantation.
Organ donation education a great fit for teens and ESL students
According to Lucie Dumont and her colleagues, ESL classes are the ideal place to introduce discussions about organ donation.
"In ESL, we are given a program with learning objectives and competencies to be developed, but we decide the themes. We believe that if you touch people's hearts, you will touch their minds," says Lucie. "And our 15- to 17-year-old students are in the age group that is most open to discussing sensitive and important issues." 
To develop the Chain of Life program, Lucie worked with a group of colleagues to develop activities to engage students, and began introducing them to other teachers. They developed meaningful activities such as classroom discussions about why organ donation is important, why someone might need an organ or tissue donation, how to sign up to be a donor and the process for finding and matching donors. Lucie also wanted to help students understand brain death and family consent required for donation.
"We get students to reflect on the fact that if they want to be an organ donor, they need to be taking care of their organs as of today. That means they cannot be drinking alcohol excessively," shared Lucie. "The conversation also includes discussion about the ethics of organ donation and the allocation process."
Students are also asked to do writing assignments, such as a letter to their parents or a poem.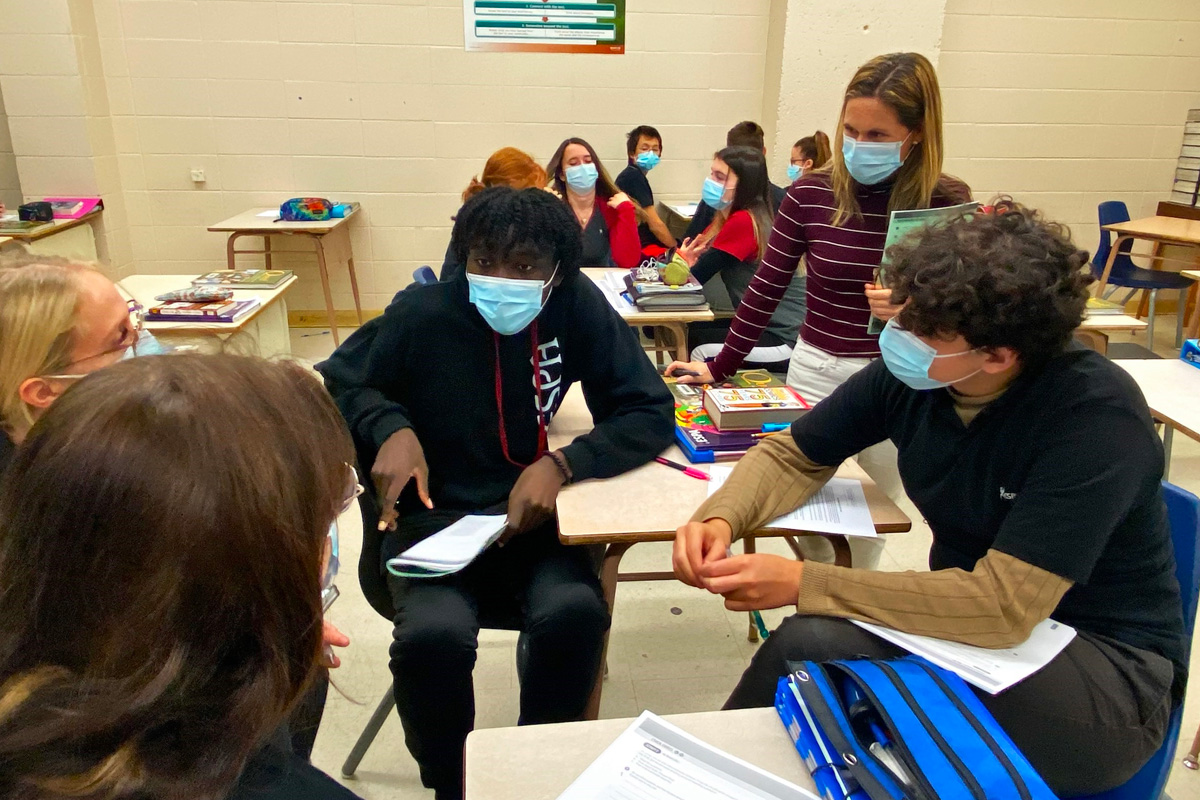 Doris Rainha interacts with students in her ESL class at École Secondaire Paul-Arseneau in L'Assomption, Que., in October 2021.
Adding more teachers to the Chain of Life
Over the years, some of the many educators to whom Lucie Dumont has introduced Chain of Life have helped to develop the curriculum further.
Doris Rainha has been teaching ESL for 27 years in L'Assomption, Que., about 50 km northeast of Montreal. She was first introduced to Chain of Life at an ESL conference in 2009 and brought it to her classroom soon afterward.
"It was early June, and the senior students were getting ready to graduate. It was a challenge to engage them, as they were already checked out. Plus the weather was beautiful, so they just wanted to be outside," Doris says. "But I presented the material, and they were mesmerized. The reason they were so interested is because unlike many other topics that I cover, it was their first introduction to the issue."
One of the students in that first class was Stéphanie Tapp. Stéphanie wanted to be a nurse, and she was eager to understand why donating organs after death was not more routine. As part of the discussion in class, she shared her belief that Quebecers needed to extend their generous nature to organ donation. After she went home, she also spoke with her parents and siblings about her intent to donate her own organs and tissues.
Sadly, three weeks later, Stéphanie died in a car crash. And it was because she had shared her wishes with her family that they made the difficult decision to donate her organs and tissues after death; prior to that, they had been opposed to organ donation.
Stephanie's mother Sylvie Massia shared her story in a video that is now part of the Chain of Life program. And twelve years after she first brought Chain of Life to her school, Doris continues to use the program. She also works with Lucie to deliver Chain of Life training for educators.
Excerpt from the testimonial in the Chain of Life program from Sylvie Massia, called A Family Discussion That Saved Four Lives
Activities with emotional impact
Thomas Fragman, an ESL Teacher in Mascouche, Que., has been teaching for 27 years and was another early adopter of the Chain of Life program. He first tested the program in 2008 after attending a workshop in 2007.
"One activity is a matching game where students are given cards outlining individual scenarios where they might need an organ or be able to donate one. They are told to stay standing until they find their match," explains Thomas." A student may get a card that says, 'I am Anita. I am 15 years old. I love to paint. I have a severe type of diabetes and I just found out that if I don't get a pancreas transplant, my organs will fail, and I will die. I want to pursue my passion and I can't stop thinking that I might not get that chance. Will I be fortunate enough to get my transplant?'
"At the end of the session, most of the students are still standing and so they all look at me and say, 'your activity doesn't work. There's something wrong here.' And I say 'no, there's nothing wrong. The fact is there was no match.' Then we discuss how that might feel and what can be done to solve it."
The Chain of Life Challenge
Chain of Life relies entirely on public donations, many of which come from the Chain of Life Challenge ― an initiative with a tie to the founder's passion for mountaineering.
Since 2015, representatives have been planting the Chain of Life flag on the tops of mountains all over Quebec. In addition to raising awareness of organ and tissue donation, the Chain of Life Challenge helps raise funds to continue the organization's important work. The funds also help to create tools to better inform families about organ and tissue donation, and to help debunk the myths associated with it.
Expanding to an anglophone audience
While the Chain of Life curriculum took root in ESL classes, there's now action afoot to extend its reach.
Robin Vero, who teaches English Language Arts to anglophone students in Lachute, Que., was introduced to Chain of Life three years ago. It was through a former student, now a nurse, whose family had decided to donate her father's organs after his death. That student had become involved in Chain of Life and met Lucie, who had asked her to look for a teacher who could join the Chain of Life pedagogical team to help bring the program to anglophone teens.
Robin has taken on that challenge with the help of a couple of other teachers at her high school. The Chain of Life ESL program is in the process of being adapted to fit the curriculum in English Language Arts, such as by tweaking some activities to be more suited to English speakers. That includes giving students more opportunities to read and write.
"We include ethical questions and debate topics. We feel that it is going to be really good for them to consider ethical questions of organ donation and to inform themselves, because it forces them to articulate their thoughts," says Robin.
Lucie Dumont officially retired two years ago after 35 years of teaching, but she and her team are still working to expand Chain of Life beyond Quebec, to other parts of Canada and beyond.
According to Lucie, collaboration is the key to success.
"If we can share how we inspire and spark interest, the stronger this movement will become across Canada. I am excited to work with Canadian Blood Services and other organizations across the country because we share the same values."
"If we can eventually have a version of Chain of Life for each region, we can unite teachers in sharing the importance of organ and tissue donation, and by the same token, promote values such as generosity, social responsibility and health."
One organ donor can save up to eight lives, and tissue donation can improve the lives of up to 75 others. More than 4,400 Canadians are waiting for a lifesaving transplant. Register your intent to be an organ and tissue donor through your province or territory and have that all-important conversation with your family.
Looking for resources to educate others? Check out our new Organs & Tissues for Life Education Portal.