'My team makes sure patients get what they need'
Ryan Elgert is leading warehouse staff and drivers through the pandemic in Calgary, Alta. 
June 17, 2020
During the COVID-19 pandemic, we're bringing you stories of our employees who continue to work on the front lines. Ryan Elgert is a logistics supervisor in Calgary, Alta.
I came to Canadian Blood Services a year ago after a long career in the telecommunications industry. It might sound surprising, but my work here has a lot in common with the work I did there, supervising a logistics team. In any warehouse, you're bringing in products, storing them properly and moving them out to various sites. Of course, the products in this warehouse are quite different from those in my last workplace!
'You think about the patients you're helping'
My team handles the products and equipment we need to run donor centres, and the blood products hospitals require. To be honest, when I first thought about coming to work here, I wasn't thinking a lot about the purpose of those products, even though I have donated blood a few times, and my wife is a regular donor. It was more about the day-to-day responsibilities that appealed to me. But as you continue in the job, you think more about the patients you're helping. I also lost my mother just a few months after I started working here, and while she was in hospital she received blood products. It doesn't hit closer to home than that.
Image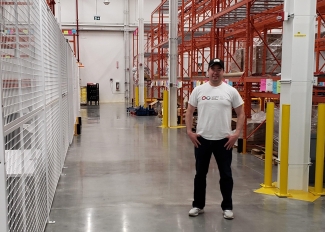 'Everyone here has really stepped up'
The pandemic has changed so much, but I feel that everyone here has really stepped up. Although COVID-19 has made it scary to go into a hospital to make deliveries, people have shown their bravery. I've been really proud of my team for going into those hotspots and making sure patients get what they need.
We have to take precautions in the warehouse as well. I would say that physical distancing really isn't natural to us as humans. I also didn't use to be so conscious of all the elevator buttons, handrails or doorknobs we touch in a day. It's a lot of handwashing, a lot of sanitizing, and new protocols for outside workers who deliver to us, too.
'The thing I like best about work is the people'
Part of my role now is to make sure my employees have what they need to be safe — the face masks, gloves and disinfectant wipes to wipe down vehicles before and after their hospital deliveries. And to listen to their questions or concerns. The thing I like best about my work is the people. I know a lot of people might apply for a job because of the wage, but for me, the relationships with my co-workers are more important. I support my team, but they also support me. This past year I've had some difficult personal losses, so I've been very thankful for those good relationships.
'We need to evaluate new sites to meet the needs of patients'
My team is also affected by the changes to mobile donor centres. Because of the pandemic, we've lost access to some of the places that usually host donation events. That means we need to help evaluate new sites to collect enough blood to meet patients' needs. We have to make sure we can get our equipment through the doors and into the elevators, for example. This week that work took me to Drumheller, a community about a two-hour drive from Calgary.
Like everyone else, the pandemic has affected me at home, too. The biggest change has probably been my sister-in-law moving in with me and my wife. She normally lives with her parents, who are elderly, and she didn't want to risk exposing them to COVID-19 since she is still working outside the home.
Since my wife and I don't have children we've been spared the challenge of homeschooling, but I have heard the stories, so props to all the people with children out there!