International stem cell donation inspires long-distance friendship
Mike Wark of Red Deer, Alta. connected with the German stem cell donor who helped him survive acute myeloid leukemia
May 13, 2021
Mike Wark of Red Deer, Alta. is excited by the chance to build a unique friendship with a distant stranger who helped save his life.
In June 2018, Mike was unexpectedly diagnosed with acute myeloid leukemia (AML), an aggressive form of blood cancer, following some lingering symptoms and routine blood work.
Mike's AML diagnosis kicked off an immediate crash course in blood cancer treatment for him and his wife Lauren Wark. The couple spent much of the next seven months at the Tom Baker Cancer Centre in Calgary, where Mike was treated.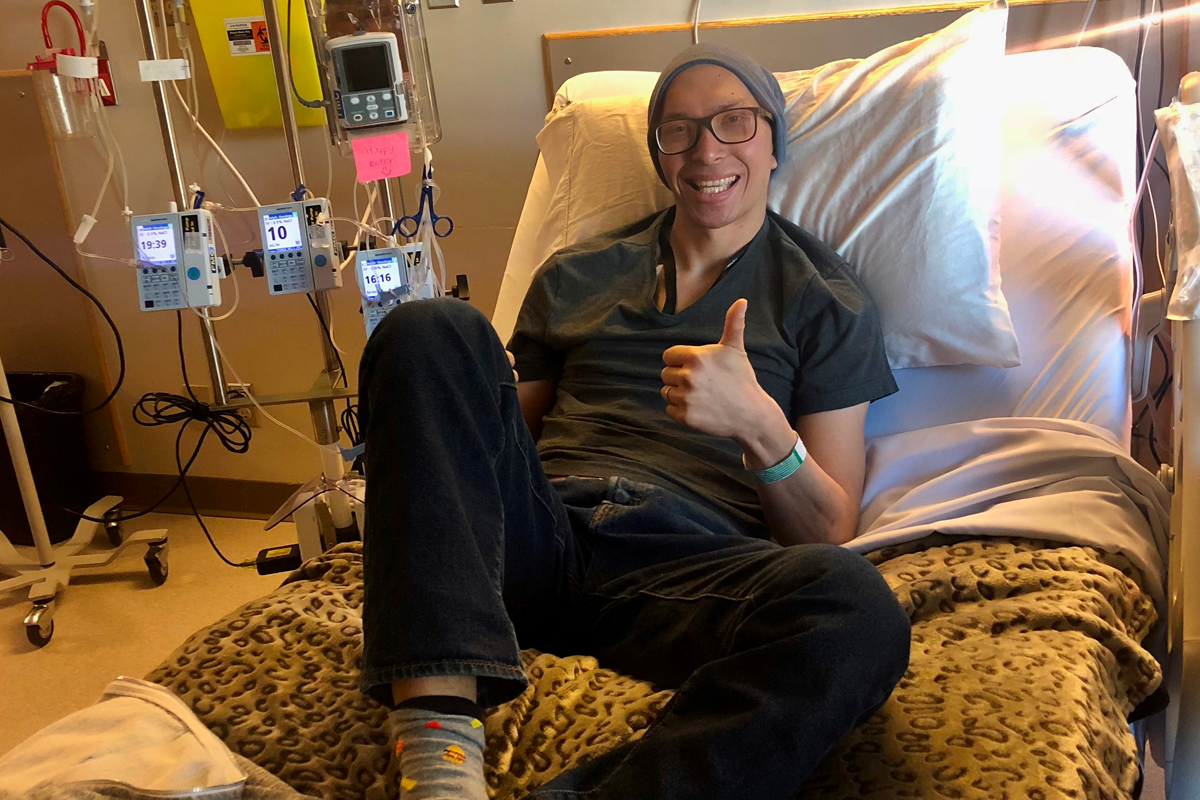 Mike Wark received treatment for acute myeloid leukemia in the hematology unit of the Tom Baker Cancer Centre in Calgary, Alta. (October 2018)
It became clear very early that Mike would need a stem cell transplant from an unrelated donor to save his life. Mike was humbled by the idea of being saved by someone else's generosity.
"When you're young you think you're invincible. You never think that you are going to get hit with a life-threatening cancer diagnosis," Mike says. "It doesn't even cross your mind unless you have already had some experience with something like that."
"I went from being a healthy 27-year-old starting my career, married to my best friend, to lying in a hospital bed unsure if I was going to live or die."
How stem cell donors save lives
Stem cells, specifically blood stem cells, are immature cells that can develop into any cell present in the bloodstream. They can be used to treat more than 80 blood diseases and disorders, including cancers. However, for stem cells to be transplanted successfully, donor and recipient must be a close genetic match.
Sometimes, a match can be found within one's own family, but Mike is one of the 75 per cent of patients in Canada who must turn to Canadian Blood Services Stem Cell Registry. The registry has access to a pool of nearly 460,000 potential donors in Canada and another 38 million on registries worldwide. Christiane Kruck was one of them.
Christiane lives 7,600 kilometers away from Mike in the small German village of Pöttmes, located about an hour northwest of Munich. The 25-year-old speech therapist had registered with DKMS, an international non-profit bone marrow donor center based in Germany. She had been inspired to join in 2013, by a young girl in her village who required a stem cell transplant for leukemia. She wasn't called to donate for that child. But she knew she'd committed to help any patient in need, and when the call came, she was thrilled.
"I was told that I might be a match for a patient needing my stem cells, and I was asked to come in for some further testing," remembers Christiane. "I was really excited, happy to potentially have the opportunity to help."
 Preparing for the stem cell transplant
In the lead-up to the stem cell transplant, Mike went through rigorous testing to ensure that his body could handle the heavy chemotherapy and full-body radiation required beforehand. That treatment, which began eight days prior to transplant, would break down his bone marrow and destroy any remaining leukemia cells. His bone marrow would then be rebuilt from donor cells.
"The biggest risk was that my donor might have second thoughts about donating," recalls Mike. "If that were to happen, we'd have to scramble to find an alternate donor otherwise my life would be at risk."
Meanwhile in Germany, Christiane was preparing for her lifesaving stem cell donation.
"Three months before the donation, I had to visit my doctor for some blood tests to check my genetic markers again to confirm the match. After that, I had a complete medical checkup to ensure I was healthy and able to donate stem cells," recalls Christiane.
"A few days before the donation, I had to give myself injections, one in the morning, one in the evening, to stimulate stem cell growth and transfer the cells from the bone marrow into the blood."
On October 22, 2018, Christiane donated her stem cells.
"This process took five and a half hours" she says. "After that I felt fatigued and weak, but otherwise fine. I have to say, if just a few hours in the hospital can give someone a second chance at life, what else could be a greater gift?"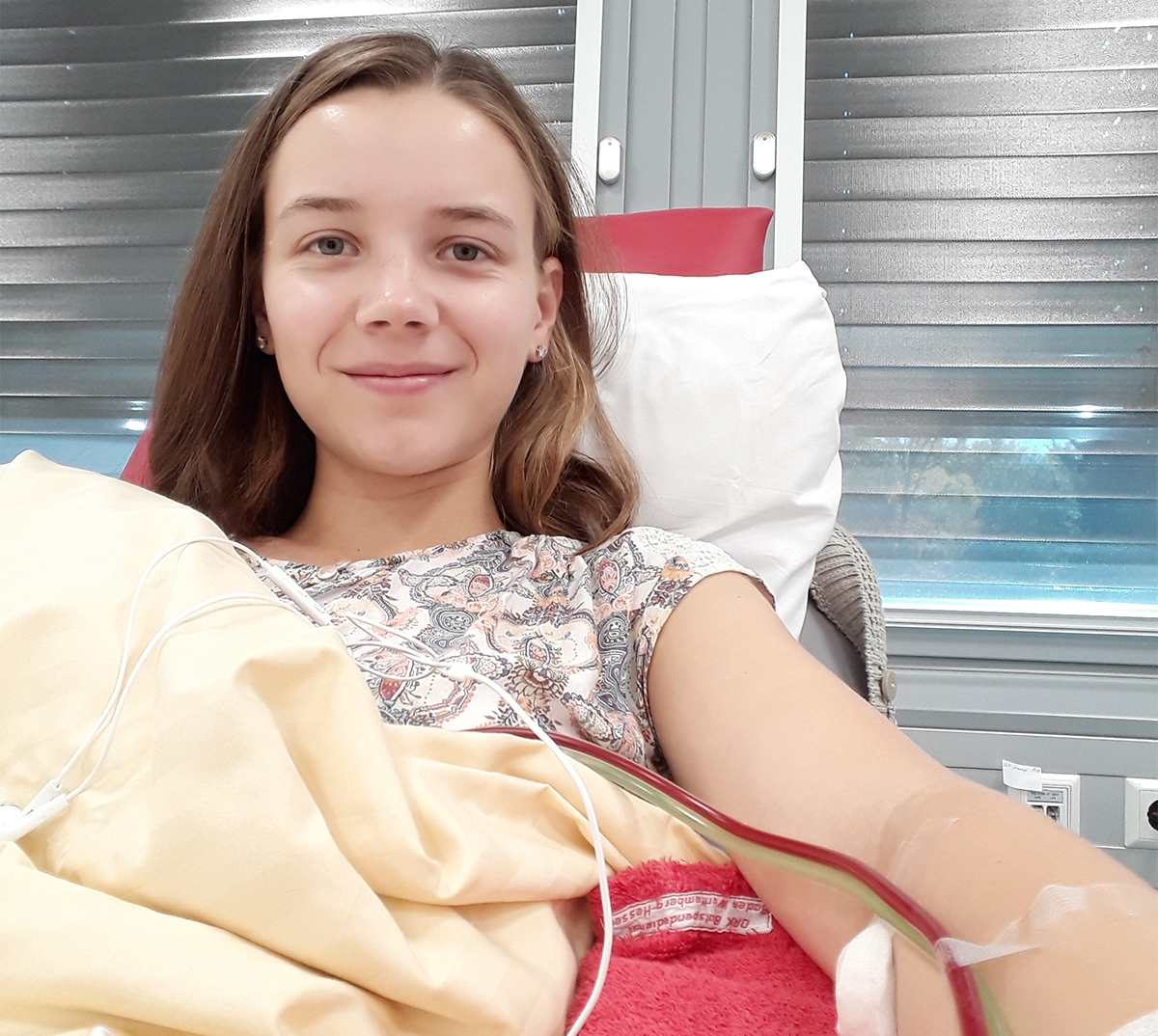 Christiane Kruck, who lives in a small village in Germany, donated stem cells for Mike Wark, a patient from Red Deer, Alta.
How does donating stem cells work?
Stem cell donor and patient FAQs
'It was an incredibly emotional day'
Two days later, Mike received a transplant of Christiane's live stem cells, delivered fresh from Germany by a courier.
"It was an incredibly emotional day ― a day I am never going to forget," says Mike. "My wife, Lauren, came in after breakfast and surprised me with balloons and video clips of encouragement from my friends from all over the world. They were all saying 'Mike, you got this, you're going to do great!'"
On the day he received his stem cell transplant, Mike Wark's wife Lauren surprised him with video messages of support from well-wishers near and far.
"My wife and I are big fans of the TV show Grey's Anatomy and I think we had imagined some kind of grand procedure in an operating room, but it was very much like a blood transfusion," says Mike.
"The stem cells arrived in what looked like a very expensive padded lunchbox, and I got to hold the bag in my hands before they were transfused through my IV central line. It's an incredible feeling to hold something you know has the power to save your life."
The transfusion process took about 90 minutes and it was a success.
Three months later, Mike's doctors pronounced him in full remission. A final bone marrow biopsy had shown him to be cancer-free. 
Making the connection
"From the moment I found out that we had a matched donor, I was curious to find out who they were," says Mike. "After the transplant, that curiosity continued to grow, and I wanted to get in contact with my donor to thank them for helping save my life."
In Canada, stem cell donors and recipients are not permitted to communicate directly or exchange identifying information for the first year after transplant. But they can exchange anonymous letters within that year, and after the year has passed, direct communication is permitted with donor and patient consent.
"At the time of the transplant, the only information I had about my donor was that she was a young woman in her twenties, and that she had a different blood type than me. I had no idea where she was, or what inspired her to donate. But I was eager to find out!" Mike says.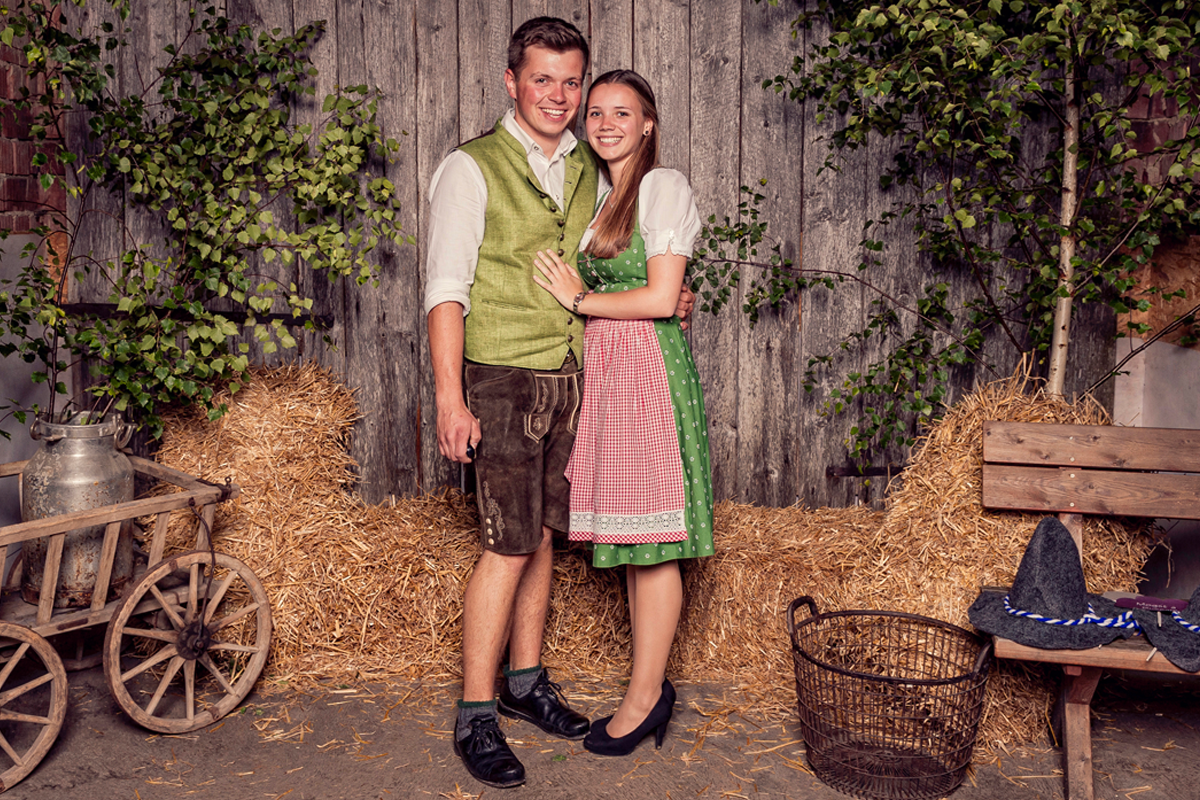 Christiane Kruck with her boyfriend Thomas Hammerl. Christiane lives in Germany and donated stem cells for Mike Wark, a patient in Canada. (Photo taken pre COVID -19)
Two stem cell transplants from one donor saved a life twice
Cancer survivor feels blessed by stem cell donor's kindness
Christiane was just as eager to know more about the patient who'd received her stem cells. Three months after the transplant, she received word through DKMS that "her patient" was a Canadian man in his twenties, and that his condition was "good for now."
"I was happy the transplant had happened but wanted to find out more about the person I had helped and how he was doing," says Christiane.
For that to happen, Mike needed to complete some paperwork.
"We submitted the consent forms to release my contact details, and hoped that my donor would do the same," recalls Mike. "We had no idea whether she would or not."
Christiane was surprised and excited to receive the contact request through DKMS. She sent back the completed forms, and a couple of weeks later, Mike received a call from his medical team with Christiane's name, location and contact details. It was his 30th birthday.
"It was pretty mind-blowing," says Mike. "I knew that she was out there somewhere but knew nothing about her. Then of all places, it turns out that my genetic match is in Germany! Finding that out was the best birthday present I could ask for!" 
Since that time, Mike and Christiane have begun forming a unique international friendship ― one which they both hope will lead to an in-person visit one day, when pandemic restrictions are lifted.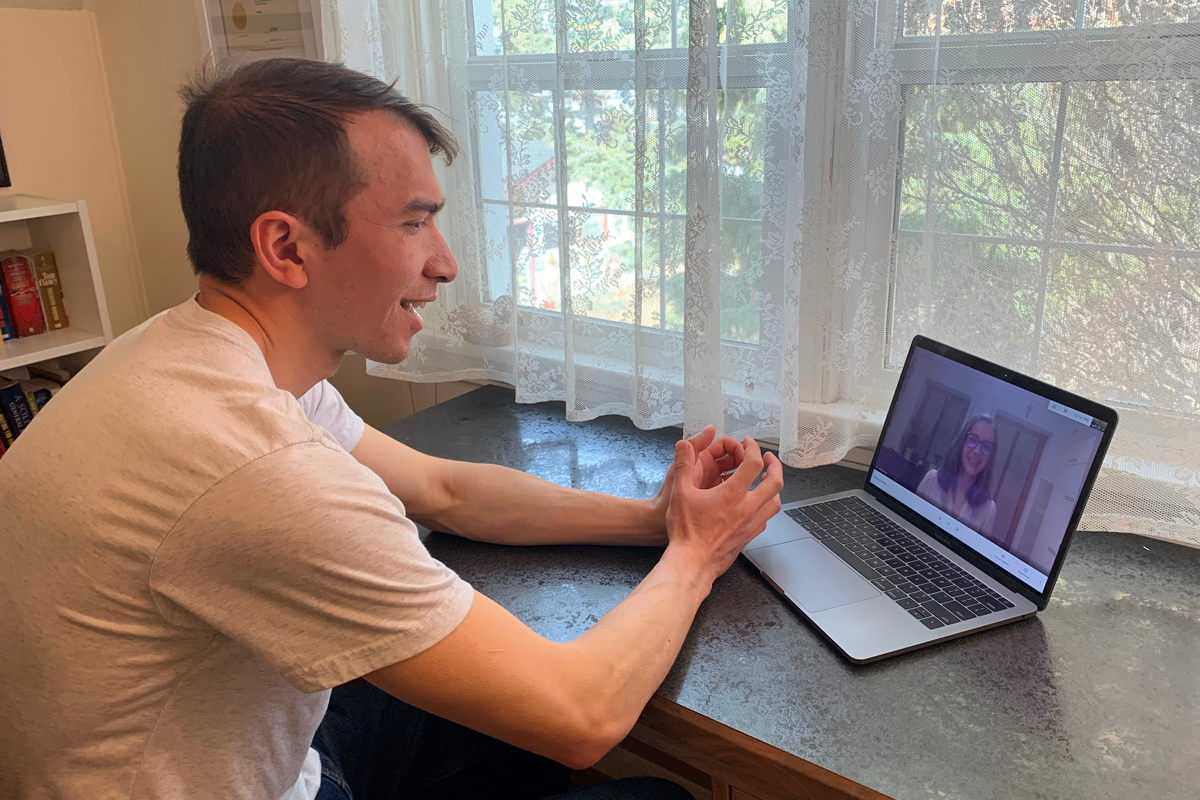 Mike Wark has connected with his German stem cell donor Christiane Kruck by video call. They hope to meet in person after pandemic restrictions are lifted.
Promoting the registry
Both Mike and Christiane encourage others to join the stem cell registry wherever they live.
"If it wasn't for the willingness of my donor to donate her stem cells, there is a good chance that I wouldn't be alive today," says Mike. "Anyone has the potential to be a stem cell donor and joining the stem cell registry could help save someone's life, like it did mine."
 "Please join today," echoes Christiane. "The process of donating is easy, and not painful like many people think. It is nothing compared to everything the recipient has to bear. It is a small act that makes a great difference!"
Christiane's parents, one of her sisters and her boyfriend Thomas have all registered to be potential stem cell donors. "When I think about if the situation were reversed, and one of my family or friends needed a stem cell transplant, I would be so glad that there was a person who was able and willing to donate their stem cells," adds Christiane.
Donated stem cells can treat more than 80 blood diseases and disorders, including cancers. The COVID-19 pandemic is having an impact on stem cell transplantation, and for this reason transplant centres in Canada are relying more than ever on Canadian stem cell donors to provide lifesaving matches for patients. We urge healthy Canadians between 17 and 35 years of age to join Canadian Blood Services Stem Cell Registry online and order their swab kit to be delivered in the mail.