Latest study results show upward shift in COVID-19 prevalence
Seroprevalence lab reports November data
January 27, 2021
The latest results are in from Canadian Blood Services' seroprevalence lab. We tested 17,049 blood samples from donors who gave blood in November and found that 1.5 per cent of the samples contained antibodies against the virus that causes COVID-19. This work is part of our research partnership with Canada's COVID-19 Immunity Task Force (CITF) to test blood samples for antibodies against SARS-CoV-2.
While still a relatively low rate, this is a significant increase in prevalence from our May and June tests, which found that 0.7 per cent of donors had these antibodies. The data also shows that the shift in prevalence has been greatest in Western Canada.
"Since the first wave in May and June, seroprevalence in Manitoba and Saskatchewan increased five-fold, from 1.69 per cent to 8.71 per cent. Seroprevalence in British Columbia and Alberta has nearly tripled," says Dr. Sheila O'Brien, associate director of epidemiology and surveillance at Canadian Blood Services and principal investigator for this study.
"The data are also confirming that racialized Canadians are more likely to have antibodies against COVID-19 than white donors, and the disparity seems to be widening over time," she adds.
According to the latest results, racialized Canadians continue to have higher seroprevalence rates (2.5 per cent) compared to donors who self-identify as white (1.35 per cent). People with the highest material deprivation score, meaning those with the lowest average household income and high school education rate combined with the highest unemployment rate, were also more than twice as likely to test positive for antibodies than those with the lowest score.
"This is hard data backing what we've seen reported elsewhere. It's also important information for anyone seeking to improve health equity in Canada," says Dr. O'Brien.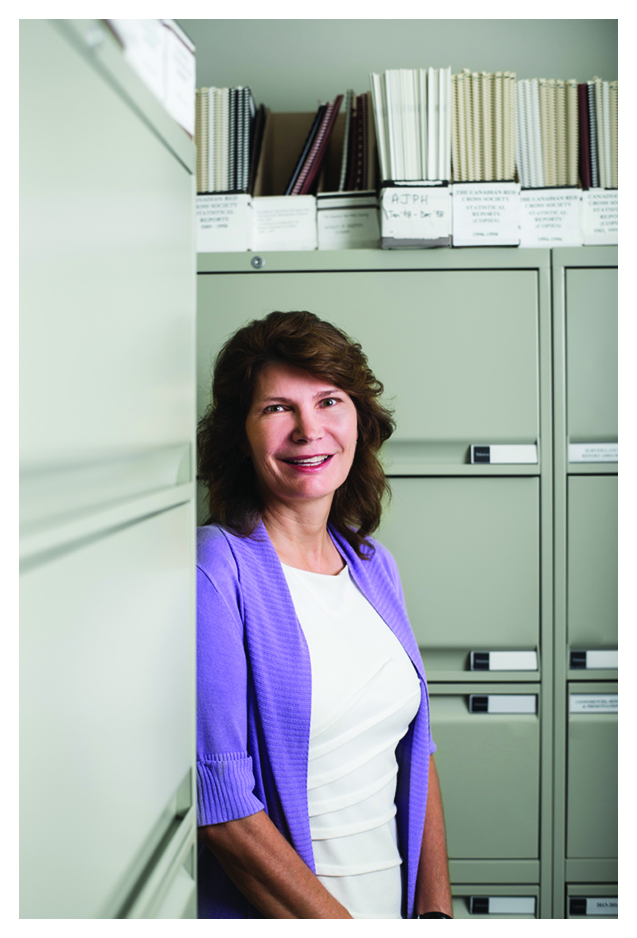 Dr. Sheila O'Brien is the associate director, epidemiology and surveillance at Canadian Blood Services.
These results offer insight into how common COVID-19 has been among  a relatively healthy subset of Canadians, and are part of our ongoing seroprevalence study. Seroprevalence refers to the level of a pathogen in a population, measured in the blood. We are still learning about COVID-19 immunity, but the results indicate that the vast majority of individuals tested remain vulnerable to infection because very few individuals have antibodies against the virus.
Seroprevalence rate among blood donors in Canada
*The ranges in parenthesis represent the confidence interval. We can say with 95 per cent confidence that the true value is within this range.
|   | May–July | October | November |
| --- | --- | --- | --- |
| Canada | 0.70% (0.63-0.77) | 0.88% (0.73-1.04) | 1.51% (1.31-1.71) |
| British Columbia | 0.56% (0.41-0.70) | 0.86% (0.50-1.23) | 1.51% (1.04-1.97) |
| Alberta | 0.48% (0.33-0.62) | 0.76% (0.38-1.14) | 1.79% (1.24-2.34) |
| Saskatchewan | 0.53% (0.23-0.83) | 0.17% (0.00-0.59) | 4.17% (2.57-5.77) |
| Manitoba | 0.59% (0.30-0.88) | 2.96% (1.70-4.23) | 8.56% (6.51-10.62) |
| Ontario | 0.88% (0.78-0.99) | 0.87% (0.65-1.08) | 0.77% (0.56-0.97) |
| New Brunswick | 0.23% (0.00-0.49) | 0.17% (0.00-0.66) | 0.49% (0.00-1.20) |
| Nova Scotia | 0.69% (0.33-1.05) | 0.98% (0.11-1.85) | 0.19% (0.00-0.65) |
| Prince Edward Island | 0.04% (0.00-0.42) | 0% | 0% |
| Newfoundland | 0.44% (0.04-0.84) | 0.06% (0.00-0.52) | 0.95% (0.00-2.09) |
About the SARS-CoV-2 seroprevalence study
Back in April 2020, when the federal government established the COVID-19 Immunity Task Force, Canadian Blood Services and our Quebec counterpart, Héma-Québec, reached out to offer assistance. Canadian Blood Services' seroprevalence lab has already tested more than 140,000 blood samples for COVID-19 antibodies and is providing valuable information to Canadian health officials and policymakers.
"Canadian Blood Services is proud to contribute to Canada's fight against COVID-19 through this seroprevalence study," says Dr. Graham Sher, CEO of Canadian Blood Services. "As an organization, we are uniquely positioned to perform this work thanks to our existing infrastructure, experience and expertise. We hope this data will help inform decision-makers as they forge ahead through the next phases of this pandemic."
Image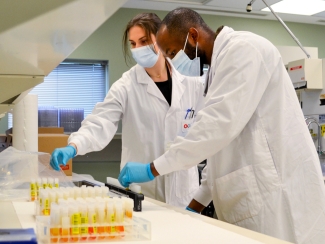 Carissa Kohnen and Andy Tshiula Kalenga prepare samples for testing.
Canadian Blood Services has been able to respond with agility to the needs of patients in Canada in the constantly changing context of the COVID-19 pandemic. We are grateful for the opportunity to contribute in new ways, including through the ongoing seroprevalence study as well as our role in national clinical trials examining whether COVID-19 convalescent plasma could be a safe and effective treatment option for patients with the virus.