'I'm not by myself here'
This Pride Month, manager Amy Gow reflects on employee resources for LGBTQ+ employees at Canadian Blood Services
June 3, 2021
Two years ago, Canadian Blood Services launched its first employee resource group for LGBTQ+ employees. Quiet conversations among colleagues had been taking place for years but no formal support structure or messaging of acceptance had been put in place. 
Amy Gow, manager of continuous improvement and reporting in shared services, remembers feeling nervous about participating in the group for the first time. She wasn't "out" at work, except to a few close colleagues.
"It wasn't something I was even willing to talk about or be open about. I always referred to my partner as 'them' or 'they,' always said 'my partner,'" says Amy, who is pansexual. 
"Coming out" or "being out" refers to the process of openly sharing one's sexual orientation or gender identity with other people. Coming out isn't a one-size-fits-all process; everyone has a unique experience and set of circumstances that determine how they live as their authentic self. 
"I hemmed and hawed for a little bit about joining the LGBTQ+ group. Then I figured the worst that could happen is I wouldn't feel comfortable in the organization anymore and I'd have to find a new job. I reasoned that I probably wouldn't be fired since they were looking at creating the group," says Amy. 
When she walked into that inaugural meeting in May 2019, she found her nervousness was short-lived. Dr. Graham Sher, CEO of Canadian Blood Services was there as a strong LGBTQ+ ally, to kick off the meeting with his own reflections on the importance of such a group to support and empower employees
"I remember leaving that meeting and really appreciating what Graham had talked about, but also thinking, 'Yeah, I'm not the only one,'" says Amy. "There's lots of us. I'm not by myself here."
Image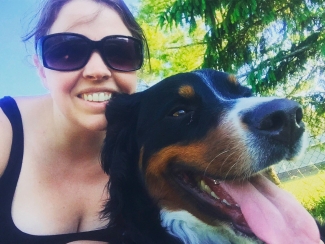 Amy and her dog, Ember. 
Supporting and empowering LGBTQ+ and other under-represented groups is central to Canadian Blood Services' commitment to diversity, equity and inclusion.
Employee resource groups can be a powerful tool to promote belonging, dignity and justice by bringing employees together to share their experiences and perspectives with each other as well as with the organization's leaders.
In addition to the employee resource group for LGBTQ+ employees, Canadian Blood Services has also created groups for employees with visible and invisible disabilities; employees who are Black, Indigenous and People of Colour; and women in leadership. The groups are a key component of Canadian Blood Services' five-year strategic plan and part of broader efforts to cultivate a safe, healthy and respectful workplace where all employees feel included, valued and supported.
Amy has seen Canadian Blood Services change in "leaps and bounds" since she was hired in 2016. With the support of her leaders, her colleagues and the resource group to which she belongs, she's fully committed to being part of the conversation around engagement and inclusivity.
"I'm a leader to some people and I think it's really important to see representation at all levels of the organization," she says. "I'm seeing more and more that willingness to have these conversations from my leaders and the people I interact with. That's hugely important because it lets people know they don't have to hide who they are."
June is Pride Month in Canada and many other countries around the world, and Canadian Blood Services is recognizing the contributions of LGBTQ+ groups and individuals to Canada's Lifeline.
Although the COVID-19 pandemic has put a pause on in-person Pride celebrations and events, Amy says she's happy to see the organization promoting virtual events, resources and educational opportunities for employees to celebrate and learn throughout June.
"Pride Month is a really good jumping off point for these conversations," she says. "Whether you're coming out or questioning, whether you're learning about Pride or LGBTQ+ issues for the first time, you can see how welcoming these spaces are. It creates a culture where more people can be open and have conversations not only around LGBTQ+ or Pride, but diversity, equity and inclusion as a whole."
Learn more about why Canadian Blood Services is recognizing Pride Month at blood.ca/LGBTQCommunities.