'I see how much he helped people over the years'
Charlene Bagley supports #NovaScotiaStrong campaign to honour her father Tom Bagley
August 27, 2020
Charlene Bagley's father Tom Bagley was one of the victims of a mass shooting in Nova Scotia in April. He was killed by the gunman while rushing to his neighbour's house, which was set on fire by the shooter.
Charlene remembered Tom by supporting Canadian Blood Services' #NovaScotiaStrong campaign. 180 people donated blood in Tom's honour at events over two days in the small Nova Scotia community of Milford. After the events, Charlene told us more about her father, his dedication to helping others, and her own drive to continue that legacy.
My father served 10 years in the Royal Canadian Navy, sailing on ships. Once he decided he wanted to start a family, he retired from the navy and became a crash rescue firefighter for the Halifax International Airport. He spent the majority of his career there — 31 years — and was also a volunteer with the Elmsdale and Enfield fire departments for approximately 20 years.
Image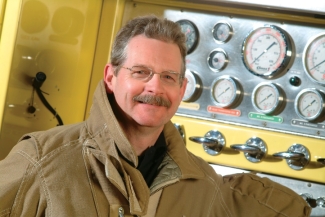 Tom Bagley died in Nova Scotia's mass shooting. (Halifax International Airport Authority)
In spite of the demands of his firefighting career, my dad made the time to volunteer for many other organizations as well. He was part of the Knights of Columbus, the Lion's Club, the Harley Owners Group, Snowmobiles of N.S and many others. He was a busy man who loved being on the go.
Helping someone in need was my father's career but it was also a way of life for him. He was a jack of all trades, and many people, including me, benefited from these skills. On many occasions I saw my father stop whatever he was doing to go help a friend, a neighbor, or even a stranger. I knew this was the type of man he was, but now since his passing, I've seen just how much he helped people over the years. He never looked for anything in return. He was humble, and it is a trait that I always admired in him.
I always knew that my father donated blood over the years, but I only recently found out how often he had donated. While going through some paperwork, I discovered a certificate stating that he had donated blood 100 times. That makes me extremely proud.
Image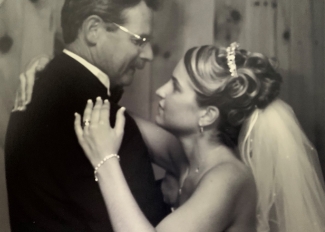 Charlene Bagley with her father Tom Bagley at her wedding 15 years ago.
When I had heard about the #NovaScotiaStrong blood donation campaign, it seemed as though it was meant to be. Since his passing, I knew I wanted to honour my father, but I also knew it had to be something that I could stand behind as well. When I received an invitation to participate, I knew right away that this was the opportunity I was looking for. My hope was to reach as many potential donors as I could and to donate blood myself. I also wanted people to remember my father as the kind, giving man that he was.
Aug. 17 was a cool, drizzly day, but many people came out to donate blood in memory of my father. In fact, Canadian Blood Services exceeded its collection targets over the two-day event and saw many first-time donors. I would like to extend my deepest gratitude to all those who donated in my dad's name. It means the world to me that people went out of their way to do this for such a great cause.
Although I was not eligible to donate this time, I plan to try again in the near future. If for whatever reason I am not able to donate, I would like to become more involved with Canadian Blood Services in any way that I can. I would encourage anyone who is able to do the same. It is my hope that I can continue my father's legacy by supporting this cause. I hope that this campaign becomes a regular event.
My father's life was taken too soon, and I know I will never forget him. My hope is that no one else forgets him either. It is such an honour to be able to say he was my dad.
Canadian Blood Services #NovaScotiaStrong campaign continues until Aug. 31. Donors can show their support by sharing photos, videos and their reasons for donating on social media using the hashtag #NovaScotiaStrong. Too book an appointment, you can download the GiveBlood app, call 1 888 2 DONATE (1-888-236-6283) or book now at blood.ca/novascotiastrong.
Image