Baby born with only a fraction of the blood needed to survive celebrates his 7th birthday
Born 12 weeks early, Nicholas was tiny, frail and had a weak immune system. Read his story and find out how two blood transfusions helped him when he needed it most.
September 25, 2018
 Nicholas was born 12 weeks early, weighing just two pounds and one ounce. Tiny, frail and with a weak immune system, he required immediate intense medical intervention. Blood was taken from him daily to monitor his health but it quickly depleted Nicholas's limited reserves. Premature babies as small as Nicholas do not generate their own red blood cells.
"When I was 25 weeks pregnant I was diagnosed with preeclampsia," said Nicholas's mother Shannon. Preeclampsia is a serious medical condition occuring in pregnant women which can cause numerous complications and health risks. When Nicholas was born, a full 12 weeks early, Shannon recalls him being able to fit in the palm of her hand. 
The average adult needs five litres of blood, but babies as small as Nicholas are born with only a fraction of the blood they need to survive. Several days after his birth, Nicholas's hemoglobin level dropped dangerously low and a transfusion was ordered.  Because only a small amount of blood was needed, a full donation was divided into four smaller parts. Nicholas soon received the first of these gifts.
Many parents keep albums of "firsts" for their children, but Nicholas's first days of life were much different than most babies. "Nicholas has a special picture in his album," Shannon said. "It's his first transfusion and that's when a donor saved his life."
"I was amazed at the generosity of the donor who made that possible," said Shannon. "I'll never be able to know who the donor was who saved my son, but to be able to say thank you to people who are currently donating is an honour."
After three months in the hospital, Nicholas was finally able to come home with his parents and older brother and recently, he celebrated his seventh birthday. He has dreams of becoming an eye doctor, and wrote this note:
Image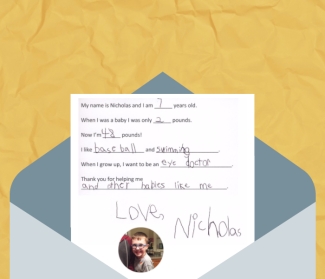 Each year, approximately 100,000 blood donors are needed to meet demand yet only four percent of Canadians donate blood.
As financial supporters of Canadian Blood Services, you play a vital role in supporting the blood system. Through your generous donations, you fund recruitment programs that help us maintain the blood supply for patients like Nicholas