Toyota and Canadian Blood Services are two organizations with vastly different products and services but a similar dedication to quality, efficiency and improving the lives of Canadians - an unlikely partnership has turned out to be a perfect match.
Collaboration across the organizations began as a knowledge sharing project in 2015. For more than 70 years, Toyota has excelled at developing its manufacturing processes and has worked hard to continuously improve them. Based on the philosophies of the world-renowned Toyota Production System, Toyota has helped hundreds of other organizations enhance productivity, maximize available resources and further improve quality and safety.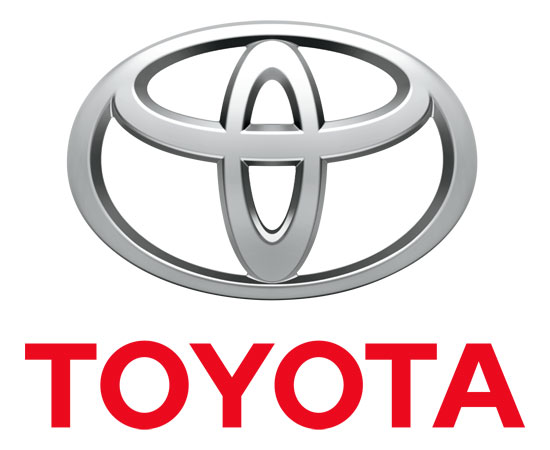 In its first Canadian project in 2015, the Toyota Production System Support Centre (TSSC) collaborated with Canadian Blood Services to identify opportunities for process improvements at its production and distribution facilities. Significant improvements included additional production time, a 40% reduction in packing time, and a 30% reduction in steps taken by employees every day.
As of 2017, Toyota Canada and its dealers have extended their support to Canadian Blood Services with an annual donation of $210,000.
For the first two years of the partnership the focus of Toyota Canada's financial support was directed to our Front-End Automation project. For the next three years financial support will be directed to the Centre for Innovation. Dealerships across the country will work with Canadian Blood Services to promote blood and stem cell awareness and recruit donors.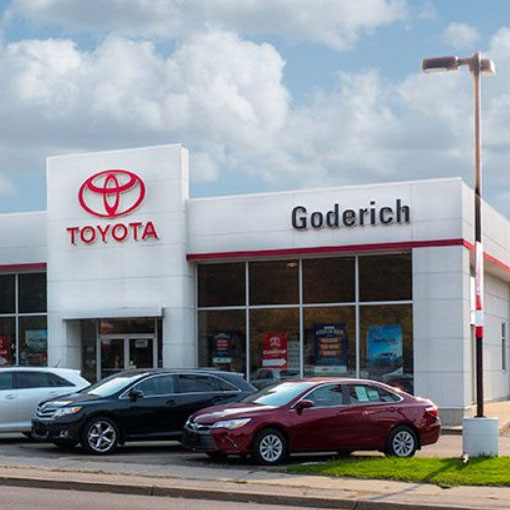 Goderich Toyota
Over the past year Pat Barnes and his team from Goderich Toyota have embraced our national partnership with regular support of the monthly Goderich mobile donor centre events. Pat has provided radio advertising to help engage new donors from the community and offered prize draws to those who attend events. Goderich Toyota has gone above and beyond to work with Canadian Blood Services to ensure regularly successful events, resulting in over 1200 donations in the past year from this small community.
Acadia Toyota
Canadian Blood Services is proud of their partnership with Acadia Toyota in Moncton and how they support the need for blood in their community. Since the start of the relationship, they have offered an information session on blood donation to their staff in conjunction with What's Your Type event. In addition, they support the Moncton Community Blood Drive by donating as a group. They have also recruited the staff at the dealership in Fredericton who got on board by donating blood as a group. Thank you, Acadia Toyota, for supporting hospital patients in New Brunswick!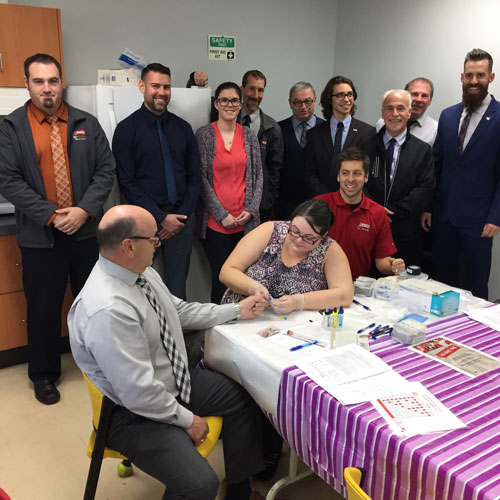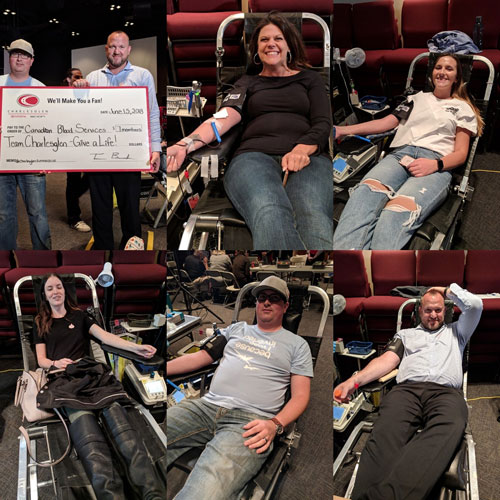 Charlesglen Toyota
Canadian Blood Services teamed up with Charlesglen Toyota this summer to help bring new faces to our clinics throughout Calgary. The Charlesglen Toyota team has been giving back together with ongoing team donations since the launch of the campaign in the summertime. We are so grateful to have the participation of the Charlesglen Toyota team and this amazing partnership with Toyota Canada.
Kelowna Toyota
Kelowna Toyota began donating in 2017 when we approached them about a new clinic near the dealership. Since that first team donation, Jamie at Kelowna Toyota has organized the group to come in and give the gift of life every few months. The team was back recently in February & May and their latest donations was in October. This last group donation was part of a bigger blood drive for Neil. Rachelle who works at Kelowna Toyota organized an even larger blood drive to encourage family, friends, her Toyota family and many others to come out and donate to give back the blood donations her husband Neil has needed. Her husband Neil is 47 years old and was diagnosed with cancer last October. Neil spent the entire Saturday in the Kelowna Clinic thanking donors for their generous donations. The Kelowna Toyota Team continues to support us here in the Interior and will be joining us again in January.
In addition to the Web Terms of Use Agreement and Privacy Policy contained in this website, the following terms and conditions apply to all Canadian Blood Services partner programs. Any mention of partner products or services is for information purposes only and does not constitute an endorsement by Canadian Blood Services. The use of the word or term "partner or partners" on this website does not indicate or imply the existence of any partnership or agency relationship or any legal or fiduciary relationship of any kind between Canadian Blood Services and any other company or that such company is an affiliate of Canadian Blood Services in any way. Canadian Blood Services makes no representations or warranties about the suitability of the products and services offered or provided by the partners and Canadian Blood Services hereby disclaims all warranties and conditions, whether express, implied or statutory with respect to any product or services provided by the partners, including but not limited to any warranties and conditions of merchantability, fitness for a particular purpose, title, non-infringement or arising from a course of dealing, usage or trade practice. In no event shall Canadian Blood Services be liable for any direct, indirect, incidental, special, exemplary, consequential or punitive damages or any damages whatsoever, including but not limited to loss of use, profit or revenue however caused and on any theory of liability, whether in contract, strict liability or tort (including negligence or otherwise) arising in any way out of or in connection with your use or inability to use or purchase of products and/or services from the partners or the performance of such products and services, your relationship with the partner, even if advised of the possibility of such damage.