How corporate Canada is helping our blood system during the pandemic
'We're just doing our part': How corporate Canada is helping to keep our national blood supply system running during the COVID-19 pandemic
June 12, 2020
Every day, Canadian Blood Services' proud corporate partners and financial donors help support patients across the country, strengthening our national blood supply system quietly in the background. When the COVID-19 pandemic hit in Canada, many of them stepped up even further to help us overcome new and unexpected challenges so that we could continue to meet patient needs. 
In 2015, Toyota Canada began sharing its manufacturing processes with Canadian Blood Services to help improve our blood supply chain. This unlikely partnership turned into five years of knowledge-sharing, collaboration and innovation that has strengthened our national blood supply system. It has enabled Canadian Blood Services to do more, faster to help save lives. 
The knowledge-sharing has gone in both directions. "Toyota Canada has come to understand how complex it is to operate a national blood system," says Stephen Beatty, vice-president, corporate at Toyota Canada. "We now have a profound appreciation for the critical importance of getting blood products where they are needed, quickly."
That insight spurred Toyota Canada into action this spring. When Toyota Canada first heard that Canadian Blood Services was facing cancellations of blood donation appointments because of the COVID-19 pandemic, the automotive manufacturing giant reached out immediately to find out how they could provide additional support during our time of crisis – and further strengthen their link in our national lifeline. 
"Everyone knows someone who has benefitted from blood products," says Beatty. 
"Many Canadians are looking for a way to help their community during this pandemic. Donating blood is one way they can make an important difference. [We wanted to] help spread the message that blood will continue to be necessary to help patients in Canada in the months ahead."
To help remind Canadians that the need for blood is constant — even during a pandemic —Toyota Canada and Lexus Canada expanded their existing support for Canadian Blood Services. Together they donated more than $1 million in television advertising  to encourage Canadians to book an appointment to donate blood. 
Toyota Canada and Lexus Canada dealers across the country are also helping to get the word out about the critical need for blood donors through their own communications channels. Several have even been planning blood donor clinics at their local dealerships.  
Toyota was not the only long-standing partner to step up to help last March. When CIBC learned about some of the challenges our blood supply was facing, many of its employees prioritized donating blood. 
Image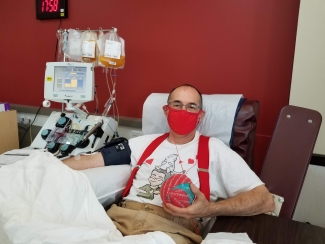 Grant Fitz is a CIBC employee and long-time blood and financial donor. He says he's made an extra effort to keep as healthy as possible and to donate as frequently as he can since the COVID-19 pandemic began to spread in Canada.
"I'm not a doctor or a frontline worker, but through my donations, I get to help people in a big way," says Fitz. "People will still need [blood products], no matter what time of year it is, or what sort of crisis may be going on." 
To amplify the generous support and commitment of employees like Fitz, CIBC also donated $150,000 to Canadian Blood Services. The donation is specifically aimed at helping fuel our blood donor recruitment efforts during the pandemic and boost our inventory levels. 
"[Canadian Blood Services] is literally a lifeline for many of our friends and neighbours in a time like this, and it was important for us to allocate our corporate donations to causes that are essential right now, to ensure we stay strong together," says Sandy Sharman, senior executive vice-president of People, Culture and Brand at CIBC. 
According to David Howe, director of supply chain process management at Canadian Blood Services, gifts like those from Toyota and CIBC helped attract a significant influx of new blood donors during March and April. 
"This kind of support really helped keep our inventories strong and allowed us to direct our efforts at readying our facilities for the 'new normal,'" he says. 
Canadian Blood Services recorded a 20 percent year-over-year increase in first-time donors in the six weeks from mid-March to the end of April when impacts from the pandemic began. This increase is in part thanks to the support of many of our partners.
Protecting our frontline
COVID-19 didn't just cause a spike in the cancellation of blood donation appointments; however, it also started a domino effect of other disruptions to our operations. 
"[Since COIVD-19 arrived], we've had to deal with a smaller workforce, with some members having to stay home. We've had to radically change the way we collect blood to maintain physical distancing and the other required infection control measures. We've had to secure new supplies, often sourced through new suppliers, and then find ways to get them to where they are needed," says Howe.
Because of these unprecedented disruptions, donations of some supplies, like gloves and hand sanitizers to help protect frontline workers, "have literally allowed us to keep the business running," he says.
L'Oréal Canada is just one of the many generous companies who have stepped forward during these difficult times to help keep our frontline workers safe. 
When the COVID-19 virus began to spread in Canada, L'Oréal's production facility in Montreal re-tooled its operations to begin manufacturing hand sanitizers — a much-sought-after and scarce commodity at the beginning of the pandemic — to be distributed free of charge to those on the frontlines. 
Initially, L'Oréal donated these important hand hygiene products mainly to hospitals. But L'Oréal Canada president and CEO, Frank Kollmar, says he and the rest of the executive team jumped at the opportunity to help Canadian Blood Services.
"I guess I've always thought of [the national blood supply system] as a bit like insurance — it's always there, but it's only when you have an accident or a crisis that you really think about its importance," he says.
"I never really thought [Canadian Blood Services] could be in such a position." 
Canadian Blood Services ultimately became the recipient of one of L'Oréal's largest donations of hand sanitizers during the COVID-19 crisis. Six thousand units are being distributed over three months to help maintain our wellness protocols. This helps ensure we can protect our donors and essential workers in blood collection centres across the country.
Tokens of thanks
Other corporate partners have also played an important role in boosting our essential workers' spirits during long days and difficult circumstances. 
Our partners offered gifts ranging from coffee and doughnuts to prepared lunches for frontline staff. Donations from local restaurants, national brands and franchises have also been pouring in since the beginning of the pandemic. 
In April, for example, KIND® Snacks donated 11,000 of its snack bars to employees and volunteers at 35 Canadian Blood Services sites across the country. 
"We wanted to provide a little something to brighten their days during this challenging time," says Todd Kelly, general manager, Canada at KIND. "We hope to inspire Canadians to [also] do the kind thing by donating blood or making a financial donation to Canada's Lifeline."
Lori Bullock, a registered nurse and donor centre manager for Canadian Blood Services in London, Ont., says that gifts like these have served as an important morale booster.  
"When we get these treats sent to us, they're a reminder that our frontline workers are being acknowledged for the hard work we're doing," she said. 
Our corporate community's generosity has made a significant impact on our donors, frontline workers, and ultimately, for patients across the country. 
For many of these supporters, however, stepping up to help their fellow Canadians was something they simply felt they had to do. 
"During times of crisis, we as a nation need to come together," says Kollmar.
"Bigger companies need to make sure that we're doing our part to keep Canada humming and healthy," said Kollmar. 
For more information about how your financial or in-kind gift can help support our ongoing COVID-19 response efforts, visit give.blood.ca. 
Thank you to all our partners and financial supporters 
Every donor has a story about why it's important to them to support Canada's Lifeline, and we wish we had the space to share all of them with you.
For now, please join us in thanking the corporate partners who have stepped up to help us conquer new challenges during the COVID-19 pandemic. With their help, we continue to make a lifesaving difference for patients across the country:
Toyota Canada
Lexus Canada
CIBC
KIND® Snacks 
L'Oréal Canada
Bayshore Foundation for Empowered Living
Fluid Energy Group Ltd. (Triton Cleaning Products)
Tim Hortons 
Rocky Mountain Chocolate Factory
Skelton Truck Lines
Westjet