Image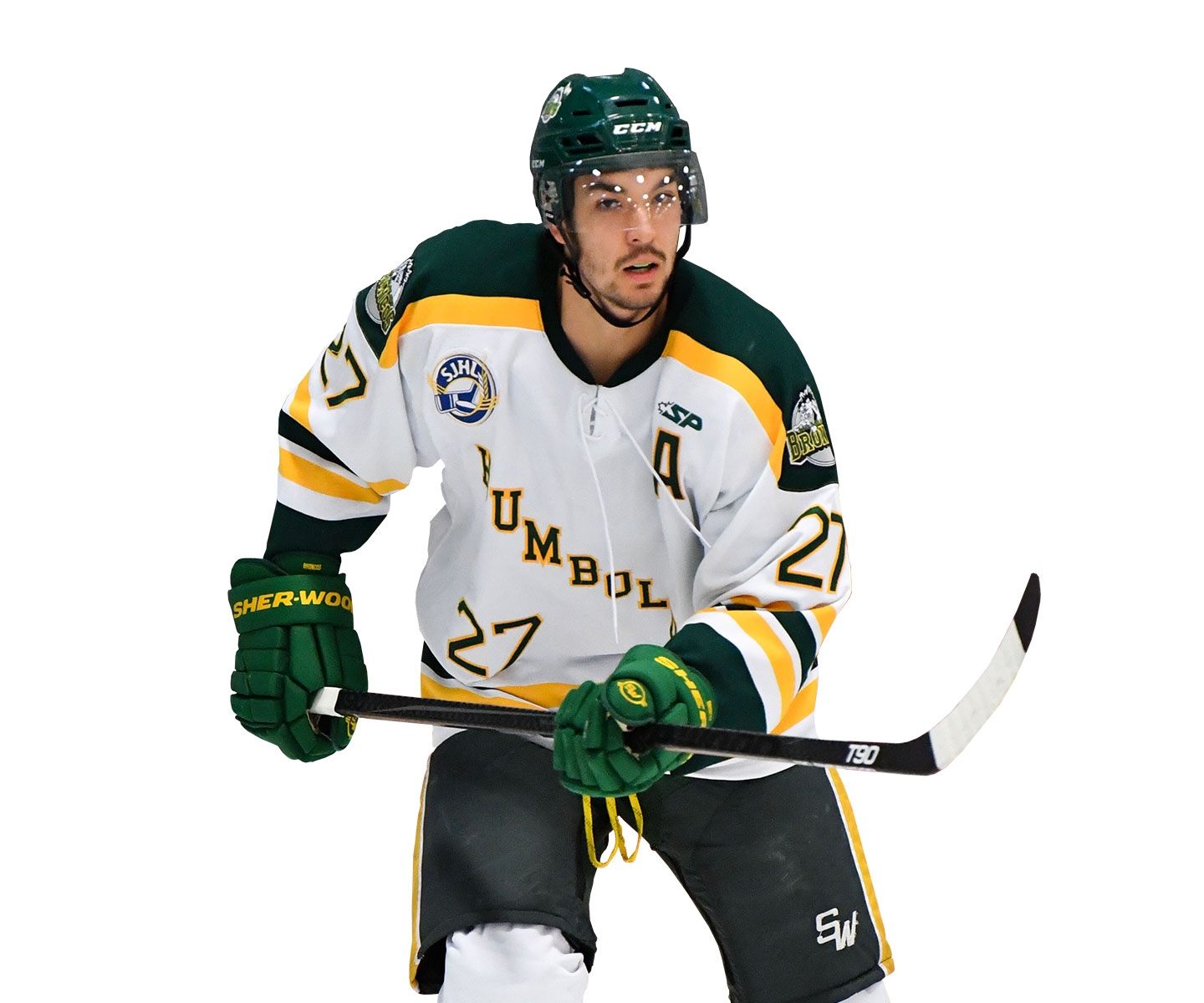 Green Shirt Day honours Logan Boulet's legacy with goal of inspiring 100,000 people to become organ donors
What came out of one tragic event has been nothing short of inspiring for the family of the late Humboldt Broncos defenseman, Logan Boulet.
Five years ago, the lives of 29 people, their families and their communities were changed forever. That fateful day was April 6, 2018, when the Humboldt Broncos bus crash shook the nation with sadness. Sixteen young individuals, including Logan, lost their lives and 13 bear physical and emotional scars for life.
Logan's parents, Bernadine and Toby Boulet donated his organs so that six others could live on. They did so because Logan told them he was registering as an organ donor after being inspired by his coach and mentor, Ric Suggitt, who passed away the year prior and donated six of his organs.
This important conversation made all the difference for six other people, their families and their communities.
Logan's story inspired many others. In fact, it is estimated that nearly 150,000 people registered to become organ donors in the days and weeks that followed Logan's donation. This represents the largest number of Canadians registering to become organ donors in Canadian history due to one event and one person — a phenomenon that became known as the Logan Boulet Effect.
Green Shirt Day 2023: an event that changed lives becomes a movement for life
The annual national Green Shirt Day campaign is led by the Boulet family and the Canadian Transplant Association in partnership with many others within Canada's organ and tissue donation community. Partners include Canadian Blood Services, the Kidney Foundation of Canada and IA Financial Group.
This year, Bernadine and Toby Boulet are rallying people in Canada to join the Green Shirt Day campaign, with the tagline join the movement for life. The campaign's goal is to inspire 100,000 people across Canada to register as organ and tissue donors. Everyone is encouraged to access and share resources to help raise awareness of the importance of organ donation and to spark family conversations around the topic.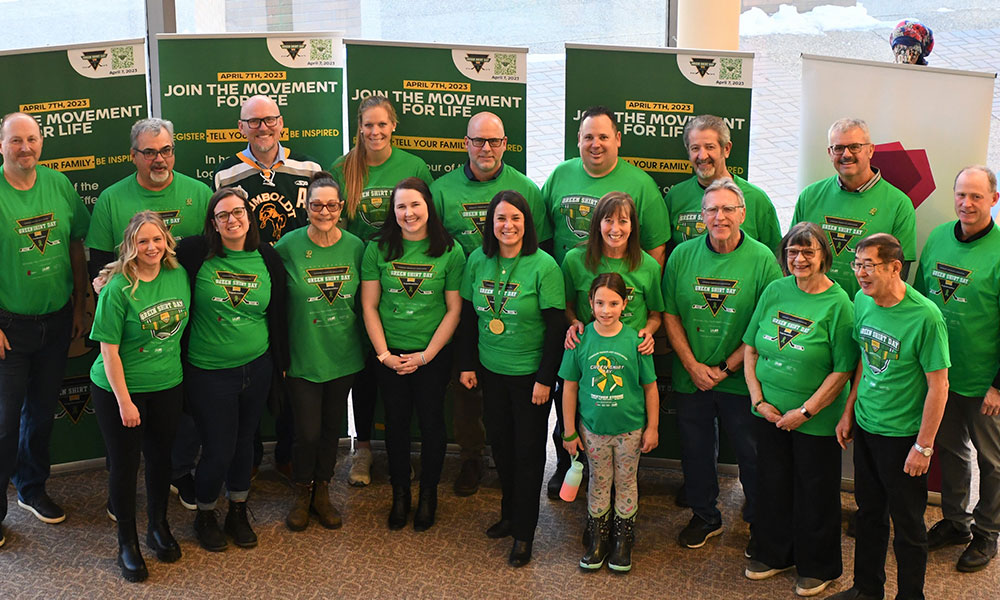 "In the five years since our journey with organ and tissue donation really began, we have realized how one event, that changed our lives, has grown to become a movement. We have seen the positive impact— the sunshine — of this movement that has risen from the crash and tragedy," says Bernadine Boulet. "It has led to conversations which have allowed families in similar situations to make a decision at a tragic time. It has given hope to individuals and their families, who are waiting for organs."
More than 4,000 Canadians are waiting for a lifesaving transplant. Unfortunately, every year approximately 250 people die waiting. You can make all the difference by registering your intent to donate and talking to your family about your decision.
Fifth anniversary prompts new Green Shirt Day design
Brandy Hehn, a two-time organ transplant recipient, designed the 2023 Green Shirt Day logo. While the shirt design was intended to honour the Boulets' continuing efforts to raise awareness of the importance of organ donation, Brandy says she also sought to remind Canadians of the day's origins.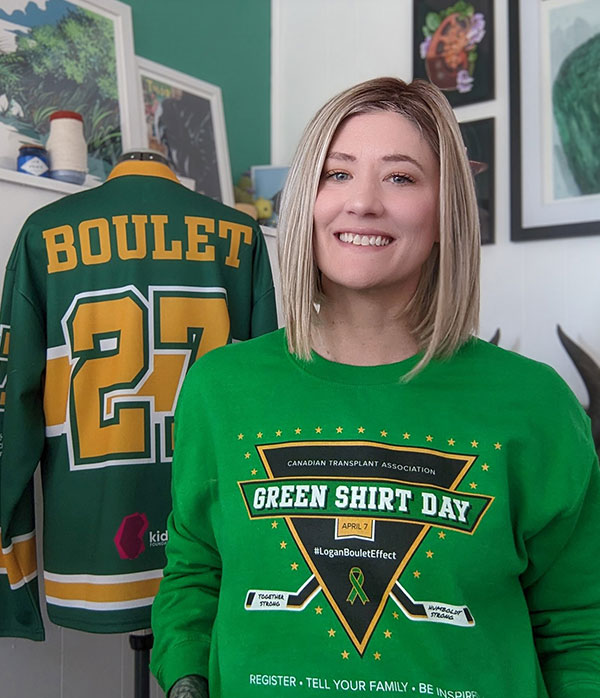 Her design features 29 gold stars, one for each of the 16 lives lost, and for the 13 passengers whose lives were forever changed as a result of the Humboldt Broncos bus crash in 2018.
"My hope is that people will see this design, wear the shirt and spread awareness about Green Shirt Day, the #LoganBouletEffect and what the Boulet's continue to do for all of us needing an organ transplant," says Brandy.
Three ways to get involved in Green Shirt Day 2023
For everyone: Check out the Green Shirt Day Ambassador Toolkit to help raise awareness of the importance of organ donation, and to encourage family conversations about it. The kit explains how to submit a request to have Green Shirt Day officially declared in a province or city, or to request that a local landmark be lit up green on April 7.
For educators looking for resources: Check out the Orgamites program, which is available in Canada in both English and French. The program's team of nine animated characters inspire children to learn about their organs and how they work, as well as to show compassion for others and respect for the environment. The videos, posters, lesson plans and more are available free of charge on Canadian Blood Services' education portal.
For event and social media lovers: Get involved in Green Shirt Day by holding an event in your city or wearing green and posting a selfie or video to tell others that you've registered your intent to donate. Get creative by lighting up your porch or window green, just as many national landmarks will be lit in green on April 7. Social media sharing also helps to spread awareness—be sure to tag @greenshirtday and use the hashtags #GreenShirtDay and #LoganBouletEffect.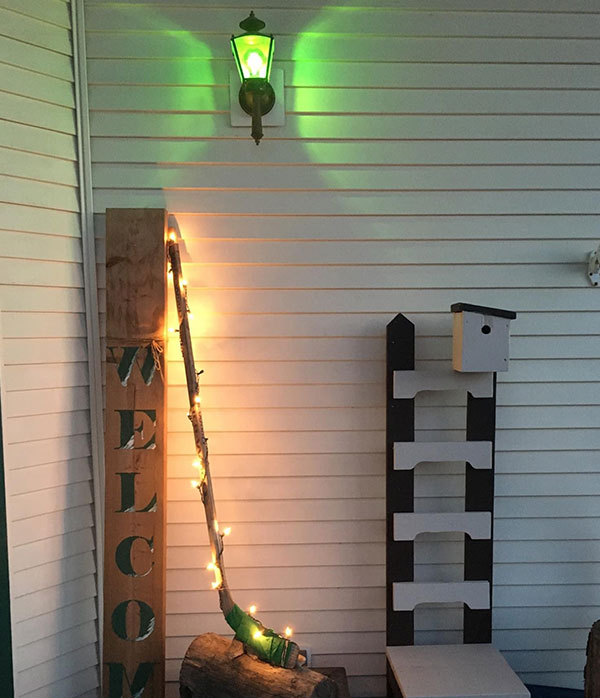 "The simple act of sharing that you've joined the movement for life can encourage others to follow,'' suggests Toby Boulet. "Post a picture or video and let your friends and family know that you want to give the gift of life and that you are a registered donor."
This Green Shirt Day, we encourage people across Canada to wear green in honour of Logan Boulet and his Humboldt Broncos family. You can also continue Logan's legacy by joining the organ and tissue registry in your province, learning more about organ and tissue donation, and sharing what you learn with others. For more great ideas to spread the word about Green Shirt Day, check out the Green Shirt Day Ambassador Toolkit.