Mackenzie and Alexander
When she was a teenager, Mackenzie's busy life was put on hold when she was diagnosed with a type of pre-leukemia that was quickly evolving into leukemia. She matched with Alexander, a stem cell donor who gave her a second chance at life.
September 25, 2018
Mackenzie Curran was an all-star athlete in her hometown of Kingston, Ontario when she first began feeling tired. It started small, but eventually her exhaustion became more apparent and began to impact her athletic performance.
"I started noticing that I was tired and, when playing basketball, I wasn't able to keep up with the people I could normally keep up with," Mackenzie said.
Mackenzie's parents were worried about their daughter's lack of energy and decided to take her for a blood test. The results revealed that Mackenzie's white blood cell count was incredibly low and, after six months of tests, she was diagnosed with Myelodysplastic syndrome -- a type of pre-leukemia that was rapidly evolving into one of the most aggressive types of leukemia.

To treat her condition, Mackenzie needed a stem cell transplant, and she needed one fast. In Canada, 25 per cent of people requiring a stem cell transplant are able to find a match within their own family – the other 75 per cent must look outside their families for an unrelated donor. Even with access to over 635,000 publicly-banked  cord blood units and over 25.5 million adult donors, unfortunately, half of the patients in Canada requiring a stem cell donor are without a match. 
Mackenzie was one of the lucky ones.  She received the stem cell transplant that would save her life on November 20th, 2013 from an anonymous donor, at Sick Kids hospital in Toronto.
Image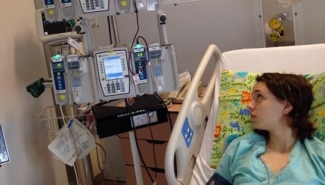 Like many cancer patients, Mackenzie needed more than just stem cells. Throughout her treatment, Mackenzie received a total of 27 blood transfusions, from 27 lifesaving donors.
In May 2016 Mackenzie was finally able to meet the young man who saved her life in a heartfelt reunion at the Ottawa International Airport. Alexander Türk, a German stem cell donor, had filled out the paperwork to find out who had received his lifesaving gift and, fortunately, Mackenzie had done the same. 

"I am proud to be supporting Canadian Blood Services in raising money that will be directed to blood and stem cell research," said Mackenzie.
Financial gifts to Canadian Blood Services fund projects and initiatives in four key areas: blood, stem cells, organs and tissues and research and innovation. A financial gift can help recruit new blood donors, build the cord blood bank, improve clinics across the country, or even swab new stem cell registrants.