Emergency room nurse becomes two-time living organ donor
Julia King donated both a portion of her liver and a kidney to help two strangers
September 16, 2022
Julia King has always felt driven to help others. It led her to a career in nursing, as well as to an inspiring commitment to Canada's Lifeline.
"I always knew I wanted to be a donor," recalls Julia, 24, an emergency room nurse at Vancouver General Hospital in Vancouver, B.C. "I joined Canadian Blood Services Stem Cell Registry at 17 and started donating blood at 18."
And she didn't stop there. Julia hadn't yet turned 19 when she first applied to be an anonymous kidney donor. At any given time, more than 4,100 Canadians are waiting for an organ transplant, and three quarters require a kidney. Living donors help both the patients to whom they donate and others on the waitlist, because they help to reduce demand for organs from deceased donors.  
---
  INTERESTED IN BECOMING A LIVING ORGAN DONOR?
---
With that first application, Julia was disappointed to discover that in B.C., the minimum age to donate a kidney anonymously is 25. But she was determined to try again. Her second attempt was in December of 2020, a couple years after she'd graduated with her degree in nursing and begun working at Vancouver General Hospital. This time, she was motivated by a colleague's story of a personal acquaintance, a young child who needed a kidney.
When that application was also unsuccessful, again because of her age, Julia investigated another way to help — this time with great success.
The path to becoming a living liver donor
In Canada, while the majority of patients awaiting organ transplant require a kidney, hundreds of others are waiting for a liver. And last year alone, 95 people died waiting for a liver according to the Canadian Institute for Health Information (CIHI).  
Living liver donors can help. The procedure involves surgery to remove just a portion of the liver, which begins regenerating immediately afterward. In fact, the donor's liver is back to normal size within six to eight weeks.  
Julia was delighted to discover her age wouldn't prevent her from donating in either Alberta or Ontario. Since she'd grown up near Toronto, and her mother had returned there, the living liver donation program at University Health Network (UHN) was "the obvious choice," she says. And when she shared her plan with friends, family, and colleagues, they were all quite supportive. 
"At work they were a bit surprised, but my friends and family knew that I had applied to donate my kidney," shares Julia. "I think my family liked the idea that the portion of your liver grows back."
So, Julia forged ahead with her partner Doug's support. The application process for becoming a living liver donor required evaluation of her in-depth medical history, as well as new blood work, a computed tomography (CT) scan and a magnetic resonance imaging (MRI) scan. There were also consultations with a surgeon, psychiatrist, pharmacist, and social worker.
After her blood work assessment in Vancouver, Julia flew to Toronto for her CT and MRI scans. She was able to do the rest of her meetings by video call. Julia flew to Toronto in the summer of 2021 for the donation procedure.
"I had my six-hour transplant surgery and was given the amazing opportunity to donate the left lobe of my liver to a baby!" she marvels.
Pursuing a rare second organ donation
Very few people in Canada give organs more than once as living donors. But after donating a portion of her liver, Julia was eager to join their ranks. In fact, just four months later, she applied to participate in kidney paired donation. 
Canadian Blood Services works with living kidney donation and kidney transplant programs across the country to deliver this program. It enrolls pairs of transplant candidates and willing donors who don't match each other and facilitates donor swaps. A swap can include two or more pairs, where each donor donates a kidney, and every transplant candidate receives one.
Some donors, such as Julia, join on their own instead of as a pair, essentially adding a kidney to the available pool. This selfless act, known as non-directed anonymous donation, can kickstart a domino chain effect, with that single donation triggering multiple transplants. The chain ends with a candidate on a deceased kidney donor waitlist receiving a kidney from the last donor, who is not a match to anyone in the Canadian Transplant Registry (the secure computer database used for the Kidney Paired Donation program). Canadian Blood Services manages the Registry and the computerized matching process.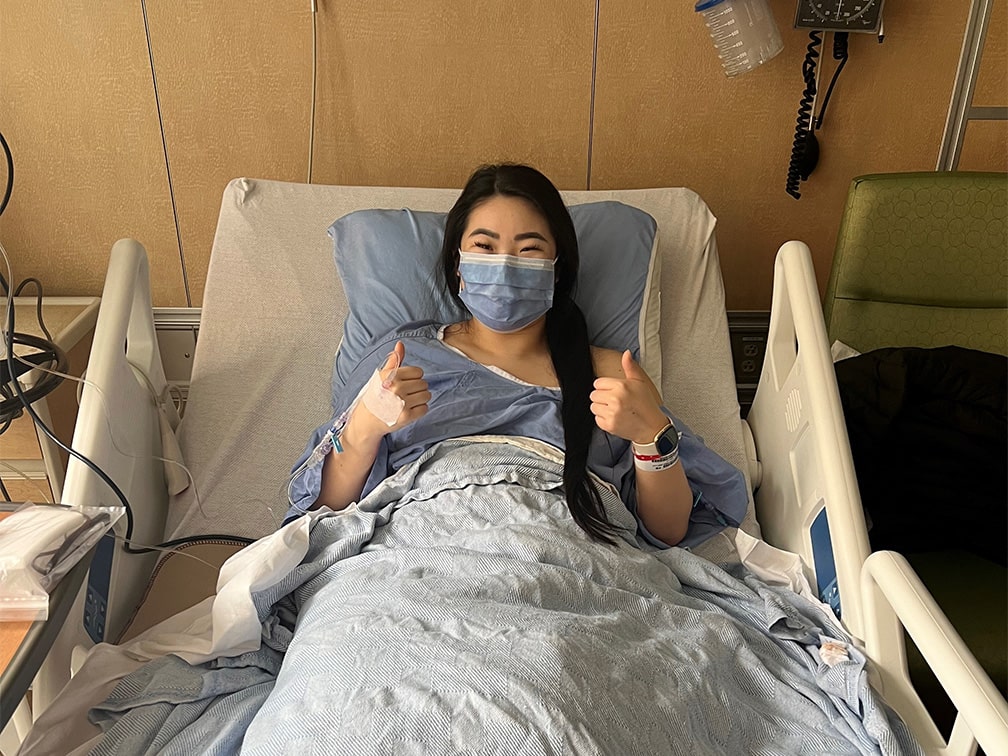 Julia donated her left kidney just seven months after her partial liver donation. She hadn't yet celebrated her 25th birthday but was able to proceed under the rules in place in Ontario.
"I was happy to go back and work with the team in Toronto," says Julia. "They were able to use the scans that I had from my liver donation, making the process easier."
Julia's kidney donation involved a three-hour laparoscopic surgery, which resulted in a smaller incision than the one from the previous liver surgery, as well as a quicker recovery.
"I felt pretty good right away and was able to walk quite well the day after surgery, though I had to avoid heavy lifting for six weeks," Julia says. "I flew out to Edmonton to pick up my new puppy, Kumo, the next week."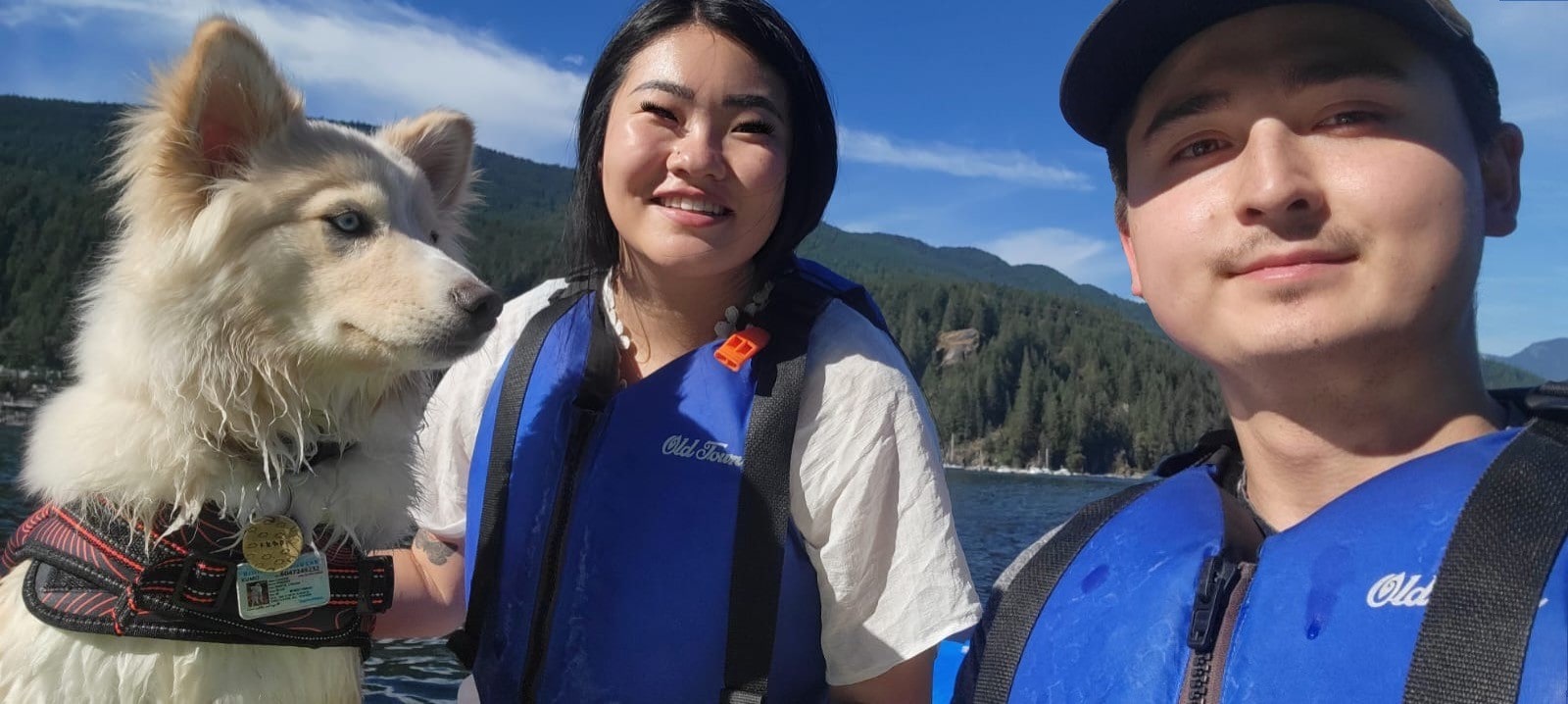 Giving twice as an anonymous living organ donor has been a life-changing experience for Julia. She has not met either of the people who received her organs, but her journey as a donor has brought her into contact with other recipients.
"It's definitely eye-opening to see the difference that an organ transplant makes in a person's life," Julia says. "Donating has also provided me with connections in the transplant community, and I now have friends that are donors and recipients."
Inspiring the organ donors of the future
In addition to her lifesaving work at Vancouver General Hospital and donating two organs during the COVID-19 pandemic, Julia is working to inform others about both blood donation and organ donation.
She sits on the volunteer advisory committee with the Centre for Living Donation at Toronto's University Health Network,  and is excited to share her story as part of Living Donation Week.  She also works with the Canadian Donation and Transplantation Research Program (CDTRP) and has been involved with studies involving organ donors and recipients.   
Recently, Julia has also started volunteering with BC Transplant.  It's her hope that her experience can inspire others to consider becoming living organ donors.
"It's something that people can do to help others," said Julia. "It's only a month or two out of your life," she says. "You save someone's life, or you really helped change their quality of life, and then your life goes back to normal."
Organ donors save and transform lives. We invite you to learn more about living organ donation, to register your intent to donate organs and tissues after death, and to share your wishes with your loved ones.