Father and son donate convalescent plasma for use in national clinical trial
Richard and Patrick Carl were diagnosed with COVID-19 after a family ski trip to Colorado.
May 6, 2020
A father and son from Toronto are among the first donors in a clinical trial that's investigating convalescent plasma as a potential treatment for COVID-19.
Richard Carl, 64, and his youngest son Patrick Carl, 23, believe they caught the coronavirus during a family ski trip to Colorado in late February. Richard's wife and oldest son also got sick, and all four were confirmed positive for COVID-19 by laboratory test after they returned to Toronto.
"It really wasn't on our radar, being at risk while we were travelling," said Patrick. "[The coronavirus] was obviously present in the world but hadn't turned into a full-blown pandemic yet."
Image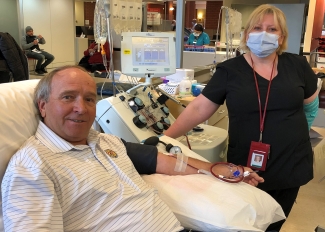 Richard Carl, left, donates for CONCOR, a national clinical trial investigating the safety and effectiveness of convalescent plasma as a treatment for COVID-19.
'People are looking for hope'
Richard said he feels "incredibly lucky" that no one in the family developed severe symptoms. Now that he's recovered, he hopes his donation of convalescent plasma on May 1 can help pave the way for a treatment that helps patients who are still sick.
"At the end of the day, people are looking for hope here," said Richard.
The trial in which Richard and Patrick are participating includes both of Canada's public blood operators (Canadian Blood Services and Héma-Québec) as well as 11 research teams and more than 50 hospitals across the country. Over the next few weeks more convalescent plasma donors may donate at one of 14 Canadian Blood Services donor centres that have the capability to collect blood components, such as plasma, through a process called apheresis. These donor centres are located in Vancouver, Calgary, Edmonton, Saskatoon, Regina, Winnipeg, London, Hamilton, Toronto, Ottawa, Halifax, Saint John, Charlottetown and St. John's.
Patrick donated in Toronto on May 6. Like his father, it was his first donation of a blood product, and he was thrilled to donate for this purpose.
"I was happy to contribute what I could," he said. "You just feel so helpless right now. I'd love to do my part to kind of push the world back to a state of normalcy."
Richard has also joined the steering committee for the clinical trial as a patient representative. As such, he's been pleased to be able to chat with doctors about a family mystery: his middle son, Ian, who tested negative for COVID-19 despite sharing close quarters with his infected family on their ill-fated ski trip.
"Something is going on in his system. As I like to say to the doctors in the research trial, 'you may be interested in my blood, but you should be really interested in his blood!'" joked Richard.
Those interested in participating in the CONCOR trial can join the online registry from which Canadian Blood Services is recruiting donors. More detailed information for prospective donors is available on our convalescent plasma page. Patients with COVID-19 who are looking for more information on convalescent plasma as a treatment option are encouraged to visit CONCOR1.ca.