Celebrating a new plasma donor centre in Brampton
Ranjit Singh Panesar, a longtime supporter of Canada's Lifeline, donated plasma on opening day. He urges others to join him.
June 13, 2022
Ranjit Singh Panesar, centre, joined Canadian Blood Services employees and board member David Lehberg, second from right, for the opening of a new plasma donor centre in Brampton, Ont., on May 9, 2022.
For Ranjit Singh Panesar, encouraging people from Ontario's South Asian community to support Canada's Lifeline has been an important part of his life for many years.
A resident of Brampton for more than 26 years, Ranjit supports Blood Donation by Sikh Nation, Canadian Blood Services' largest contributor to the pledge-based Partners for Life program. For more than two decades, Sikh Nation has partnered with Canadian Blood Services for a series of annual blood donor events across the country.
"We get everyone involved — families, young people — everyone," says Ranjit.
In his leadership role as a Sikh Nation champion, Ranjit first worked with business development manager Lilet Raffiñan 10 years ago to organize a group donation event.
"I told Lilet we need more than just one event," he shares. "She was very happy with that and asked where I would like them to happen. We went from three events that year to organizing many events from Windsor to Ottawa in the past year."
Now that Canadian Blood Services' new plasma donor centre is open in Brampton, Ranjit is excited to deepen his commitment to patients and inspire others in his community to donate plasma — which is part of blood and another powerful way to help patients through Canada's Lifeline.
Plasma donors are vital links in Canada's Lifeline and the need for plasma is rising — primarily because the number of conditions that can be treated with medications made from plasma is growing.
Canadian Blood Services is increasing the amount of plasma we collect across the country to meet patients' needs in Canada today and into the future. Plasma donor centres such as the one in Brampton are helping to meet that need. Others have opened in Sudbury, Ont., Lethbridge, Alta., and Kelowna, B.C., and another centre opened in Ottawa on June 6, 2022. Learn more about plasma donation and where to donate plasma.
The incredible story of how plasma donations help patients
Plasma and blood: so many ways to help patients
Ranjit made his own first plasma donation on opening day at the Brampton centre, and he also recruited eight other Sikh Nation members to donate plasma.
"Ranjit is already an enthusiastic local supporter of the new plasma donor centre in Brampton," says Lilet. "He always responded generously to the need for blood, so we're very pleased that he is doing the same for plasma."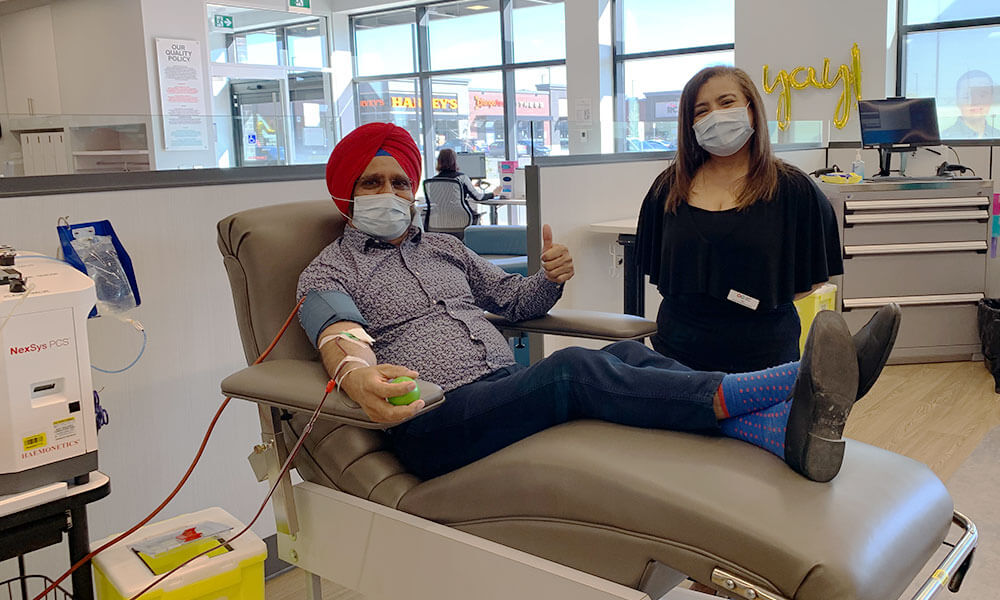 Donating plasma isn't the only way people in the Brampton area can help patients through Canada's Lifeline. The Brampton plasma donor centre is a short drive from the Heartland blood donor centre in nearby Mississauga, Ont. Plasma and blood donors are both essential to meet the needs of patients.
Those who have a rare blood type, or who have O-negative blood — which is essential in emergencies — are urged to continue donating blood if they are eligible, especially at times of immediate need. (You can see our current inventory of all blood types on our homepage.)
"Only seven per cent of people in Canada have O-negative blood — a small percentage with a huge impact," explains Lilet. "There is frequently a high need for O-negative donors across the country."
If you aren't eligible to donate blood, Ranjit urges you to check your eligibility to donate plasma.
"Because India is a malaria risk area and I travel there often, I become ineligible to donate blood for some time after I return," he shares. "But I can still donate plasma after travel to India."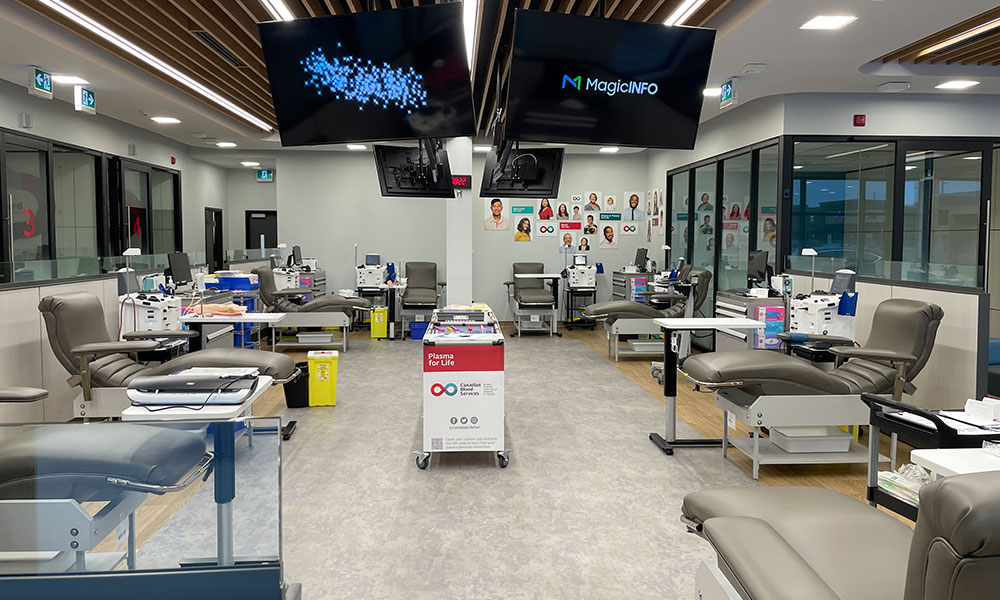 The eligibility requirements for donating are different at our dedicated plasma donor centres. This is because the plasma collected there is manufactured into specialized medications that help patients with conditions such as immunodeficiencies and bleeding disorders. In the manufacturing process for these medications, pathogens in the plasma are eliminated.
Eligibility requirements for donating plasma, blood and platelets: learn more
Whether it's donating blood or plasma or encouraging others to do so, Ranjit can be proud of his dedication to Canada's Lifeline.
"We need to encourage people to get involved in this cause because you're saving someone's life," says Ranjit.
We need people in Brampton and other parts of Canada to help patients by becoming plasma donors. We may collect plasma donations near you. Learn more about where to donate plasma, or book now by using the GiveBlood app, by calling 1 888 2 DONATE, or at blood.ca.