'My African ties are very important parts of my life'
Event coordinator Anika McDonald shares what Black history and heritage mean to her and her work at Canadian Blood Services
February 2, 2021
This February, in honour of Black History Month, we are celebrating the rich history and accomplishments of Black Canadians and exploring the experiences and contributions of Black employees, donors and patients to Canada's Lifeline. Anika McDonald, a donor relations event coordinator with Canadian Blood Services in Vancouver, told us about her work, her background and what Black history and heritage mean to her.
The COVID-19 pandemic has revealed how quickly and drastically society can shift in response to a crisis. And Anika McDonald, an event coordinator at Canadian Blood Services in Vancouver, B.C., would love to see that lesson applied more broadly.
"If we fight the pandemic of racism and injustice the way we've done COVID, our world and our country will be better for it," says Anika.
From the killing of George Floyd in the United States last year, to the disproportionate impact of the pandemic on racialized communities in many countries, recent events have made clear there's a long road to equity for Black Canadians and other historically marginalized groups.
"Black Lives Matter is not just a movement that started with George Floyd. We have been fighting injustice and racism for decades," says Anika. "So many Black individuals continue to experience systemic racism in their education, employment, healthcare, and even policing."
'There's still work to do'
Like many organizations, Canadian Blood Services is grappling with its own record on diversity, equity and inclusion. Anika hasn't always been happy with the pace of that work but is now feeling some optimism.
"Lately, things have moved at a faster pace with our organization's commitment to improving diversity and inclusion and making it part of our DNA," says Anika. "The kind of work we do requires all Canadians irrespective of race to contribute in one form or another. And I believe the efforts we're making will bring more individuals onboard Canada's Lifeline."
Canadian Blood Services recently launched two "employee resource groups" (ERGs), one for those who are Black, Indigenous, and People of Colour (BIPOC), and another for employees with disabilities. These join an existing LGBTQ+ employee resource group and the organization's Women's Senior Leadership Network. These groups provide employees with a formal structure to support their unique needs and nurture their communities within the workplace.
Image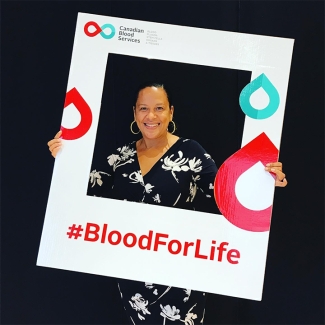 Anika McDonald is proud to be contributing to Canadian Blood Services' efforts to promote diversity and inclusion. She has always been interested in helping patients, and she's proud to do that through her work to recruit new donors within diverse communities.
Anika is a member of the BIPOC group. She sees her role as vital to building a more diverse and inclusive workplace where BIPOC voices and perspectives can influence the organization's leaders.
"Creating the Black, Indigenous, and People of Colour ERG is a great stepping stone and a milestone I am proud of," she says. "Particularly, the opportunity to have people at the table offering real-life experiences to inform decision-making has deepened our organization's commitment and accountability to addressing anti-Black racism."
Anika, who has been employed at Canadian Blood Services since 2013, says she's already witnessed positive change. About five years ago, she suggested her team could improve their interactions with staff and donors of diverse backgrounds. The suggestion was well-received, and the organization hired an intercultural communications specialist to provide training.
"Looking back many years, I can boast that we have made some impactful changes within our organization, and our refreshed respectful workplace policy is another milestone," says Anika. "But, there's still a lot more work to do to ensure that everyone from our donors to our volunteers and employees feels that they're included in our national blood system."
What Black history and heritage mean
Black history is Canadian history, and every February we celebrate Black History Month and the many contributions of Black Canadians to this country. Without their work and dedication, much of which has been poorly documented and recognized, Canada wouldn't be the country it is today.
Image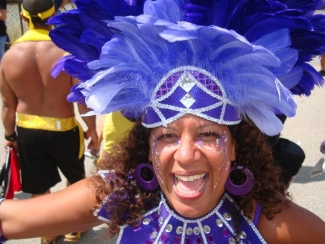 Anika McDonald participates in the Caribbean Days Festival parade in North Vancouver some years ago. She enjoys the rhythm, cuisine and carnival of other cultures and says it exposes her to new things.
Anika grew up in Vancouver with her British-Irish family, but her Black Nova Scotian roots run deep. Her ancestors include slaves from West Africa as well as Jamaican Maroons and Black Loyalists who settled in Nova Scotia centuries ago.
In fact, Anika's family recently started exploring their history with DNA ancestry tests. The testing has revealed that Anika's father has some historical ties to Ghana, Nigeria and Togo — all West African countries. Her father and his extended family were active members of the Black community in Dartmouth, N.S. When he moved to Vancouver decades ago, he also was an active member of Vancouver's Black community in Hogan's Alley.
Her father's strong passion for Canada's Black community has rubbed off on Anika. "My African ties are very important parts of my life," she says. "I did my undergraduate degree minor in Black African and Black North American history to stay true to my ancestral roots."
Anika also has a master's degree in intercultural communications, and she says her MA dissertation focused on the importance of history and how it shapes individual identities. As a woman of colour, she says it was an opportunity to explore her identity further.
She dreams of a day when Canada and the rest of the world will be free of both racial discrimination and sexism. "I'm hopeful," she says. "Just as our organization has prioritized diversity, equity and inclusion, the world has also recognized that we've got a lot more work to do in this area."
Black History Month is an important time to reflect on Black Canadians' contributions to society, but it also serves as a reminder that actions are necessary to remove barriers, develop equitable opportunities and foster inclusive spaces not only during the month of February, but year-round.  Learn more about our commitment to diversity, equity and inclusion at blood.ca/DEI.