Blood donations helped him survive illness, and then a critical injury
Darcy Wagner, whose immune disease is treated with a plasma product, lost his leg in a farming accident. Luckily, his first responder son was there ― for a planned celebration of his own 50th blood donation.
October 4, 2021
When Troy Wagner started donating blood at age 18, he had one person on his mind: his dad.
Troy's dad, Darcy Wagner, had battled chronic health infections for most of his life, due to an immune disease called hypogammaglobulinemia. Hypogammaglobulinemia prevents the body from making enough immunoglobulins, or antibodies, to fight infections. To stay healthy, Darcy's treatment for the past three decades has included regular transfusions of a medication made from donated plasma ― one of the components of whole blood.
What are the four components of blood?
Learn how donated plasma is collected for medications in high demand
"The need for blood products became very real to me at an early age by seeing the life-changing difference it made for my dad," says Troy, who lives in New Hamburg, Ont., and is a firefighter in Hamilton, Ont. "Thanks to treatment, he has been able to live a normal life, raised a family and continued his passion of farming."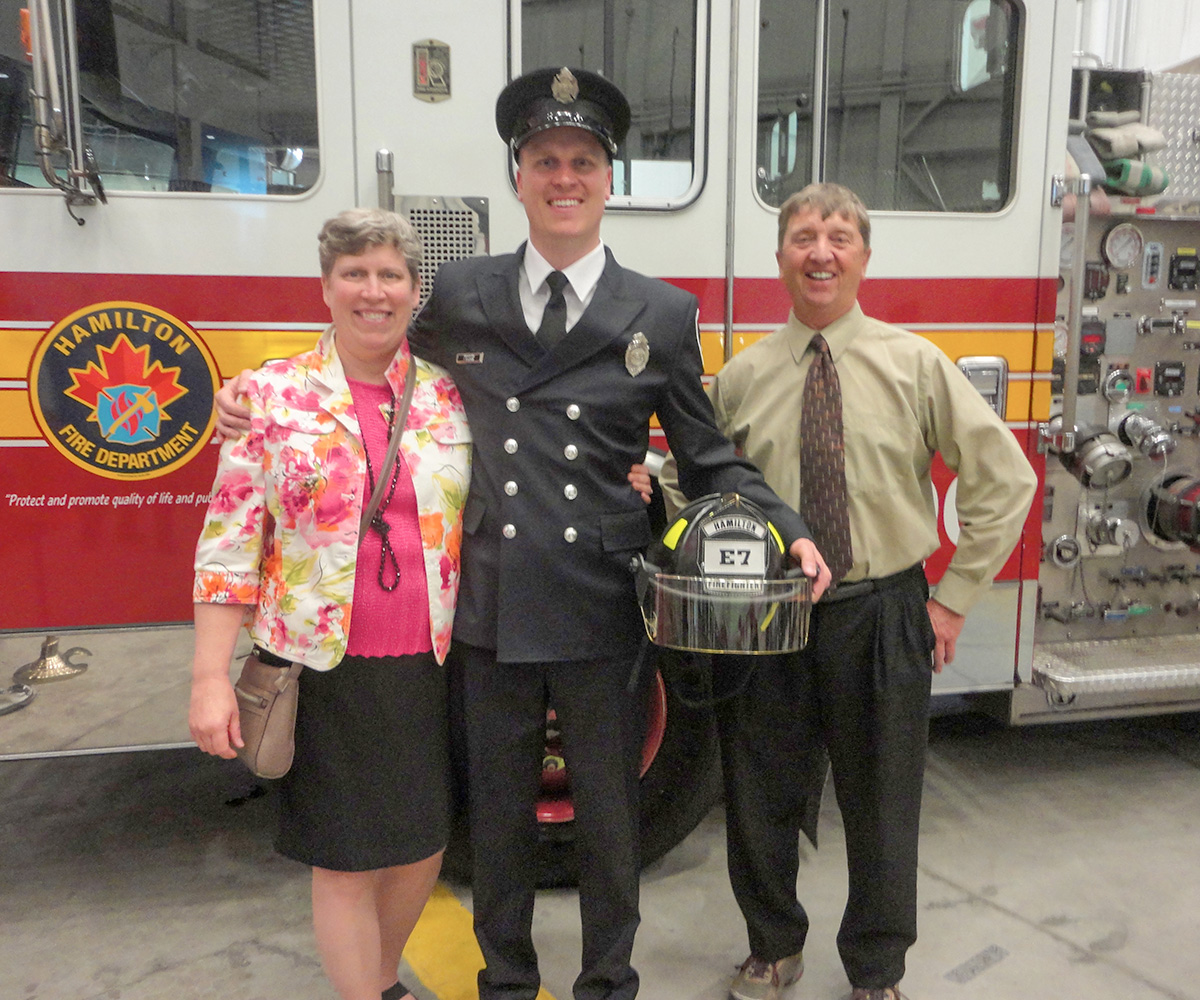 Blood donor and firefighter Troy Wagner shares a special moment at his graduation with his parents, Vanda and Darcy Wagner.
Celebration turns to tragedy, and a dire need for donated blood
From that first blood donation, Troy was a regular blood donor. His family would celebrate whenever he hit a big donation milestone. His 50th blood donation was on July 14, 2020 to kick off Sirens for Life, an annual campaign that encourages friendly competition among police, fire and paramedics to donate blood. As a firefighter and committed blood donor, Troy was actively involved in the campaign and recruiting his fellow emergency responders.
Troy donated early that July morning and then went to his parents' farm to celebrate the milestone. Troy was near the pool with his mom, two nephews and brother, Carson, when his brother's phone rang. It was their dad calling for help. They raced to find him in the large field where he had been mowing grass with the tractor. They discovered him minutes later, conscious, but badly injured. The tractor he had been riding hit a tree stump. Darcy was thrown from the tractor which then drove over him, severing his leg and injuring his pelvis.
"When I saw my dad, I knew it was bad. He was conscious and lucid, but he was losing a lot of blood," Troy recalls. "I called 911, and while I worked to control the bleeding, my dad said to me 'I might need some of that blood you donated today.' The sense of irony in this moment was not lost on either of us."
Blood donations were essential to survive catastrophic injury
Darcy was taken to the critical care trauma centre at Victoria Hospital in London, Ont. He spent three days in an induced coma and on a ventilator. His pelvis was fractured in eight places, and he'd lost so much blood that he required 33 units of blood components. He also required amputation of his lower right leg.
"I had already survived for 30 years thanks to blood and plasma donors, and now I needed them again in a completely different way," said Darcy. "It's amazing to think that I would not have lived if it had not been for donors."
After two weeks in London, Darcy was moved to St. Mary's Hospital in Kitchener, Ont., for rehabilitation. By December 2020, he had begun learning how to walk with his new prosthetic leg, and six weeks after that, he was able to walk unassisted on his new leg using two canes.
A little more than a year after his devastating accident, Darcy can be found on one of his many tractors doing field work with his son Carson, or feeding cows in the barn. Troy jokes that he's even back to "bossing around" the rest of the family on how to keep the farm running properly.

Darcy Wagner is back to doing what he loves best after surviving serious trauma and decades with an immune disease. He's done it with the help of blood and plasma donors.
Darcy continues to receive regular treatment with immunoglobulin to manage his hypogammaglobulinemia, and is forever grateful for the productive life he's had because of donors.
"I want donors to know that their blood is used in so many ways. If they can donate even just a few times a year, they should know they are making a difference to someone like me."
How a single blood donation can help many patients
Platelet donation a new way to give for Troy
Troy continues to donate at Canadian Blood Services, but switched to donating platelets on a monthly basis in 2020.

Troy Wagner now donates platelets regularly at the donor centre in Ancaster, Ont.
Platelets are the component of blood that helps with clotting. If an injury or blood loss occurs, as happened in Darcy's traumatic accident, platelets cause the person's blood to clot, which prevents excessive bleeding. Healthy people manufacture and store a large number of platelets in the body. But some patients ― such as cancer patients undergoing chemotherapy, or those with certain immune diseases ― have low levels of platelets, or platelets that don't function properly. They may need platelet transfusions as part of their treatment. 
"It feels good to be part of something bigger than me," says Troy. "Every donation counts and could make a lifesaving difference for someone you care about."