100 transfusions and counting: Why Canadians like Charles will need blood for life
This year alone, 86 blood donors will save Charles's life. Read his story and learn how financial donors are also helping patients like Charles who need ongoing support.
January 23, 2020
When Charles was just six months old, he was diagnosed with Sickle Cell Disease (SCD) - a genetic condition that affects the shape of red blood cells and results in extreme pain crisis and potential organ damage. Because SCD presents differently in every individual, it takes awhile to find treatment options to meet a patient's needs.
Image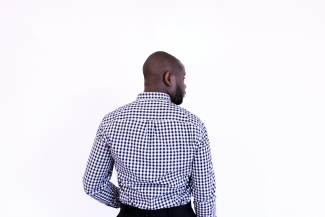 As a result of his disease, Charles spent a lot of his childhood in and out of hospitals, sometimes being hospitalized for months on end. They were some of his darkest days and he remembers wondering if he would ever have the opportunity to live a normal, pain-free life.
When he turned 14, Charles was once again hospitalized for an extreme pain crisis and that's when it all changed. His doctors were able to implement a new treatment plan where, every six weeks, Charles would receive donated red blood cells to replace his affected sickle shaped blood cells. 
" It got to the point where they had a hard time putting in an IV line because so much scar tissue had built up.  When I began receiving the blood replacements every six weeks it completely changed my life and gave me new hope that maybe I could live like a normal teenager."
Because he had missed so much of his grade nine year, Charles' teachers didn't think that he would graduate with his peers. Instead, Charles not only graduated on time, he was also asked to be his high school class valedictorian. Since then, Charles has gone on to do more great things. He graduated from Carleton University in Ottawa, Ontario, where he studied policy affairs and project management and now he runs his own marketing company based in Toronto. 
To date, Charles has had over 100 blood replacement procedures and throughout his life he will need hundreds more. There are many Canadians like Charles who will need blood for life. In fact, 100,000 new blood donors are needed each year to meet demand.
As a registered charity, Canadian Blood Services uses financial gifts to fund projects and initiatives that build a better blood system for all Canadians. Your financial support could help fund programs that help retain blood donors by providing them with an improved donor experience. Clinic enhancement may include improved collection technology to maximize the gift of each donor, or the modernization of clinics to make donating a more pleasant experience.