'Every step forward is a good sign'
This Black History Month, Canadian Blood Services procurement category manager Karl Kuate reflects on the importance of inclusion 
February 10, 2021
This February, in honour of Black History Month, we are celebrating the rich history and accomplishments of Black Canadians, and exploring how Black employees, donors and patients experience and support Canada's Lifeline. Karl Kuate, a procurement category manager and brand ambassador at Canadian Blood Services, spoke to us about his work and the organization's efforts to support diversity, equity and inclusion.
Karl Kuate, a procurement category manager at Canadian Blood Services in Ottawa, Ont., remembers a day he felt truly supported at work.
It was shortly after the Black Lives Matter protests began sweeping North America, following the killing of George Floyd in May 2020. At a virtual town hall meeting for all employees, CEO Graham Sher directly acknowledged anti-Black racism and systemic racism within the organization.
"He actually addressed it, he brought it forward and reassured his employees of colour — not just Black employees but all employees of colour — that he understands our frustration," says Karl. "He told us that racism is not tolerated and if we see something, to say something."
It was a moment that gave comfort while also opening the door to uncomfortable and necessary conversations.
"I don't see many organizations that have had even the courage to have that discussion. Many choose to just not talk about it or ignore it," says Karl. "Our CEO is not only willing to have these difficult conversations, but to start them.
"It feels good to know that the organization acknowledges that inequality still exists today, and that something has to be done."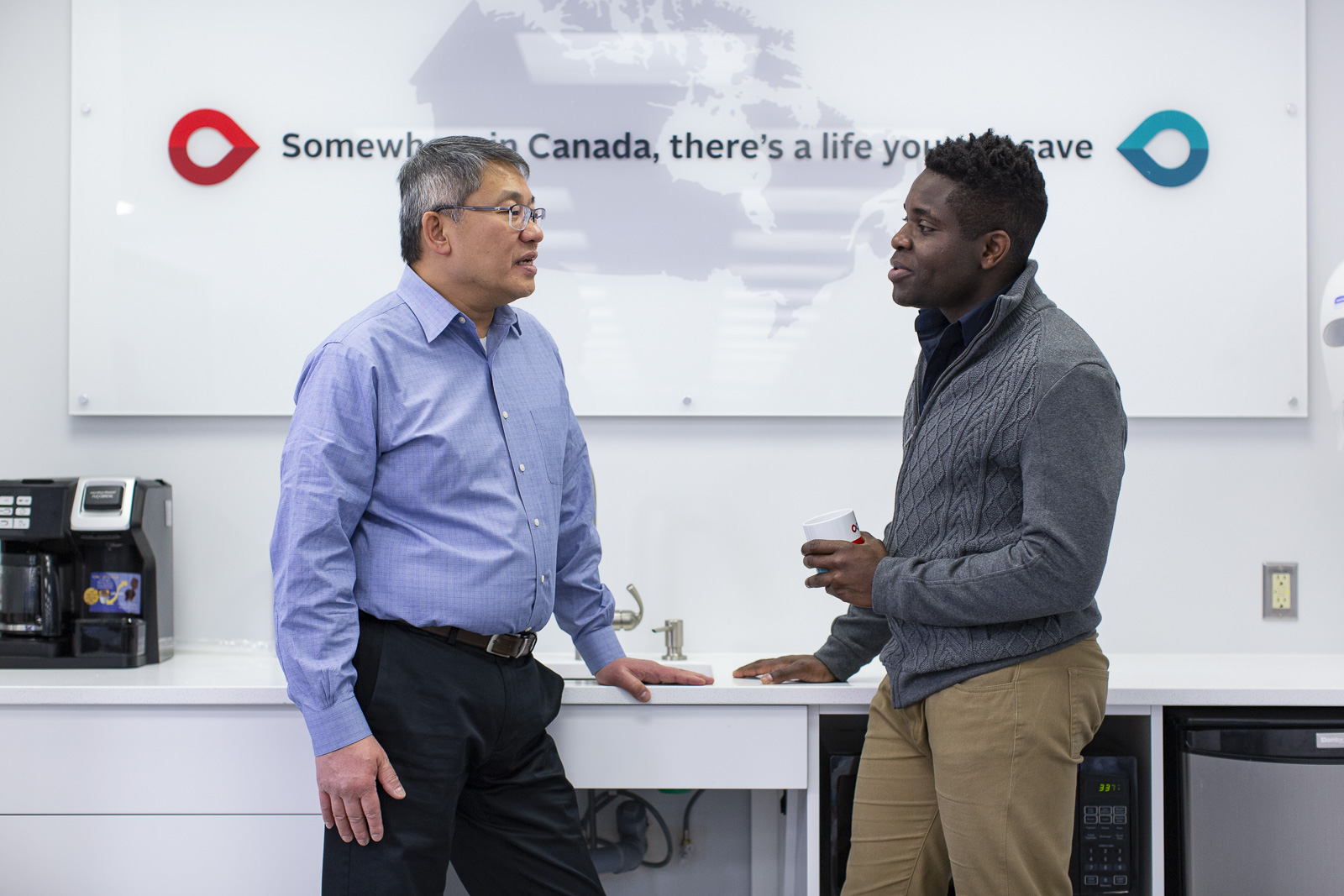 Karl, pictured with colleague Edward Law prior to the COVID-19 pandemic, says the conversations happening around diversity, equity and inclusion are encouraging.
Like many organizations, Canadian Blood Services has recognized the lack of diversity and representation within its senior leadership.
As someone who helps procure intellectual talent for the organization, Karl says there is "a huge pool of technically qualified professionals who do not have the years of experience" often outlined as requirements in job postings.
In some cases, Karl says, systemic racism is to blame for that lack of experience and results in highly skilled candidates either not applying or not making it through the selection process even though they are qualified.
"I think that's a big hurdle that Canadian Blood Services has to find a way to overcome," he says. "The good news is, my impression is that the leadership team understands the need for that shift and is committed to making it happen."
Canadian Blood Services' efforts to become more diverse, equitable and inclusive are intended to make the organization even stronger for those it serves, as well as for those working within.
Recently, the organization launched two employee resource groups, one for those who are Black, Indigenous, and People of Colour (BIPOC), and another for employees with disabilities. These join an existing LGBTQ+ employee resource group and the Women's Senior Leadership Network. These groups provide employees with a formal structure to support their unique needs and nurture their communities within the workplace.
The organization's steps in this area are positive, says Karl, and Black History Month offers an opportunity for reflection on the progress that's been made, while continuing to remove barriers and develop equitable opportunities year-round.
"I value my work more and more every day," says Karl. "There's still a lot of work that needs to be done for our society to be fully accepting and inclusive. But as long as we progress, that is what's most important.
"Every step forward is a good sign."
Black History Month is an important time to reflect on Black Canadians' contributions to society, but it also serves as a reminder that actions are necessary to remove barriers, develop equitable opportunities and foster inclusive spaces not only during the month of February, but year-round.  Learn more about our commitment to diversity, equity and inclusion at blood.ca/DEI.