How a Black fraternity and sorority rally support for Canada's Lifeline
These 'Partners for Life' reach out to diverse Black communities to recruit blood donors and grow the stem cell registry  
February 16, 2022
Black people make up fewer than two per cent of prospective donors on Canadian Blood Services Stem Cell Registry, and two predominantly Black organizations in Toronto, Ont., are striving to change that.
For four years, Delta Sigma Theta Sorority, Inc. (GTA Alumnae Chapter) — known informally as the "Toronto Deltas" — and the Lambda Mu Mu Chapter of Omega Psi Phi Fraternity, Inc., have rallied Black people in the Toronto area to donate blood and join the stem cell registry. The two groups share a connection to Howard University, the historically Black university in Washington, D.C. where their parent organizations began. The fraternity was founded on the Howard campus in 1911, and the sorority followed in 1913.
"We've organized and participated in multiple blood drives since our own chapter was established in 2018," says Laura Wilson-Lewis, president of the Toronto Deltas. "I'm proud to say many of our chapter members are registered blood donors."
The two Toronto-based organizations have worked closely together to drive several awareness initiatives in diverse Black communities in Canada.
"We want to help our communities help themselves. That's why we're helping to spread awareness of the lack of representation of Black people in the stem cell registry," says Christopher Adam Infantry, Lambda Mu Mu Chapter president.

Two Black organizations, Delta Sigma Theta Sorority, Inc. and Omega Psi Phi Fraternity, Inc. have helped Canadian Blood Services recruit blood and plasma donors, as well as prospective donors for our stem cell registry.
What are stem cells and why does ethnicity matter?
Stem cells, specifically blood stem cells, are special cells that can develop into many different cell types in the bloodstream, including red blood cells, white blood cells, and platelets. They can be used to treat over 80 diseases and disorders, from life-threatening cancers to aplastic anemia and sickle cell disease.
Right now, more than 1,000 patients in Canada are waiting for stem cell transplants, and about 75 per cent of them will not find matching donors within their own families. To survive, they will turn to Canadian Blood Services Stem Cell Registry , with its database of healthy prospective stem cell donors.
Stem cell matches are determined according to DNA markers called Human Leukocyte Antigens (HLA). These antigens are found on the surface of white blood cells and are inherited from our parents, which means a patient's best hope of a match is with a donor of similar ancestral background.
Currently, fewer than one-third of potential donors in Canadian Blood Services Stem Cell Registry are non-Caucasian. So it's particularly difficult to identify matching donors for patients of Indigenous, Asian, South Asian, Hispanic, mixed-race, and diverse Black backgrounds.
"Because people of colour are severely underrepresented in the registry, we are more likely to die if we ever need a stem cell donor match," says Christopher, who has joined the stem cell registry himself. "But we can change that by being our neighbour's keeper and registering online."
'We work to better our community'
"Our chapter was established in 2008 to build on the 'Omega principles' and serve as a pillar in the Black community by providing service, scholarship and most importantly, a sense of belonging," says Christopher. "We work to better our community, and it's that commitment to empower and transform lives in our community that led to our partnership with Canadian Blood Services."
Both Lambda Mu Mu and the Toronto Deltas are Partners for Life with Canadian Blood Services. Through the Partners for Life program, organizations and community groups across Canada make a meaningful difference to patients by raising awareness, donating blood or plasma, or supporting stem cell or organ donation registries.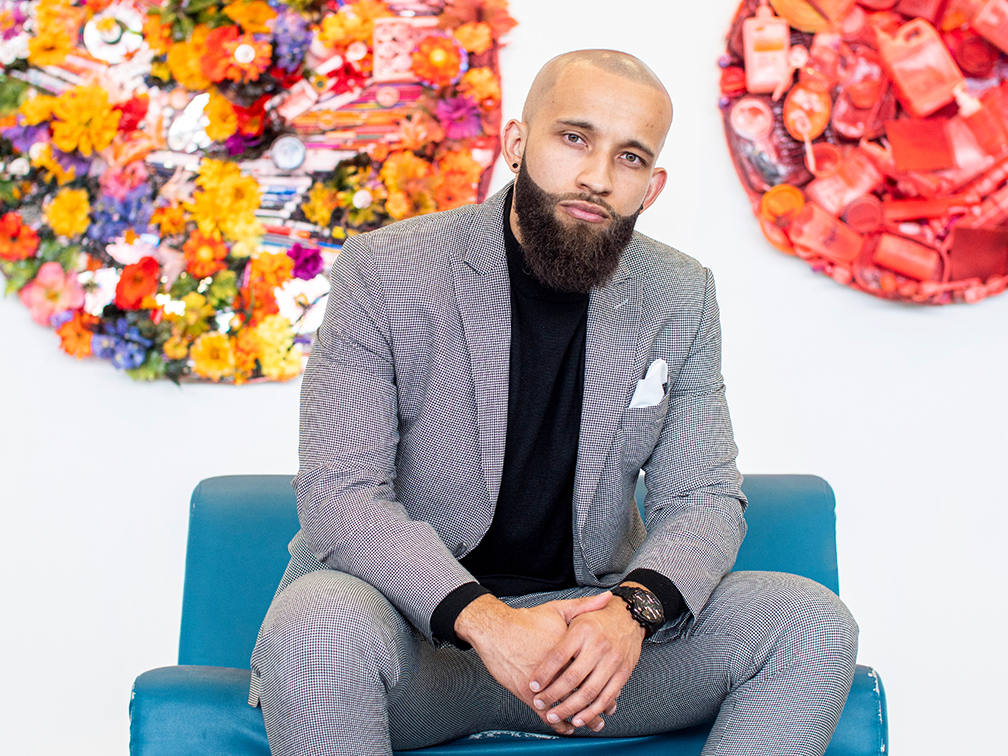 Lambda Mu Mu president Christopher Infantry donates blood regularly and is registered on the stem cell registry. Through his organization, Christopher continues to encourage people from his community to become blood and plasma donors, as well as stem cell registrants.
For Christopher, who is of Polish and Jamaican ancestry, supporting patients in need is always the right thing to do.
"As children, our parents taught us to always show up for the needy," he says. "And it's simpler than most people think to donate blood or join the registry. I joined the registry online right after one of my blood donations."
'I celebrate Black history year-round'
As a Black woman, Laura feels a strong connection with her sorority. The mission of its young founders was to make the world a better place through sisterhood, scholarship, service and social action.
"Our 22 founders were the only Black women to march in the Women's Suffrage March in Washington, D.C. in 1913, despite the dangers they faced at that time," Laura says. "109 years later, our members continue to be at the forefront of social action and service to the communities that our chapters serve."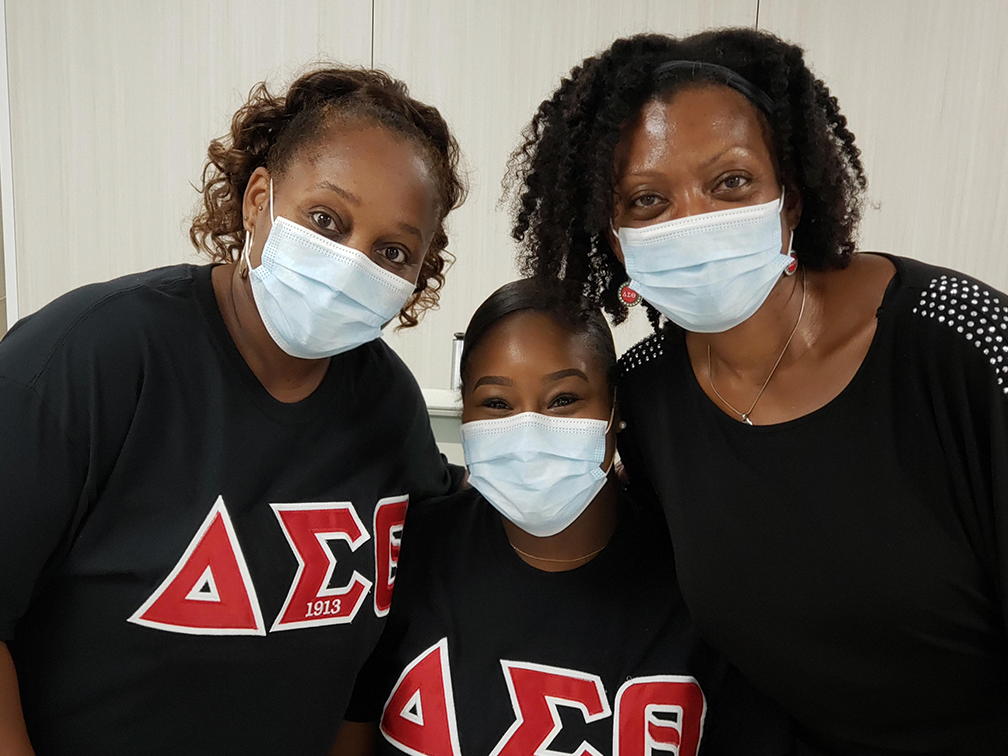 Lisa Wilkinson (left), Michelle Bookal (centre), and Claudene Neysmith (right) participated in a blood donation event in Toronto in 2021.
Laura was born in the United Kingdom to Jamaican parents. She holds degrees in physics and medical biophysics and received her Juris Doctor degree at Osgoode Hall Law School. As a lawyer, she works with a wide range of clients in the music industry, as well as film, television and new media.
Even though her day job keeps her extremely busy, she always finds time to reach out to people from diverse Black communities to nudge them to support Canada's Lifeline, particularly during Black History Month.
"We're constantly encouraging chapter members, their families, people in our networks, and members from within the Black community, to donate blood as well as to join the stem cell registry," says Laura. "It's one of the ways we can make a real impact."
"Personally, I celebrate Black history year-round and make extra efforts, whenever and wherever possible, to support Black-owned businesses," she says. "Right now, we're celebrating members of our chapter and the sorority at large who have made history and are contributing to our communities' present and future."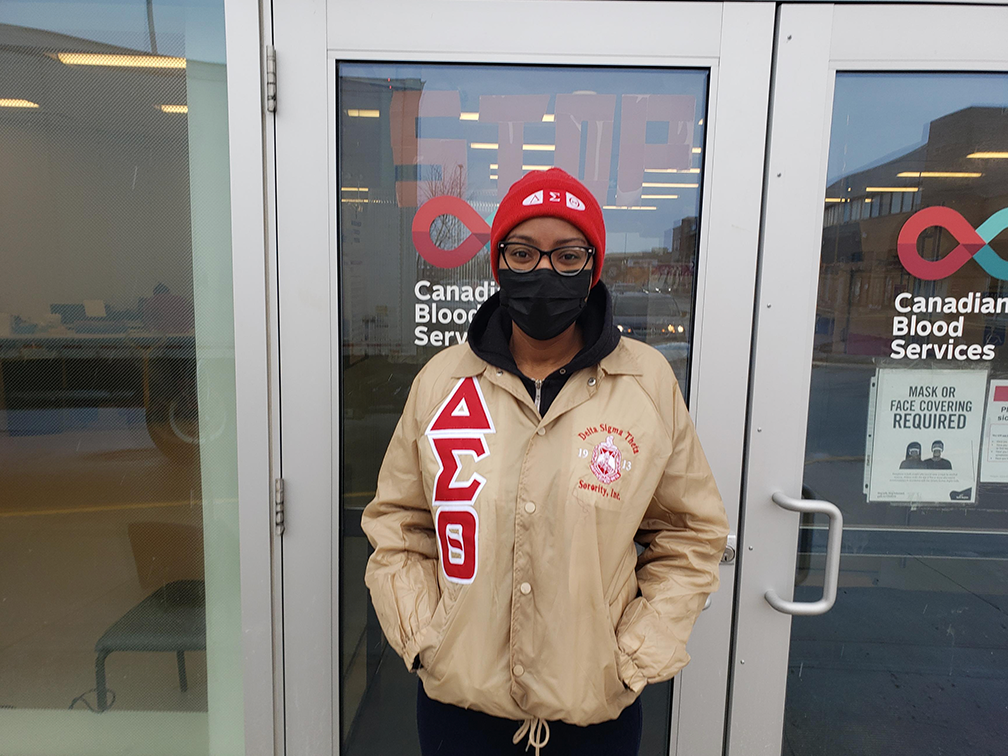 Delta Sigma Theta Sorority, Inc. (GTA Alumnae Chapter)'s president Laura Wilson-Lewis has been a long-time advocate for blood donations and is leveraging her role to encourage people from her community to become blood donors and prospective stem cell donors.
Now is the perfect time to join the stem cell registry
Since the COVID-19 pandemic started, our registry has seen a significant decrease in new stem cell registrations. That's because in-person community swabbing events, which were our most important way of recruiting new potential donors, have been suspended since March 2020 to reduce the transmission of COVID-19.
Our stem cell registry particularly needs donors from hard-to-match backgrounds, including those who are Black, to build a registry that is equitable and as richly diverse as Canada.
"Joining the stem cell registry will not cost you a thing," says Laura. "But, not joining the stem cell registry could cost someone their life. That's why everyone who's eligible should join the registry for a chance to save a life."