Platelet donation is a lifestyle for this game-loving 'healer'
Every two weeks, Max Proske, a self-described 'nerdy and passionate' donor, hits the chair to help patients with platelets and plasma
April 4, 2022
When 26-year-old Max Proske rolled up his sleeve last November for his 100th donation of blood components, it was an impressive milestone for such a young person.
"There's something special about reaching this milestone, but I have no intention of stopping anytime soon," says Max, a web developer who lives in New Westminster, B.C. "For me, donating is a lifestyle."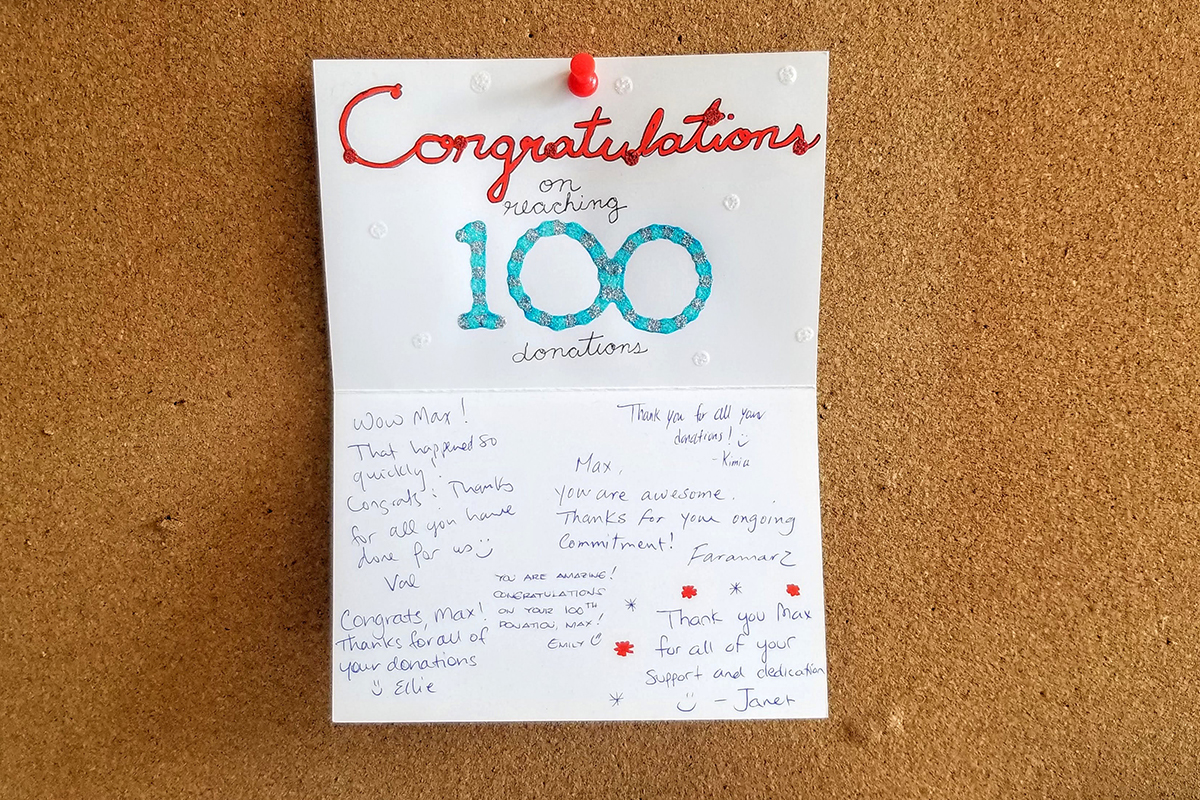 Max Proske made his 100th donation of blood components in November, an impressive feat for a 26-year-old.
Since men must wait 56 days between blood donation appointments, you may wonder how Max hit 100 donations in his mid-twenties.
To begin, he made his first blood donation at age 18. Then, after his 12th blood donation, he switched to donating platelets. This blood component helps with clotting, and platelet transfusions are also essential for many patients undergoing chemotherapy as treatment for cancer. Platelet donors can donate as often as every two weeks because red blood cells are returned to the body during the donation process.
That process, called "plateletpheresis," is also a more efficient way to collect platelets than extracting them from whole blood (though Canadian Blood Services collects platelets that way as well). A single platelet treatment would require six to eight whole blood donations instead of just one plateletpheresis donation.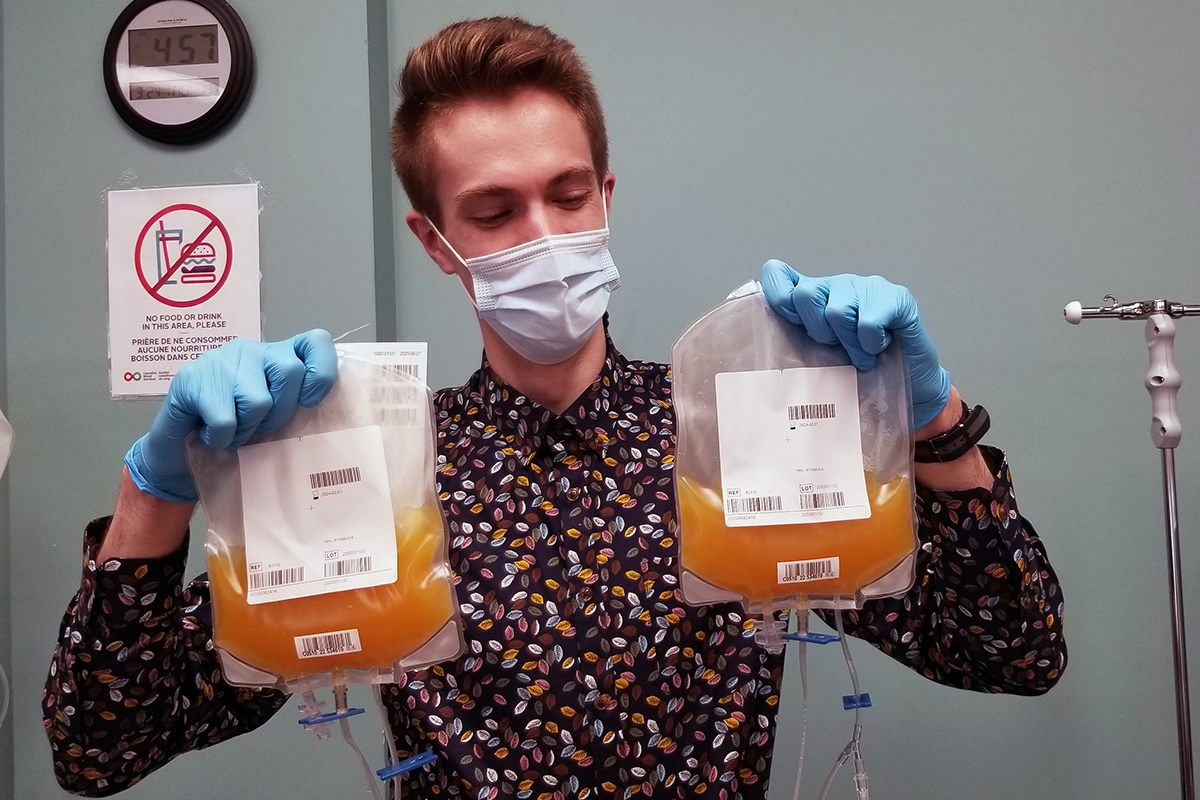 Max Proske makes large volume platelet donations every two weeks.
Max is also eligible to make "large volume" donations, which means he can donate double the platelets at each appointment. And recently, he's also started spending an extra few minutes in the chair to donate a unit of plasma during his visits. Blood plasma is used for transfusions as well as to make lifesaving medications for which demand is skyrocketing.
So with his first 100 donations, Max actually gave an incredible 12 units of whole blood, 177 units of platelets and 21 units of plasma — each of them a lifesaving or life-changing gift for a patient.
Those donations also fit into a pretty incredible family tradition. Max's father Henry Proske has donated blood more than 160 times, and his older sister Andrea Proske is an Olympic gold medal-winning rower who also continues to donate blood when her training allows. Even Andrea's fiancé has overcome a fear of needles to join this lifesaving tradition.
Eligibility requirements for donating blood, platelets and plasma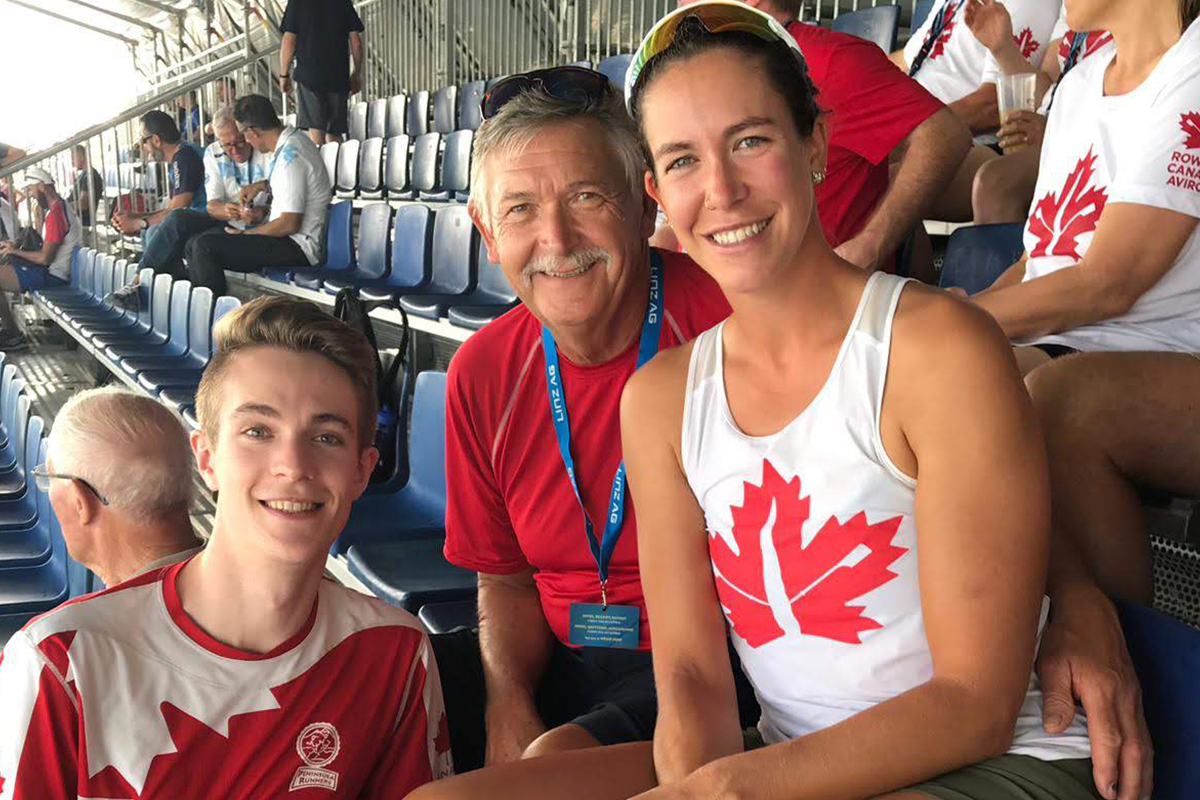 The Proske family shows up for patients in a big way. Max Proske, left, donates platelets every two weeks. His father Henry Proske, centre, is a regular blood donor, while his sister Andrea, right, is an Olympic athlete who also continues to donate blood when her training allows.
An inspiring commitment to patients
In the early years, Max spent two hours on the bus each way to make his appointments every two weeks. Now that he lives closer to Vancouver's Oak Street donor centre, it's down to two hours of travel total — and an understanding employer — to make it work. But it's still a major commitment, and one he's stuck with through the pandemic.

"For me it wasn't even a question. At the same time we were all disinfecting our groceries, I was donating," says Max. "Safety protocols are top notch. It's one of the safest places you can go during the pandemic. You can be around others at a safe distance, and save lives."
He's also quick to point out that his frequent donations don't deplete his energy. He certainly has plenty for one of his favourite pastimes — a physically demanding arcade game called In the Groove.
"Think Dance Dance Revolution, but with a 'marathon mode' that can keep you dancing for an hour without a break," he says. Max plays competitively, and enters tournaments where players have three months to attempt to pass 600 of these marathon-length songs.
"I have a lot of dorky and embarrassing hobbies," jokes Max, including one with a surprising connection to donating platelets.
"I also play a lot of online role-playing games, and in these video games I always play a cleric or healer," he says. "Platelet donations are the closest thing I have to healing people in real life without going to medical school."
Max also spends some of his free time contributing to software that's open source, available and free to anyone — just another example of giving back.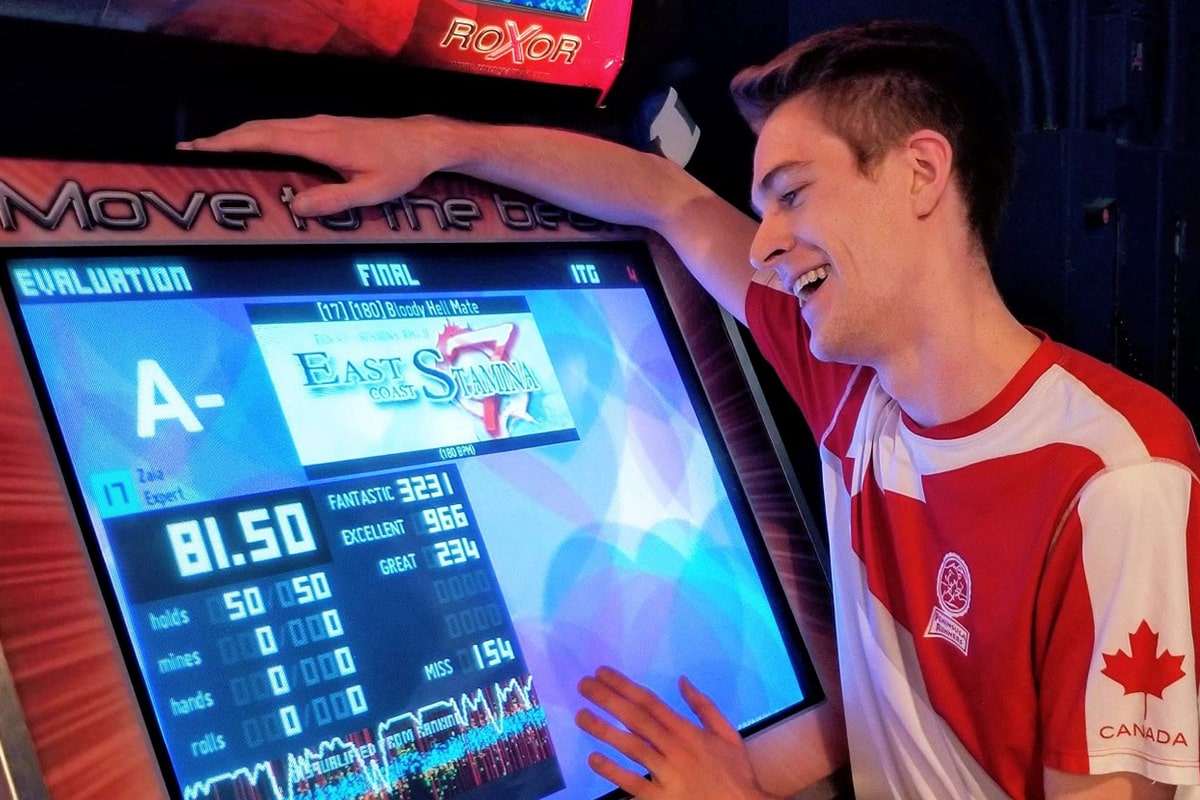 Platelet donor Max Proske also has a passion for the video game In the Groove, a physically demanding game that keeps competitors dancing for an hour straight.
Platelet donors replenish a delicate but essential resource
Max has learned a lot of interesting facts about platelets over the years and enjoys sharing them with others. For example, while red blood cells have a shelf life of 42 days, and plasma can be stored frozen for a year, platelets must be used within a week of collection.
"Platelets are like a carton of milk, and need to be replaced regularly," Max says.
That short shelf life is an important driver of the ongoing demand for donors — whether they're giving platelets or the whole blood from which platelets are also extracted — as well as a powerful motivator for Max.
"I leave the donor centre, and before my platelets have even regenerated, my donation has already gone to someone in need, helping them recover from something very serious and life-altering," he says.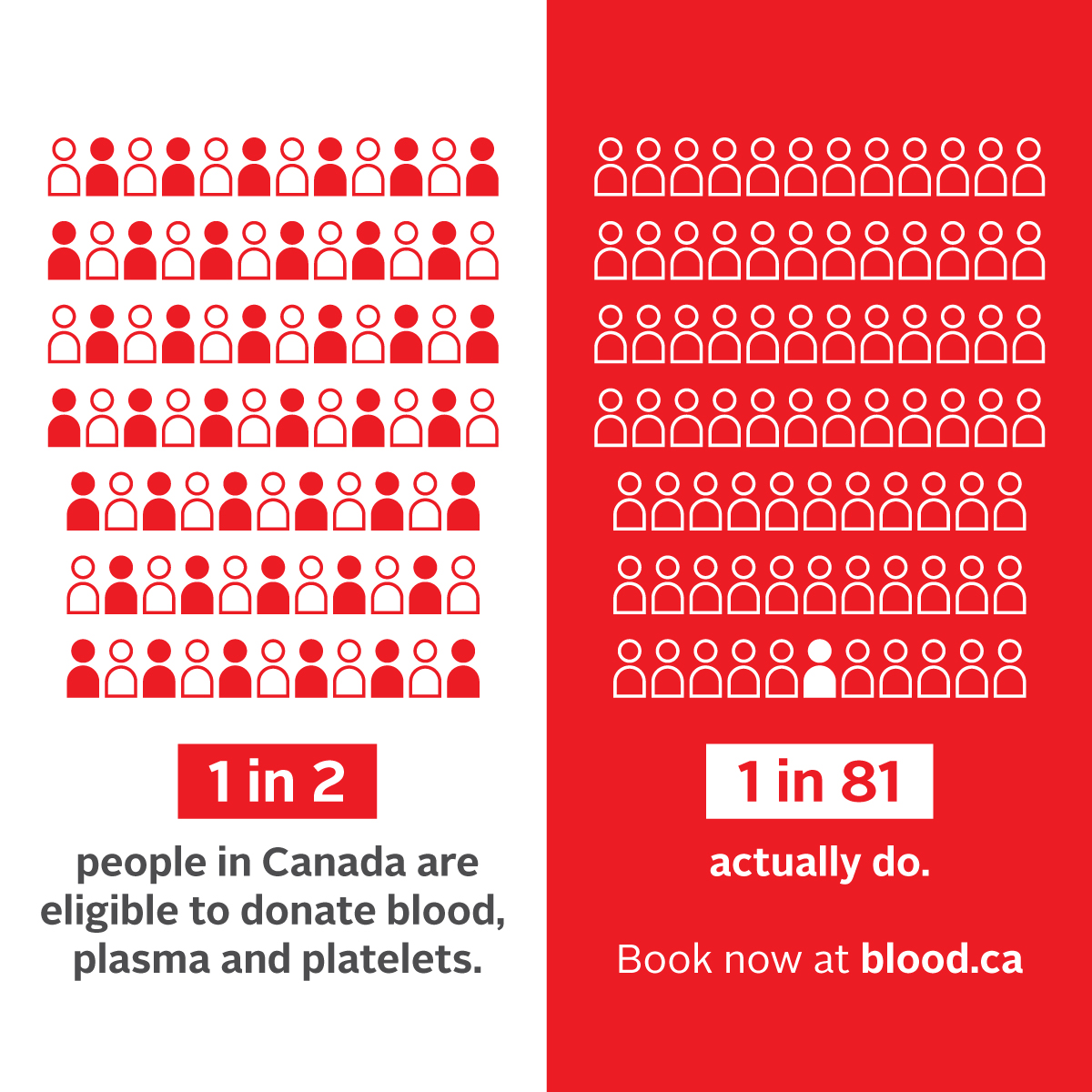 Max has also had the special experience of having his platelets specially matched to a patient. Patients who receive multiple platelet transfusions sometimes produce antibodies that fight the donated platelets and prevent them from performing their clotting function. These patients need platelets that not only match their ABO blood type, but which also have matching human leukocyte antigens — particular molecules found on the surface of their cells.
While a person has a one in four chance of finding a platelet match in a family member, the odds are just one in 10,000 in a pool of random donors.
"So far I have been matched three times with different leukemia patients," says Max. "The nurses show up with a clipboard, and by this point I know the clipboard means I'm a match! They put a special sticker on the collection bag, and I'm like, 'cool, that just made my day.'"
After every donation — for a specially matched patient or any other — employees at the donor centre thank Max for his ongoing commitment.
"Donating every two weeks is special because you get to know the team and the regular volunteers on a personal level," he says.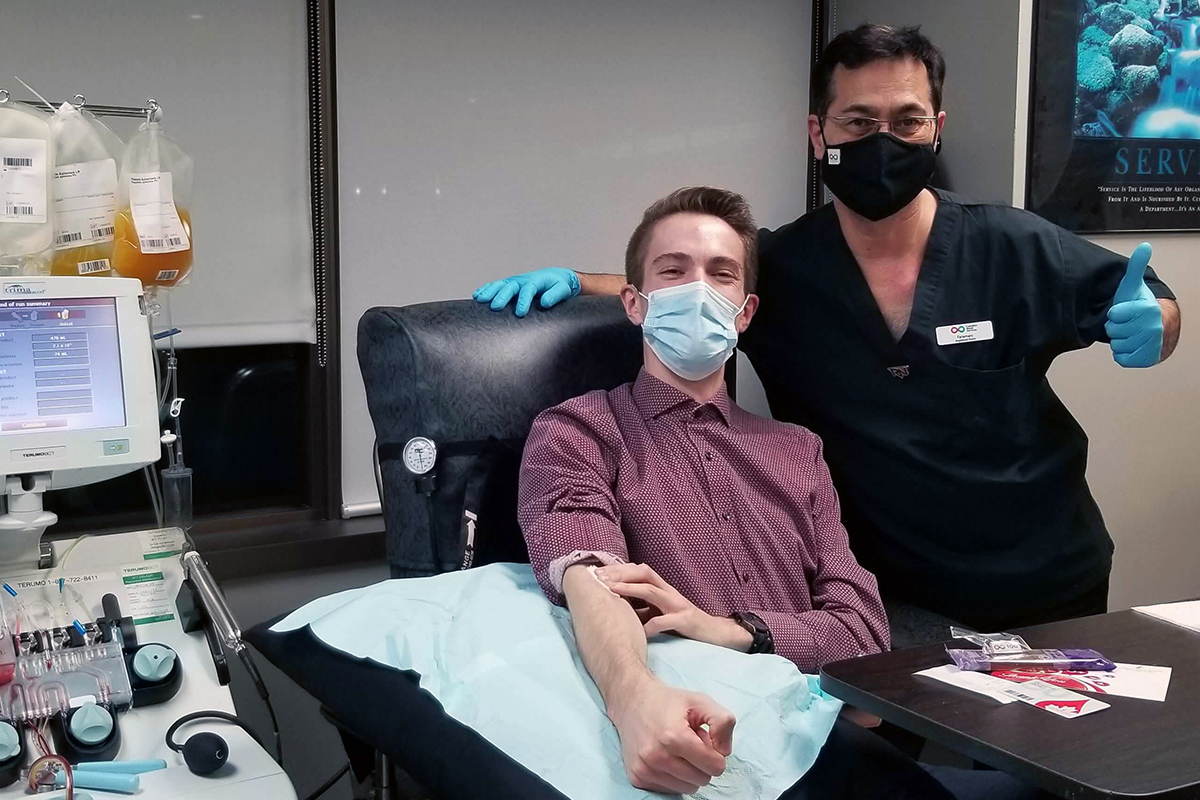 As a regular platelet donor, Max Proske has gotten to know the employees at the Vancouver donor centre he attends every two weeks — including Faramarz Sedighzadeh, right, a registered nurse at the centre.
All ways to give
There's a place for everyone in Canada's Lifeline. It's why we encourage people to consider all ways to give. In addition to donating blood components, Max has also registered to donate stem cells if matched to a patient as well as committed to becoming an organ and tissue donor. And last year he also became a monthly financial supporter. Financial donors help us recruit the thousands of new volunteer biological donors who are needed every year, and help fuel research and education initiatives.   
"If there's a list, I'm on it," he says.