An Indigenous stem cell donor's journey
Melissa Deleary was called to donate years after joining the stem cell registry.
April 22, 2020
Donating stem cells to a stranger is deeply personal, altruistic – and for Melissa Deleary, just another day on the job.
Melissa's story begins about seven years ago. As a health policy analyst with the Ontario Federation of Indigenous Friendship Centres, she organized a recruitment event in her own workplace for Canadian Blood Services Stem Cell Registry. As the event organizer, she thought by swabbing her own cheek to collect a DNA sample for the registry she'd inspire others to do the same.
Then last June, while out for a stroll on her lunch break on a busy Toronto street, she got the call that she herself was a match for a patient.
'Indigenous people have a smaller pool to draw from'
It took a moment for the news to sink in. As is the case with many stem cell donors, years had elapsed since she had joined the registry. But she quickly understood that because the best chance of a match is within one's own ethnic community, the patient was likely another Indigenous person.
"I know that Indigenous people have a smaller pool to draw from. Because of their genetic makeup they're most likely to find matches within North America," says Melissa, whose roots are both Dene and Anishinawbe. "I knew it was lucky to find a match. If they were calling me, then somebody really needed it."
Indeed, Indigenous people make up less than two per cent of all prospective donors on Canada's stem cell registry.

Canadian Blood Services Cord Blood Bank is a national, public cord blood bank that houses stem cells for transplant, but again, only a very small proportion are from people of Indigenous heritage.
Melissa quickly moved through the required health screenings and prepared to donate just a few weeks later in August 2019.
Image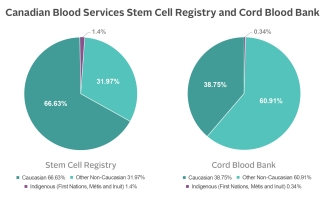 A civic duty
Stem cell donors can be asked to donate in one of two ways depending on the patient's need. Peripheral blood stem cell donation involves a series of injections to increase stem cells in the bloodstream, followed by a blood draw. Melissa donated bone marrow stem cells, which involves a surgical procedure under anesthesia.
The prospect of surgery didn't make her anxious, Melissa said. She looked upon it as part of her civic duty as well as her job, which is intensely focused on helping Indigenous people live healthy lives.
What did make her anxious was the health of the patient. She knew that once she agreed to be a donor, the recipient would begin chemotherapy to prepare for transplant, and be counting on her to follow through.
"I was really worried at the time that something would happen to me, that I would get sick at the last minute," Melissa said. "Or maybe I'd get into a car accident and not be able to do it."
The need goes on for stem cell donors during the COVID-19 pandemic. Learn more about that need, as well as the experience of past donors and recipients, in our new video.
A chance to save or extend a life
In the end the surgery went well, as did Melissa's own recovery from the fatigue and minor aches and pains that followed. She took a week off work and her daughter Marguerite, who was three years old, spent time with her grandparents so her mother could rest.
Marguerite is still too young to understand her mother's selfless act, but her wife and the rest of her family are proud, Melissa said. She's received touching notes from others in her circle, telling her about people in their own lives who had received stem cell transplants.
"It really helped them to be able to spend more time with their family," Melissa said. "And everyone's really grateful for that."
'I'm really rooting for them'
Stem cell donors and recipients can agree to connect with each other one year after the donation. For now, Melissa just hopes for the best for a patient she may never meet.
"I want them to do well," she said. "I want them to be able to have more time, to live, to do things. I'm really rooting for them."
And if she were called to donate again, Melissa said she wouldn't hesitate, especially knowing the challenge of finding matches for Indigenous patients.
"If I or my family needed a donation, I would want somebody to be there to meet that need, to step in. I would want as much done as possible to help save their lives.
"I will take up my responsibility to do that for someone else."
The COVID-19 pandemic is having an impact on stem cell transplantation. That includes travel bans and flight limitations which make it more difficult to transport stem cells internationally. For this reason we expect transplant centres in Canada will rely more than ever on Canadian donors to provide lifesaving matches for patients. We urge healthy Canadians between 17 and 35 years of age to register online and order their swab kit to be delivered in the mail.