Art auction supports patients and honours remarkable creative spirit
Ayako Ellen Anderson's family organized an art auction to support Canadian Blood Services.
July 30, 2021
Update: The family of the late Ayako Ellen Anderson, seen above at the art studio she founded, hosted an art auction in honour of Ellen's life and legacy as an artist and activist. The auction is now closed. Canadian Blood Services thanks the many supporters of the auction and the Anderson family for choosing to honour their loved one in this way. Contributions from the auction will make a difference for Canadian patients.  
Hundreds of artworks produced with the support of a remarkable Toronto woman are being auctioned off online, and the proceeds will be donated to Canadian Blood Services.
The art, which was created by dozens of self-taught artists with disabilities, is being auctioned in memory of the late Ayako Ellen Anderson. Ellen was an exceptional artist and community activist who received many blood transfusions before she passed away in 2019.
How do financial donations to Canadian Blood Services help patients?
Ellen was born to Canadian parents of Japanese heritage in a Second World War internment camp. As a teenager, her art portfolio attracted a full scholarship from the prestigious Carnegie Mellon University in Pittsburgh, where she earned a bachelor's degree in fine arts. She is perhaps best remembered for the Creative Spirit Art Centre (CSAC), the Toronto studio she founded in 1992 that provided space, training and supplies to budding artists with various mental and physical disabilities.
"The impact of her parents' experiences of discrimination led her to develop a strong sense of social justice and advocacy," says Brennan Anderson, Ellen's youngest son.
Ellen operated CSAC as a non-profit for 25 years, raising money through an ever-changing combination of grants, donations, exhibitions and sales of artworks. Over the years, it enabled hundreds of self-taught artists to harness and express their creativity. Many produced exceptional works that were purchased by collectors and displayed in galleries and museums. Ellen's oldest son, Gabe Anderson, who was born with cerebral palsy, is among the artists who developed his talents at the centre.
"The success of CSAC helped to change attitudes about people with disabilities," says Brennan Anderson. "The public's focus shifted to the amazing things that people with disabilities can accomplish. There's no doubt in my mind that CSAC contributed to the accessibility legislation enacted across Canada."
Birthday fundraisers for Canadian Blood Services bring hope to patients
Heroes of financial giving: Cpl. Laura Matern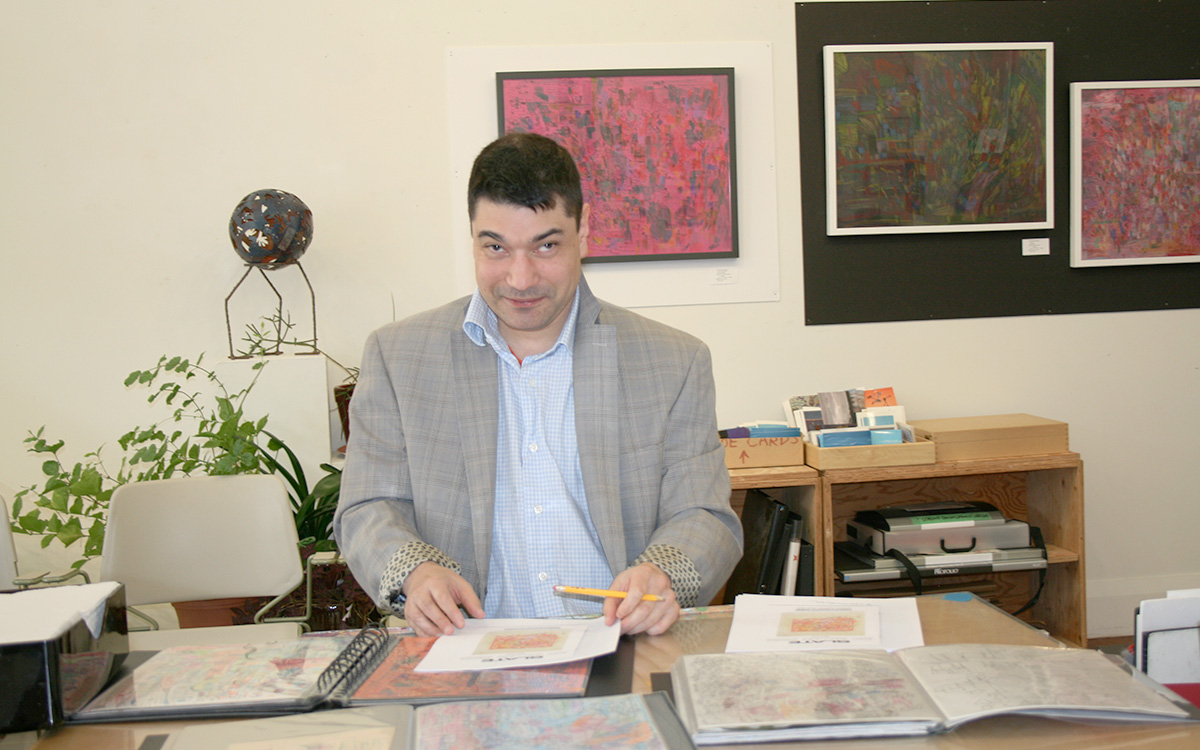 Ayako Ellen Anderson's son Gabe Anderson was among the artists who honed his talents at the studio his mother founded. Starting July 29, members of the public can bid on pieces of art created by other artists over the centre's 25-year history. Proceeds will be donated to Canadian Blood Services.
Late in life, Ellen contracted a rare blood disorder and was treated with multiple blood transfusions. Due to concerns about her health and sustainability of the CSAC, she closed the studio in 2018 and devoted her time to finding homes for the hundreds of artworks created there. She donated pieces to the Royal Ontario Museum, the Toronto Archives, the Archives of Ontario and other organizations. After Ellen passed away in 2019, her son Brennan carried on this work. Artworks created at CSAC now adorn the rooms and halls of long-term care homes across southern Ontario.
Starting July 29, 2021, the remaining artworks by these talented self-taught artists are being auctioned off, and the proceeds will be donated to Canadian Blood Services. Financial donations to Canadian Blood Services help save and transform lives. Financial support from in-memory initiatives, such as this art auction, can help to attract new and diverse blood and stem cell donors, fuel innovative research and advance new technologies. It is also a meaningful way to honour the legacy of a loved one.
How can I make a financial donation or host a fundraiser for Canadian Blood Services?
"Given how much she appreciated the blood transfusions she received, I'm sure my mother would be happy to know that Canadian Blood Services will benefit from the auction," says Brennan. "It's a fitting way to celebrate both her life and the art she inspired."
There is so much to celebrate about Ellen's life and her many contributions, in art and beyond. Her work as an activist in fact started many years before the opening of CSAC. As a young mother in Toronto, Ellen couldn't find a daycare centre that would accept Gabe because of his cerebral palsy. So she started one in a local school; five decades later, it continues to operate. When a serial rapist eluded capture for years, threatening the safety of women in downtown Toronto, Ellen founded the Annex Women's Action Committee, an organization that provided women with information about sexual assault, self-defence and policing.
Ellen's years of dedicated community service earned her a 125th Anniversary of the Confederation of Canada Medal. The decision of her family and community to host an art auction in her memory, while supporting patients who rely on Canada's Lifeline, is just one more piece of her incredible legacy.
When donors give money to Canadian Blood Services, those financial gifts save and transform lives by strengthening our national programs for blood, stem cells, organs and tissues, and by fueling research and innovation. Learn more about financial gifts and fundraising.