Birthday celebration attracts six first-time blood donors
Helen Raymond organized a blood donor event to celebrate her 65th birthday 
September 28, 2020
Helen Raymond of Barrie, Ont. wanted her 65th birthday to be extraordinary.
"When I turned 60, my family threw a party for me and gave me lots of gifts," she says. "This time, I didn't want a traditional party and I certainly don't need more gifts."
As a longtime blood donor who is temporarily ineligible due to heart issues, Helen came up with the idea of organizing a blood donor event.
"I started donating blood when I was in high school and always enjoyed the feeling it gave me that I was saving lives," she says. "I figured that a blood donor event would be a great way to celebrate my birthday and save lives at the same time."
Am I eligible to donate blood?
Helen contacted the Canadian Blood Services' donor centre in Barrie, reserved a series of appointments, and sent invitations to colleagues, friends and members of her family. A dozen people — including six first-time donors — quickly responded. Among the first-timers was Helen's grandson, Sam Raymond, who overcame a deep-seated fear of needles to donate.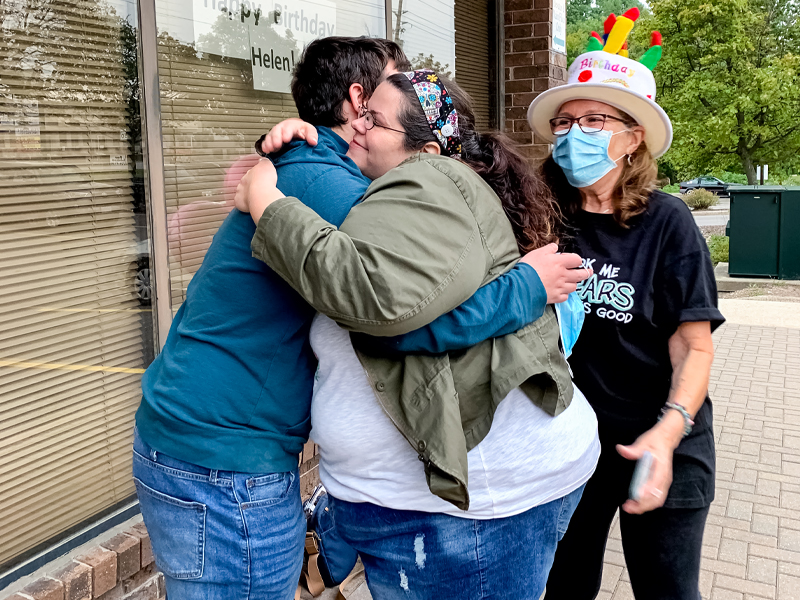 After completing his first donation, Sam Raymond gets a hug from his mother, Allison Raymond. All of the first-timers, including Sam, pledged to become regular blood donors.
When Helen arrived at the Barrie donor centre, staff and donors sang Happy Birthday. Helen then set up outside, where she presented each departing donor with a loot bag and posed for photos.
"It was a wonderful experience for me," says Helen. "Inspiring six people to start donating blood might be the best birthday gift I've ever received!"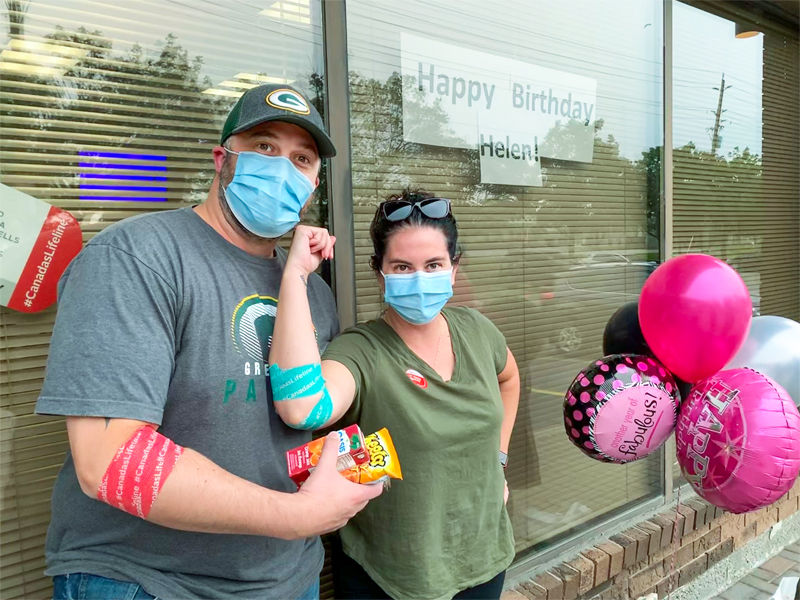 In honour of Helen Raymond's 65th birthday, Ashley Glauser, a teacher at Ferndale Woods Elementary School, along with her husband Adam Glauser, donated blood for the first time.
Helen enjoys taking action to make the world a better place. She's an educational assistant in a development-skills class at Ferndale Woods Elementary School and volunteered with the Girl Guides of Canada for many years.
Helen also registered as an organ donor and stem cell donor. Stem cells, specifically blood stem cells, are immature cells that can develop into any cell present in the bloodstream. In the past, people gave stem cells for transplant by donating bone marrow, but now donors often give through a process called apheresis, which removes the stem cells from circulating blood.
How can I register to donate organs and tissues?
 The need for blood is constant for patients across Canada. To organize your own blood donor event, contact the nearest Canadian Blood Services donor centre. To book an appointment to donate, download the GiveBlood app, call 1 888 2 DONATE or visit blood.ca/donate. Enhanced safety measures are in place during the COVID-19 pandemic.