The things we do for safety: Leukoreduction
---
Wednesday, November 02, 2016
Dr. Sophie Chargé
Filter removes white blood cells or leukocytes to reduce the risk of transfusion-related reactions
White blood cells are key to our immune system. They help us fight infection and are often commonly referred to as soldiers protecting our body from invading bugs. However, in transfusion medicine, white blood cells are no heroes. In fact, during our manufacturing process, we take extra measures to take them out of our blood products.
Image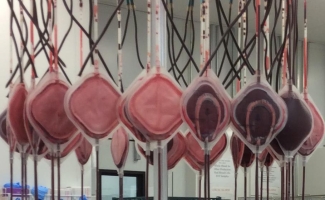 This is a close up of the leukoreduction filters after the blood has passed through.
The removal of the white blood cells delivers several benefits to patients receiving transfusions. Firstly, they are less likely to have a fever after their transfusion. They are also less likely to make antibodies against transfused donor cells, and so future platelet transfusion will remain effective. White blood cells may also harbour infectious disease agents such as cytomegalovirus (CMV). By removing them we reduce the risk of infection.
So how do we remove white blood cells from the blood products we distribute to hospitals?
We use a simple filtration system! Just like a sieve but a very specialized one. 
Following collection, whole blood is sent to our manufacturing sites. Here whole blood is processed into various components: red blood cell concentrates, platelet concentrates and plasma. A key step in the process is to pass the blood through a specialized filter that removes white blood cells or leukocytes, and we call this leukoreduction.
Image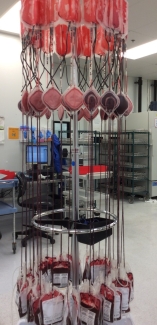 During our manufacturing process, blood is suspended so that it flows through the leukoreduction filter. Thank you, gravity! The leukoreduction filter traps the white blood cells and is discarded. The red blood cells and other important blood components collect in a new bag (at the bottom).
Today's technology allows removal of more than 99.99 per cent of donor leukocytes. We perform quality control tests on some of our products to make sure our leukoreduction procedure meets the specifications and delivers safe products.
Canadian Blood Services implemented leukoreduction for the production of its red blood cells and platelets components in the late 1990s.
Related research supported by the Centre for Innovation:
Is Cytomegalovirus Testing of Blood Products Still Needed for Hematopoietic Stem Cell Transplant Recipients in the Era of Universal Leukoreduction?
Natasha Kekre, Melanie Tokessy, Ranjeeta Mallick, Sheryl McDiarmid, Lothar Huebsch, Christopher Bredeson, David Allan, Jason Tay, Alan Tinmouth, Dawn Sheppard 
Biology of Blood and Marrow Transplantation, 2013, Volume 19, Issue 12, Pages 1719-1724
---
Canadian Blood Services – Driving world-class innovation
Through discovery, development and applied research, Canadian Blood Services drives world-class innovation in blood transfusion, cellular therapy and transplantation—bringing clarity and insight to an increasingly complex healthcare future. Our dedicated research team and extended network of partners engage in exploratory and applied research to create new knowledge, inform and enhance best practices, contribute to the development of new services and technologies, and build capacity through training and collaboration. Find out more about our research impact. 
The opinions reflected in this post are those of the author and do not necessarily reflect the opinions of Canadian Blood Services nor do they reflect the views of Health Canada or any other funding agency.
Related blog posts
---
Wednesday, February 17, 2016
Jenny Ryan
Led by Dr. Sandra Ramirez, a development scientist at Canadian Blood Services' Centre for Innovation, this research project led to a new standard that will reduce the number of discarded red blood cell units. By Jenny Ryan and Patrick Walton The issue Since the 1970s, blood operators have limited...
---
Wednesday, September 21, 2016
Jenny Ryan
Meet Dr. Elisabeth Maurer: she uses lasers to measure quality of platelets