Challenging the 30-minute rule for red blood cells (video)
---
Wednesday, February 17, 2016
Jenny Ryan
Led by Dr. Sandra Ramirez, a development scientist at Canadian Blood Services' Centre for Innovation, this research project led to a new standard that will reduce the number of discarded red blood cell units.
By Jenny Ryan and Patrick Walton
The issue
Since the 1970s, blood operators have limited the length of time red blood cells (RBCs) can be exposed to uncontrolled temperatures to 30 minutes. Called the "30-minute rule", this international standard was put in place to keep cells usable and limit bacterial growth. However, it is not always possible to transfuse a patient within 30 minutes. As a result, thousands of RBCs are discarded.
The research
A research team led by Dr. Sandra Ramirez, a development scientist at Canadian Blood Services' Centre for Innovation in Ottawa, studied bacteria-free and bacteria-spiked RBCs that were exposed to room temperature for various lengths of time, checking them for quality, temperature and bacterial growth. Results showed that exposing units to room temperature for up to 60 minutes several times during their shelf life did not reduce their quality or safety. 
"We requested red blood cell units from  our blood for research facility in Vancouver. The blood was collected from donors and pooled into larger groups then split into separate units so that we had the exact same blood to use for our testing." - Dr. Sandra Ramirez
Located in Vancouver, BC, near the University of British Columbia campus, our unique research facility comprises a dedicated blood and apheresis donor clinic and a research and development sandbox.
Image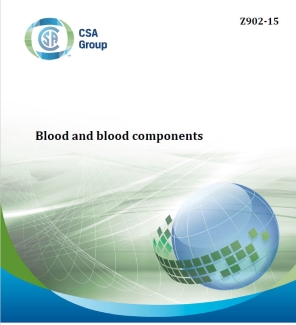 The impact
This Canadian Blood Services' research, in collaboration with Héma-Québec, contributed to the Canadian Standards Association's decision to extend the 30-minute rule to 60 minutes. Effective in 2016, this new standard will reduce the number of units of RBCs discarded and is expected to save the blood system significant funds without affecting blood product efficacy or patient safety. 
For more information on this project, read "Doubling the 30-minute rule without compromising red blood cell quality and safety."
Image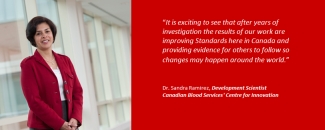 Keywords: red blood cells; Canadian Standards Association; research and development; transfusion medicine; Hema-Quebec
---
Canadian Blood Services – Driving world-class innovation
Through discovery, development and applied research, Canadian Blood Services drives world-class innovation in blood transfusion, cellular therapy and transplantation—bringing clarity and insight to an increasingly complex healthcare future. Our dedicated research team and extended network of partners engage in exploratory and applied research to create new knowledge, inform and enhance best practices, contribute to the development of new services and technologies, and build capacity through training and collaboration.
The opinions reflected in this post are those of the author(s) and do not necessarily reflect the opinions of Canadian Blood Services.
Original content on R.E.D. falls under a creative commons CC BY license. We we invite you to take it and republish it (with attribution and a link back to the source).
Related blog posts
---
Monday, February 08, 2016
Jenny Ryan
A research, education. and discovery blog Did you know that we do research? Quite a lot of it, in fact. Last year, our research teams, working in our labs across Canada, published 250+ scientific papers in peer-reviewed journals and presented 200+ posters or talks at major national and international...